The Best Shows and Musicals in Las Vegas
From chart-topping musicians to comedy, magic, Cirque du Soleil, and more.
If you, like many, took advantage of the stupidly cheap pandemic rates over the last year and a half to visit Las Vegas (it was not uncommon for the daily resort fee to cost more than the daily rate), you may have found things felt a bit…different. A good number of casinos reopened their doors in June 2020, but it has still taken another year for Vegas to feel like Vegas again.
Now, with capacity restrictions dropped, social distancing out the window, plexiglass barriers around gaming tables an extremely weird memory, bars and clubs operating pretty close to pre-pandemic "normal," and live events happening once again, Vegas feels a hell of a lot more like VEGAS…for better or worse, depending on which side of the "Um, guys, we're still in the middle of a pandemic" line you fall on. But also WOOOOOO VEGAS BABY!
As shows return to the stage and a FOMO frenzy of upcoming residencies are announced, it's time to take another look at the best bang-for-your-buck shows in Vegas—some tried-and-true favorites, some attention-stealing upstarts, some screen-to-stage phenoms, and some deeply weird WTFs. And a slew of A-list residencies, from Bruno Mars to Lady Gaga and all the Ushers and Keith Urbans in-between.
Residencies
The question is not who's got a residency coming up in Vegas later this year, but rather who doesn't? Welcome to our (not-quite-yet-)post-pandemic reality where people are paying $1,000 per ticket to see Usher. And no disrespect to Usher, but, damn.
From Boomers to Zoomers, there's a residency for everyone. Even you, Gen X: that's what Debbie Gibson & Joey McIntyre are for!
Usher was the first residency to return to Las Vegas with his show at the Colosseum at Caesars Palace, and it has been HUGE. (we weren't kidding that people are paying $1,000/ticket). Bruno Mars has been similarly in-demand with a red-hot resale market for his limited residency at the Park Theater at Park MGM…the FOMO is real, y'all. We also weren't kidding about the residencies for the Gen X'ers—Debbie Gibson & Joey McIntyre are co-headlining at the Sands Showroom inside the Venetian, and for the Xennials who remember both NKOTB and the Backstreet Boys from their youth, Backstreet's back (alright!) this holiday season with "A Very Backstreet Christmas Party" at Zappos Theatre inside Planet Hollywood. Gwen Stefani and Shania Twain are returning to Zappos with their COVID-interrupted residencies, and Lady Gaga is bringing her Jazz & Piano show back to the Park Theater in October.
When the brand-new Theatre at Resorts World finally opens in November, it's doing so with a bang—Celine Dion launches its roster of heavy-hitter residencies, followed by Carrie Underwood, Katy Perry, and Luke Bryan.
And I didn't even touch on the Vegas residencies for the Boomers! Old white guy bands are covered with residencies from Chicago, Styx, Journey, and ZZ Top, and don't miss out on legendary musicians and performers like Lionel Richie, Earth Wind & Fire, Santana, Sting, Keith Urban, and Barry Manilow (we've heard he's seriously good!).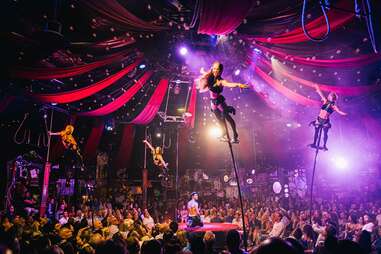 Caesars Palace
When Spiegelworld introduced Absinthe to the Las Vegas Strip ten years ago, it forever changed what we thought we knew about shows on the Strip. Flashy productions with aerialists, contortionists, strongmen, and other circus acts were nothing new (Cirque), and more adult-oriented shows with naughtier themes and varying degrees of nudity weren't either (most of Las Vegas Strip history), but marrying the two under a big top and having it ordained by the outlandish impresario figure of the Gazillionaire, his profanity-spewing sidekick Penny, and the enchanting Green Fairy was a whole new recipe for a #vegashitshow. The cast and characters and acts have changed a lot over the years, and they're now back to performing a gazillion shows each year—twice nightly, thrice on weekends, 365 days a year—so you'll pretty much never see the same show twice, and you'll want to see it again and again. Where else will you see a burlesque performer in a gorilla costume dancing to Nine Inch Nails' "Closer"? Like, seriously???
Mandalay Bay
There is a little bit of "if you've seen one…" with Cirque shows. There are only so many ways to experience colorfully-costumed characters performing incredible physical feats against jaw-dropping set pieces, larger-than-life props, and mind-blowing multimedia effects…right?? Clearly you haven't seen ONE. Honestly, you don't even need to like the music of Michael Jackson to be utterly blown away by this show. Of all the Cirque shows to be resurrected (not-quite-yet-)post-pandemic, as well as post-bankruptcy-restructuring, ONE is the one we're most excited to see return to the stage.
Rio All-Suite Hotel & Casino
Penn & Teller have been headlining Las Vegas for longer than most of you reading this have been alive, and you should go see them to pay respect to your elders and also to see for yourselves exactly why this dynamic illusionist duo have been successfully headlining in Vegas for the last three decades. Theirs is the longest-running residency in Las Vegas history—sorry Celine—and their unique blend of timeless magic & timely comedy keeps fans coming back time and time again.
The Flamingo
If Penn & Teller represent the magical monarchy of Las Vegas, then Piff the Magic Dragon is the Shakespearean fool…and not just because he actually appeared in an episode of Penn & Teller: Fool Us (spoiler: he very nearly did!). Much like history's greatest jesters, Piff uses self-deprecating humor to serve his own purposes and wears a ridiculous costume that distracts attention away from his stunning stage work. Mr. Piffles, the world's only magic-performing chihuahua, also provides plenty of audience distraction as Piff performs the kind of illusions that might leave you thinking, "This guy? In the dragon costume??" His piercing-sharp humor makes him all the more suited to make a mockery out of the more ridiculous stereotypes of stage magic (and magicians).
The Venetian
From the twisted minds that brought us Absinthe (above) and OPIUM (below) comes the most rootin'est-tootin'est, rip-roarin'est Wild West show to ever hit the Strip. Giddy-on-up over to Madame Boozy Skunkton's saloon-brothel and watch as her cast of characters—including a rhinestone cowboy, some very naughty nuns, and some seriously strong strongmen—take us on a journey through the Old West, Spiegelworld-style. If you think you've seen eye-popping acrobatics before, think again (and also think more like rotator cuff-popping, yeesh). The song selection is also especially stellar. (I mean, "Cotton Eye Joe." C'mon.)
Downtown Las Vegas Arts District
We're going to let you in on a little locals secret: some of the best live performances in Las Vegas happen off the Strip, and of the many excellent local theatres, the Majestic Repertory Theatre is producing some of the most innovative and imaginative shows and experiences that you are likely to find pretty much anywhere, Vegas or otherwise. Now, I know this isn't about a specific show, and this list is all about best "shows," but a little piece of advice from one theatre lover to, presumably, another: if the Majestic has literally anything going on while you're in town, go see it. It could be a brand-new all-original Broadway-style musical like the upcoming production of The Sandman, or it could be a highly interactive immersive theatre experience. Whatever it is, go, and also grab dinner and drinks at one of the many excellent restaurants and bars in the DTLV Arts District while you're there—this is the most exciting and culturally vibrant neighborhood in Vegas, bar none.
Bellagio
The second-longest-running Cirque show in Las Vegas, "O" takes the classic Cirque formula—circus performers; vibrant, colorful costumes; lots of whimsical and fantastical elements—and puts it in a 1.5-million-gallon pool, adding divers, synchronized swimmers, and other aquatic performances to the equation.
Tropicana
God save the queen…but in this case, the queen is Frank Marino, and "Queen" is represented by a Freddy Mercury impersonator with a four-octave vocal range who could easily have Rami Malek's Oscar. Legends in Concert, the longest-running and most-awarded show in Las Vegas hosted by the Strip's longest-running headliner (Marino, here as legendary comedy diva Joan Rivers), is introducing a brand-new show for the fall: Direct from London. Some of the world's greatest tribute artists will bring some of our favorites from across the pond to the Las Vegas Strip, including Freddy Mercury, Elton John, and George Michael. Pop and rock impersonators (hi, ever-enduring Elvis fandom) are a big business in Vegas, but any Legends in Concert show is like seeing the real deal … and, thankfully, this one is free of the ever-enduring Elvis. (Boomers, man.)
The Flamingo
Speaking of queens: the fiercest queens from RuPaul's Drag Race can be seen slaying at their very own show at the Flamingo, and these "showgirls" know how to WERK. RuPaul's Drag Race LIVE! is an original production based on the Emmy Award-winning reality competition with original numbers, costumes, and choreography. Sashay! Shante!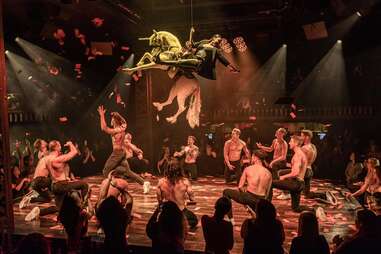 SAHARA Las Vegas
Las Vegas is a place of equal-opportunity sexy shows with varying degrees of nudity—the Chippendales have long been mainstays at The Rio, and there are plenty of similarly ab-centric shows from Thunder from Down Under, Aussie Heat, etc. Magic Mike Live is different. This is a full-blown theatrical production, not just a glute-clenching, ab-flexing, all-male beefcake parade. It is, dare we say, classier, and sexier for it, with fully choreographed dance numbers, super-sexy audience member seductions, and an overall sex-positive message that celebrates female desire. There is still plenty of glute-clenching and ab-flexing, but this show also has heart.
The Cosmopolitan
"2001: A Space Odyssey as a porn parody written by John Waters" is how we imagine Spiegelworld's pitch meeting to the Cosmopolitan went for OPIUM, a raunchy romp through outer space with the crew of the OPM 73 spaceship as they make their way to Vegas from Uranus. It is everything it sounds like based on that description, and it is genius. And NOW, starting September 24, the restaurant attached to the showroom is also being overtaken by the Spiegelworldians as they introduce Superfrico, their first restaurant concept which they describe as "Italian American psychedelic." The place has some legit culinary credentials behind it, but we would be surprised if some Spiegelweirdness didn't also bleed into it by way of roving performers.
The Space
Twice a month a variety of Las Vegas performers—including musicians, Cirque performers, comedians, celebrity chefs, and more—gather at The Space on Monday night (a "dark" night for many local productions) for a variety show that only costs guests $20, all of which goes to benefit a different local charity each performance. It's a cheap night out with some of the top performers in Vegas, and every single show is unique.
Tropicana
There are lots of tribute shows featuring costumed performers paying homage to famous pop stars alive and dead. Once upon a time it was the Elvis impersonators you simply had to see while in Vegas, but times have changed and the world has changed—specifically, the world has lost His Purpleness, and all we are left with is the very worthy Purple Reign. Step aside, King; this is now the reign of Prince. This high-energy show also features tributes to Morris Day and the Time and Vanity 6.
Planet Hollywood
We're not going to lie: Criss Angel's "evil" persona is cheesy. MINDFREAK is cheesy. But…it's also super fun. Look, there are a lot of magic shows in Vegas, including a few on this list. And we, the magic-show-viewing audience, we know it's all BS. We know the most convincing levitation and conjuring and vanishing illusions are the stuff of, literally, smoke and mirrors (and wires and trap doors). But even then, even knowing that, a show like MINDFREAK still impresses and entertains, especially when you add in all the talented dancers, contortionists, musicians, and pyrotechnics surrounding Angel. Is it cheesy? Yes, but you will enjoy it all the same.
The Mirage
People love the Beatles and people who love the Beatles love this show. The Beatles LOVE by Cirque du Soleil is effectively the visual companion to the Beatles' Sgt. Pepper's days, by which we mean their psychedelic drug days. I mean, does anyone actually buy John Lennon's claim that "Lucy in the Sky with Diamonds" isn't about LSD? We rest our case.
Nicole Rupersburg
is a freelance writer covering food, travel, arts, culture, and what-have-you. She winters in Las Vegas and summers in Detroit, as does anybody who's anybody. Her favorite activities include drinking beer and quoting
Fight Club.