So many shows. So little time. The Las Vegas Convention and Visitors Authority says about 65% of all visitors see at least one show while in town, and because you can't spend all your vacation at an amazing pool party, you should become part of that 65%. Want to see the best of the very best? Here's a look at the top productions you'll find on the Strip.
O by Cirque du Soleil
Bellagio (address and info)
If you pick just one Cirque show to see while in Vegas, it's hard to go wrong with this one. It's basically a high-flying stunt show over water. The production is among the very best on the Strip, even if some of the characters look like extras from Eyes Wide Shut.
Jersey Boys
Paris Las Vegas (address and info)
The rise and fall of Frankie Valli & The Four Seasons adds up to a surprisingly compelling plot for a musical production and is kind of like an episode of VH1's Behind the Music come to life on stage. The music is full of energy but the dialogue is full of attitude, intensity, cursing, drama, and more cursing.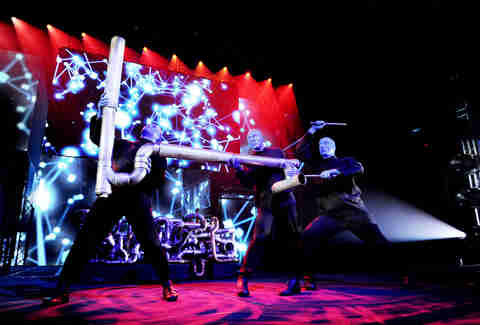 Blue Man Group
Monte Carlo (address and info)
Yeah, this show about guys in blue paint banging on stuff has been around forever, but stays current with up-to-date references. It's one of those productions that keeps re-inventing itself year after year, while proving there's no limit to how many marshmallows one dude can stuff into his mouth.
Jubilee
Bally's (address and info)
Jubilee's managed to keep the showgirl tradition alive as the longest running production on the Strip. It recently underwent a makeover, which means you'll get modern dance moves from the same guy who choreographed Beyonce's "Single Ladies" video, while keeping to old school elements like top hats, tuxedos, and sequins.
Raiding the Rock Vault
Tropicana (address and info)
Former members of Heart, Whitesnake, and other arena rock bands put on a concert that's like a trip through time, from the late '60s to the mid-80s. The musicians still have their chops, so expect to hear classic rock anthems like "Livin' On A Prayer" and "Smoke on the Water" played the right way… and at full volume.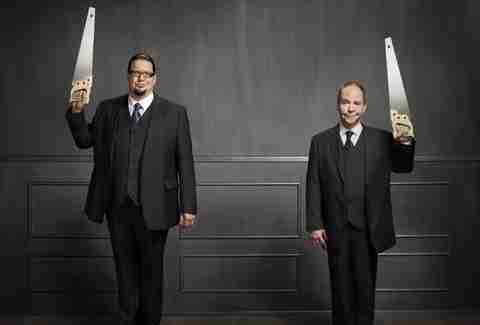 Penn & Teller
Rio All-Suite Hotel & Casino (address and info)
This comedy/magic duo are a natural fit in Vegas, and have been quirkily slaying audiences for years with a show that's big on illusions and stunts, with a touch of political commentary. They may even show you how a few tricks are done. Just don't ask 'em to pull a rabbit out of a hat.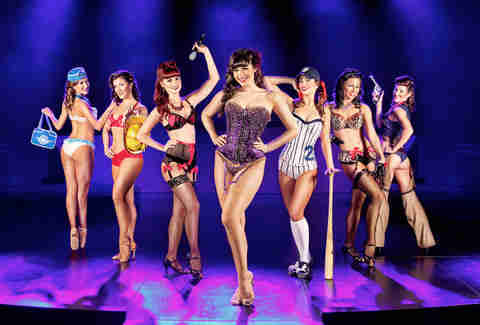 PIN UP
Stratosphere (address and info)
Former Playboy Playmate of the Year Claire Sinclair dresses up and strips down as the star of this high-energy musical production with calendar girl routines to represent each of the 12 months. Imagine Claire as a sexy witch for Halloween in October and you get the idea. The show's musicians are among the best you'll find anywhere on the Strip.
Absinthe
Caesars Palace (address and info)
This is a show so raunchy, it couldn't even be contained inside Caesars Palace. Instead, you'll find it just steps outside the front door inside a tent that will take you back to the days of carnies, freak shows, and snake oil salesmen. Like the drink it's named after, the show packs an intense punch that savors of humor, stunts, and risque behavior.
Le Reve - The Dream
Wynn Las Vegas (address and info)
Expect lots of swimming and diving inside a theater designed keep everyone in the audience close to the action. The cast includes an army of bald dudes who look like an ensemble of James Bond villains' henchmen, and those domes are mesmerizing.
David Copperfield
MGM Grand (address and info)
David Copperfield made history with television specials in the 1980s that felt like major events (they actually were major events, unless you don't consider making the Statue of Liberty disappear major). Now you can see his illusions in the intimacy of a cozy theater. Watch a car appear out of thin air and then try to figure out how it's done (spoiler alert: you probably won't figure it out).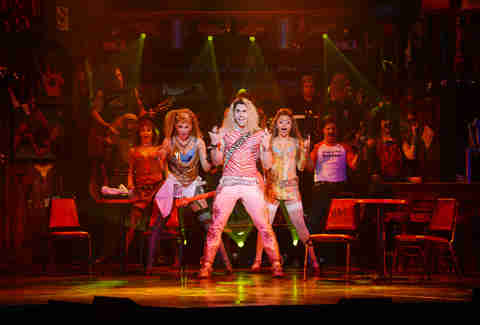 Rock of Ages
The Venetian (address and info)
This musical is made for people who like to sing along to Journey and Pat Benatar while in the car with the windows rolled up. The songs draw heavily on the big-haired hits of the '80s, and in a possible attempt to test the tolerance levels of the audience, even includes Starship's "We Built This City".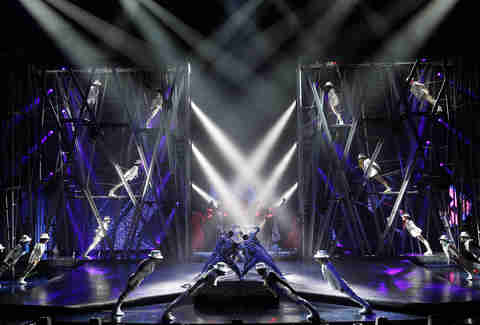 Michael Jackson ONE by Cirque du Soleil
Mandalay Bay (address and info)
Like Michael Jackson? Expect a night full of wild stunts and acrobatics performed along to big hits like "Man in the Mirror" and "Beat It" as well as not-so-big hits like "Stranger in Moscow" and "They Don't Care About Us". Perfect for fans of the gloved icon or people who just want to see the "Smooth Criminal" dance pulled off in person.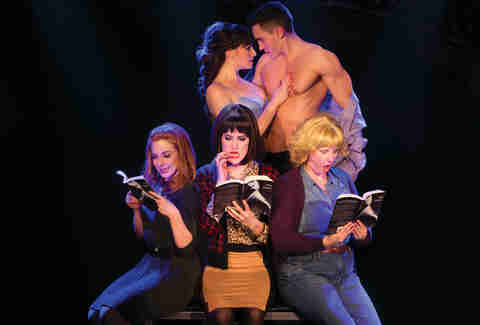 50 Shades! The Parody
Bally's (address and info)
This onstage musical spoofs every grown woman's favorite book and least favorite movie while showing that bondage, raunchy behavior, and lame plotlines can be more funny than you realize.