Tomasz Rosa/Le Reve
Tomasz Rosa/Le Reve
More than 70% of all Vegas tourists go to see a show (and no, we don't just mean the topless ones) while they're in town, but what exactly are they seeing? Are they all rhinestones, cheesy standards, and white tigers? Not if you check out our list of nine Sin City shows that are actually worth seeing:
Jersey Boys
Paris Las Vegas (address and info)
If you're the kind of music fan who can't pull themselves away from an episode of VH1's Behind the Music, this is the show for you. It tells the story of Frankie Valli and the Four Seasons -- including their rise, fall, and breakup -- as if a rock-umentary is unfolding on stage. Plus the songs are way better than you'd expect, and are performed by vocalists who can totally nail those crazy high notes.
Absinthe
Caesars Palace (address and info)
It's dirty, raunchy, and takes place inside a carnival tent right outside Caesars Palace. It's hosted by the vulgar and cosmetically-challenged character known as "The Gazillionaire" -- with variety acts, comedy, and plenty of sordid behavior.
The Beatles: Love
The Mirage (address and info)
There are eight shows from Cirque du Soleil on the Strip… and Love may be the best of all. First, there's the music (dude, it's the Beatles), which comes blasting through what may be the best sound system in Las Vegas, and then there're the acrobats and dancers performing to mash-ups of the Fab Four's hit songs inside a psychedelic circus.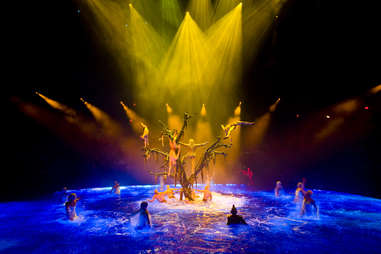 Le Reve: The Dream
The Wynn (address and info)
It's often mistaken for a Cirque show, but it's... um, not. It is an over the top production that's short on story and singing, and instead pretty much just focuses on crazy diving and water acrobatics above a constantly evolving stage, all of which builds to (spoiler alert!) a climactic drop from the tippy-top of the theater to the water below.
Raiding the Rock Vault
The LVH (address and info)
It is basically a concert that moves chronologically through the history of rock with a few funny sketches thrown in between some of the songs, all from people on stage that come with some serious rock cred, having played in bands like Whitesnake, Quiet Riot, Asia, and... Heart (?!).
Panda!
The Palazzo (address and info)
The crazy production values in this show come from the same people who put on the eye-popping opening ceremony at the 2008 Olympics in Beijing, and as you'd expect involve a little bit of everything from the Far East, including acrobatics, kung fu, and yes, a dude in a panda suit.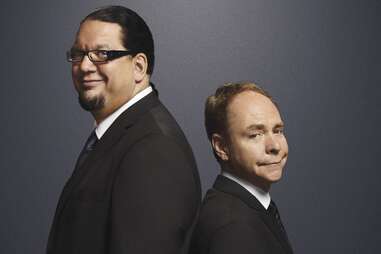 Penn & Teller
Penn & Teller Theater at Rio Hotel & Casino (address and info)
Ok. At some point you're going to want to check out a magic show in Vegas, and while David Copperfield and Criss Angel have been met with some mixed reviews, Penn & Teller just keep doing their thing: some smart-ass humor and a ton of stunts and illusions. You'll even learn how a few of the tricks are done.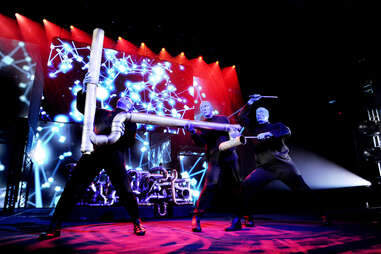 Blue Man Group
Monte Carlo (address and info)
Yeah, yeah, bald, blue guys bang on stuff without talking... but somehow manage to keep you fascinated for an entire show, during which they'll make fun of current technology trends (like smartphones and texting), and at least one of them will stuff an entire bag of marshmallows in his mouth.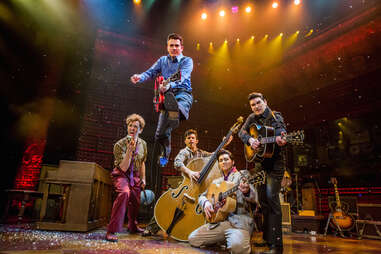 Million Dollar Quartet
Harrah's (address and info)
Inspired by a one-off jam session that happened back in 1956, MDQ features music from four rock 'n roll legends: Elvis Presley, Johnny Cash, Carl Perkins, and Jerry Lee Lewis, and gives you an idea of how badass these dudes really were. Oh, and who Carl Perkins actually is.