Las Vegas is the ideal place to be for... well, lots of things: building implosions, (hopefully topless) pool season, and what is probably your employer's least-favorite sporting event, March Madness. And while we can't help you fill out a bracket, or get away with streaming games at work, we can help you find the 10 best places in Vegas (or anywhere, really) to go when the tournament starts...
Best Place To Shoot Hoops: Carmine's
The Strip
An Italian restaurant inside The Forum Shops at Caesars may not scream "game time", but they're turning a massive private dining room into the ultimate man cave with TVs, video games, and comfy recliners come tournament time, and laying out a spread of Italian eats and bottomless booze. And check this out... you can shoot your own free-throws from a balcony facing the Strip – with a thousand-dollar prize at stake.
Best Food For Under Ten Bucks: Social House
The Strip
The sushi and sake joint is offering up an "Elite Ate" (get it?) menu during Mach Madness with eight specials that're just eight bucks each, so even when you lose all your money backing Gonzaga to make the Sweet 16 (Wait! Kelly Olynyk plays for the Celtics?!), you can still afford French fries w/ braised short rib on top.
Best Sports Book Suites: Race and Sports Book at the MGM Grand
The Strip
These private skyboxes have their own 42-inch plasma TVs, surround-sound audio systems, and more video games than you can shake a (joy) stick at. You also get complimentary food and drinks from your own personal server, and the chance to look down from the second floor on all the people below who don't get any of that, and probably picked the Shockers to justify their number one seed. Ha, losers!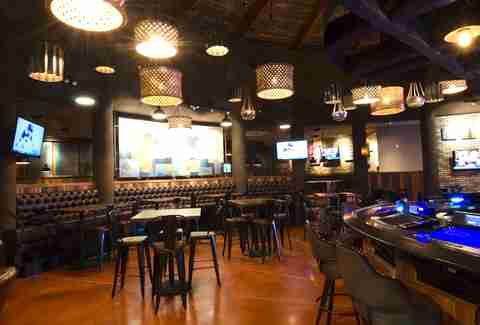 Best New West Side Spot: Distill
Summerlin
This local hangout is packed with 18 TVs, so you can catch all of the action while swilling sweet cocktails made with things like their housemade coffee and orange-cinnamon-infused whiskeys.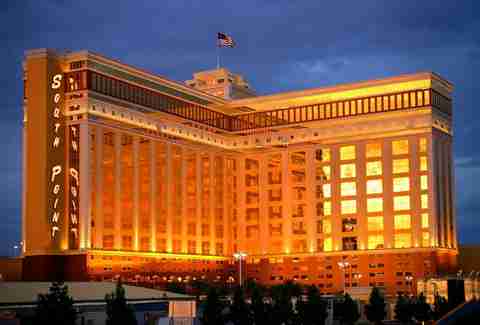 Best Place To Get A Massage: South Point Hotel & Casino
South of the Strip
The grand ballroom of the casino is being transformed for one of Vegas' biggest viewing parties: there will be drink specials, every game'll be up on one of the big screens, and if placing bets at the on-site wagering stations gets too stressful, relax with a free chair massage, or by shooting hoops with former NCAA and NBA stars.
Best Place To Get A Shave: Barber Shop at The Mirage
The Strip
Instead of watching the West Regional from the edge of your seat (C'mon Creighton!), do it while leaning back in a vintage barber-style chair for an old-school shave: each service comes with complimentary draft beer or four different selections from the whiskey bar.
Best Sports Bar Seating: Lagasse's Stadium
The Strip
There are rows of plush... waitforit!.. stadium-style seats overlooking a massive nine-by-sixteen foot television on the main floor (more than 100 HD TVs scattered around the place), a sports book, private suites, a sweet patio, and pub eats from Emeril, some of which presumably come with Bill Raftery's favorite ingredient... "Onions!"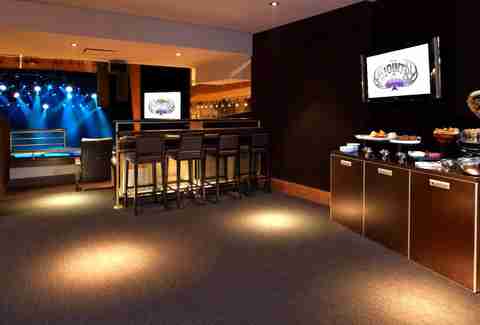 Best Concert Venue To Watch A Game: The Joint
East of the Strip
Tickets to the Hard Rock's viewing party start at $68 per person per day, but get you access to their live gaming and betting stations, bottomless Bud Light drafts, and thousands of dollars in giveaways, including a trip for two to the "Ultimate Basketball Weekend" in Dallas during the Final Four.
Best Sports Book: Red Rock Sports Book
Summerlin
The sports book at Red Rock has long been considered one of the best in Southern Nevada, thanks to its spacious area and 96-foot high-def video wall. If that's not enough, you're just steps away from margaritas that cost you less than a dollar.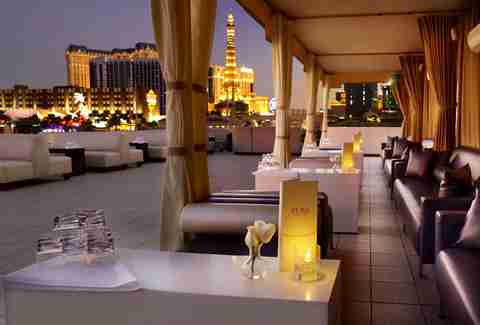 Best Club To Watch A Game: PURE Nightclub
On the Strip
Check out the games on one of the 32 TV screens inside Caesar's wildest nightclub, while crushing some of their signature BBQ pork sliders, then, when it's all over, you can hit the patio to celebrate with drinks that, sadly, cost more than the number of games UNLV won this year.