The Best Strip Clubs in Las Vegas
12 ways Las Vegas is getting naked again.
Photo courtesy of Sapphire
Sin City is known for its lap dances nearly as much as its slot machines, but like everything else in town, strip clubs are facing a period of readjustment. Most no longer operate 24/7. Some barely open at all during the day anymore. At the peak of the pandemic, fluctuating government regulations on everything from lap dances to mask requirements and even levels of nudity were often more confusing than effective. For a little while, some strip clubs continued as glorified bikini bars. But Vegas is getting back to its old ways. Performers are getting vaccinated and getting naked again.
Don't hesitate to call around and compare deals. A host or manager will negotiate in good faith, especially if you're part of a bachelor party or another large group. And if a club offers their own free transportation… take it! Those who arrive in a taxi or rideshare are notoriously penalized with inflated admission charges to offset the kickback to the driver. Vegas things. Now that you know how to save, it's time to spend. So study up on the hottest strip clubs in Las Vegas.
Industrial Corridor
The Library is one of the newest strip clubs in town, recently taking over Cheetah's—a piece of Las Vegas history best known as a filming location for the 1995 cult classic Showgirls. The space has undergone a full remodel. The walls of mirrors are gone, replaced with LED-enhanced wood paneling with new carpet, chairs, and tables—all under a blue-purple glow. Locals get admission reduced to $10.
Whitney Ranch
Formerly known as Babe's Cabaret, Mink's manages to be an affordable locals-focused strip club while still boasting an attractive lineup of performers. The venue is divided between a cabaret room with three stages and a sports bar, where the music isn't as loud. Pool is free on Tuesdays and hookah is $10 on Thursdays. Overall, drink prices are more than reasonable by strip joint standards, but there's usually some kind of deal on any given night, including a beer and shot combo for $10 Sundays, $2 off whiskey Wednesdays, and $5 Bud Lite drafts Thursdays. Football fans receive $1 pizza slices and $5 beer specials during games Sunday, Monday, and Thursday (plus shot specials when the Raiders play). Monday is VIP night: 20 minutes in the VIP room for $100.
Industrial Corridor
Compared to other strip clubs in Vegas, Score's is smaller and more intimate, which gives it a boutique feel. It has four stages, but plans are underway to expand dramatically with the construction of a second floor. Expect to see more VIP rooms and a two-story dance pole when it's all said and done. Score's takes pride in its drink selection, featuring high-end whiskeys and a nice wine list. Beer bucket deals are available during Monday Night Football.
Off the Strip
Sometimes location is everything. Crazy Horse 3 is within easy walking distance to Allegiant Stadium and even offers VIP packages with parking included for those attending Raiders games. In other words, it's one of the best places to tailgate in Las Vegas. However, Crazy Horse 3 earned a reputation as one of the busiest strip clubs in Vegas long before pro football came along. The main room has a 50-foot-long bar (to make it easy to order a drink) and elevated seating (to make it easy to watch the performances). Other stages are scattered throughout different corners of the 40,000-square-foot venue with no shortage of performers on staff. The food is surprisingly good, ranging from teriyaki bowls and burgers to Nutella dessert pizzas. Definitely come by on Taco Tuesday. The chicken, pork, and carne asada tacos may be just a dollar, but they're delicious.
East of the Strip
Formerly Club Paradise, Centerfolds is directly across the street from the new Virgin Hotels resort, making it incredibly convenient for tourists east of the Strip. However, locals have the most incentive to check out the club. Show a Nevada ID and admission drops from $50 to $10. Locals also get $2 drinks and $100 bottles 8-11 pm on Sundays. Anyone can take advantage of an open bar 10pm-midnight Wednesdays as long as they RSVP on the VIP list. Just want to see a good show? A Touch of Burlesque runs 11 pm Friday-Sunday with an experienced cast of performers from Cirque du Soleil, Fantasy, and other Strip productions. It's a fun night with a combination of showgirl, burlesque, and aerial acts.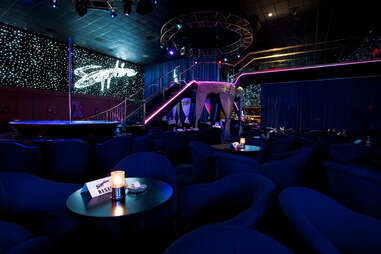 Industrial Corridor
Sapphire bills itself as the largest gentlemen's club in the world with more than 70,000-square-feet of poles, stages, and private Champagne-filled skyboxes to check out hundreds of dancers on any given night. The place actually used to be a fitness club before it was renovated. There's even a pool out back for dayclub-style partying during the summer. Rent a cabana or daybed and check out the "aquarium" filled with beautiful women treading water. However, our favorite indoor feature is the "Rockstar Lounge" with a glass-top view of the women dancing above. Sapphire is known for having wild football watch parties and even offers a free shuttle to Raiders games at Allegiant Stadium.
Industrial Corridor
Here's how the law works in Vegas. Strip clubs can have either full nudity or alcohol. Not both. So while most clubs are topless-only in order to keep the booze flowing, Little Darlings skips the loaded drinks in favor of more skin. You can still order a soft drink for $8 or a slushie for $15. The performers are generally more approachable, giving Little Darlings a playful low-pressure feel. If you just want to hang out and smoke hookah, that's fine too. Locals receive $5 off admission.
North Las Vegas
For every rule, there is an exception. Founded in 1969, Palomino Club is the only strip joint in the Las Vegas Valley to have full nudity and a full bar grandfathered in. Whether in one of the fantasy rooms or the upstairs lounge, tip big and show some appreciation for legal loopholes. There's no official happy hour and no locals perks, giving the club something of an exclusive feel.
Off the Strip
If the words "Larry Flynt" aren't sexy enough, focus less on the name and more on what feels like an endless parade of dancers, performing throughout a three-level venue on multiple stages. The Hustler Club is actually one of the more vibrant and colorful strip joints in Vegas, and not just because of the neon that decorates the porte-cochere out front. There's a rooftop deck—perfect for large bachelor parties, private events, and the occasional comedy night—while a see-through catwalk provides a view of the action from different angles. If you want a little more intimacy, book one of 11 suites or three skyboxes on the second floor. Brunch runs 9 am-noon daily with bottomless mimosas. Drinks are just $2 on Tuesdays and locals can enjoy an open bar until midnight Sundays. Hustler Club is one of the few strip joints currently open 24/7.
Industrial Corridor
Open seven days a week from 6 pm to 4 am, this overnight party spot charges admission of $35, which is waived with a downloadable VIP pass or by booking the club's free transportation. Deja Vu built its reputation on private topless bed dances and catering to couples in the Champagne room. Drinks are just $2 all night on Tuesdays and the less you spend on booze, the more you can spend on lap dances. The club has an adult gift shop next door with a movie theater screening both straight and gay content.
Industrial Corridor
The name is legendary—even if we don't know what it really means. The prices at Spearmint Rhino are a little higher compared to other clubs but overall, you get what you pay for: pretty dancers and attentive service. The club is large with at least four stages to keep your eyes busy. A full kitchen is available from open to close, readly to serve turkey burgers in the afternoon or steak and eggs in the morning. Just make sure to try the grilled peanut butter and jelly sandwich on banana bread. Admission is $40 and rarely waived. An exception is made for those getting picked up by the club and ordering bottle service.
Industrial Corridor
Treasures feels like a party in a giant mansion with dark wood finishes, elaborately carved artwork, and winding staircases between two floors. However, the club is best known for having its own steakhouse on property. It's an intimate space with large comfortable leather furniture and a service team that's been in place for years. After filling up on prime steaks and seafood, head over to the main room, where the performers are attentive and the dances add up fast. If you're focusing more on drinks than food, ask about the two-hour premium open bar package for $130 per person, which includes round-trip transportation and a VIP table.
Rob Kachelriess
has been writing about Las Vegas in Thrillist for more than eight years. His work has also appeared in Travel + Leisure, Trivago Magazine, Sophisticated Living, Modern Luxury, Leafly, Las Vegas Magazine, and other publications. Follow him on Twitter @rkachelriess.