Sure, Vegas has topless pools, and massive lingerie parties, and highly prestigious bikini contests, but the best way to enjoy Sin City's natural, and... um, unnatural beauty is in the area's finer gentlemen's establishments, which we've tirelessly scoured so you'll know where to go for the best happy hour, the chance to see a celebrity, and, if you're lucky, a really great value. And yes, by "value" we mean get lucky.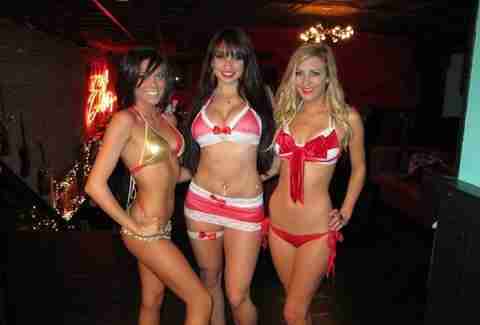 Best Happy Hour: Treasures Gentlemen's Club & Steakhouse
Off the Strip
This "steakhouse" has a buffet so sweet it'll almost make you forget the place is staffed by a bevy of mostly-naked women, and a price during its daily 4-6p happy hour that definitely will: free.
Best Place To Take a Swim: Sapphire
Off the Strip
A lot of Vegas pools give you a chance to hang out with hot girls in bikinis and drink booze, but there's only one Vegas pool that's owned by an actual topless bar, and therefore gives you a chance to hang out with hot girls in wayyyy less than bikinis and drink booze. This one.
Best Place To Bring Your Girlfriend: Olympic Gardens
The Strip
Posted up on the stretch of Las Vegas Boulevard that connects the modern Strip to Downtown, this equal opportunity night spot boasts an all-male revue for her upstairs, and a thankfully all-lady space downstairs for you… and (hopefully) her too.
Best Place To Get a Drink: Palomino Club
North Las Vegas
Due to some loopholes in the law, this spot north of Downtown is the only club in Vegas that offers fully nudity and alcohol. And dancers too young to work at most Vegas establishments, but you probably won't even notice because: nudity AND alcohol!
Best Place to Have a Bachelor Party: Spearmint Rhino
Off the Strip
The Rhino has a big reputation to live up to and largely delivers thanks to some of the most attractive women in Vegas. A few of 'em even tell us they fly in from out of town just to work here for a few weeks... and that of course they really like us, and no, it isn't just about the money. How could we even ask that?
Best Place to Spot a Celebrity: Crazy Horse III
Off the Strip
It's not uncommon to see the red carpet rolled out for reality TV stars, porn stars, and even an actual celebrity every now and then, including Carmen Electra (she celebrated her birthday here). Even Snoop Dogg is known for throwing parties at the venue's in-house Posh nightclub.
Local Favorite: Cheetah Lounge
Off the Strip
If the place looks familiar, it's because the 1995 movie Showgirls was filmed here, or because you're a local and have taken advantage of the free admission afforded to people from the 702, to watch a game, swill discounted drinks or hang with the manager, who, in his previous career, was the Wrestling Observer Newsletter's "Most Embarrassing" professional wrestler for 1992, "Papa Shango".
Best Bartenders: Déjà Vu Showgirls Las Vegas
Off The Strip
The cuties behind the bar will totally make you forget about the cuties on stage "putting themselves through nursing school to 'Pour Some Sugar On Me'", and ply you with some of the strongest hookah in the city.