Recommended Video
Please Don't Hang Up: The Best Things to See, Eat, and Do in Seattle, WA
T
hink Las Vegas is best known for shots and slot machines? Nah, it's all about the strip clubs. If nudity is your thing, this is your town. Iconic spots like the Girls of Glitter Gulch and Olympic Gardens (or "OG" to the locals) have recently closed their doors -- RIP -- but not to worry. There are still more than enough places to slip a dollar inside a G-string.
Off the Strip
A classy spot to watch the big game: At more than 40,000sqft, Crazy Horse III has plenty of stages spread out over several rooms. Located just west of Mandalay Bay, it's one of the more accessible strip clubs from the south end of the Strip. It's very clean and kinda feels like a nightclub. Cover can be as high as $50 but you'll never be charged if you call the free limo service to pick you up. (So order the free limo! The club even has a smartphone app for it.) The main room has a 50ft-long bar (to make it easy to order a drink) and elevated seating (to make it easy to watch the girls). Open 24 hours a day, seven days a week, with a late-night food menu and some surprisingly tasty sushi, CH3 is also a great spot to watch a big game or UFC fight with HDTVs scattered around the venue. But maybe you should be paying attention to the stage anyway.
East of the Strip
Location, location, location: Formerly known as Club Paradise -- which shut down following allegations of fraud tied to credit card overcharging -- the venue recently found a new life reopening as Centerfolds. As the only Vegas strip club across the street from a major resort -- the Hard Rock Hotel and Casino -- it's incredibly convenient and in the middle of a busy area for both locals and tourists. Highlights include a stylish interior, a new late-night kitchen, VIP "blackout rooms," and Schoolgirl Sundays. If you're in town for a convention, show your badge. You may get in for free. The club is also a big afterparty spot for those attending the AVN Awards (aka the "Oscars of Porn") at the Hard Rock each year.
Off the Strip
One of the largest strip clubs in Vegas: Sapphire has more than 70,000sqft of poles, stages, and private Champagne-filled skyboxes to check out the hundreds of girls who perform on any given night. The place actually used to be a fitness club before it was renovated into a palace of skin and silicone. There's even a pool out back for dayclub-style partying during the warm summer months. Rent a cabana or daybed and check out the "aquarium" filled with beautiful women treading water. However, our favorite indoor feature is the "Rockstar Lounge" with a glass-top view of the girls dancing above. Packages come with a free limo ride and cover included. For the ladies, there's a male revue known as the "Men of Sapphire" that plays in a separate room on Thursdays, Fridays, and Saturdays.
Off the Strip
Full nudity (but there's a catch): Here's how the law works in Vegas. Strip clubs can have full nudity or alcohol. Not both. So while most clubs are topless-only in order to keep the booze flowing, Little Darlings skips the loaded drinks in favor of more skin -- although you can enjoy a sugar buzz with free unlimited soft drinks. It also claims to be the largest fully nude 18-and-over club in the United States, although we haven't done the painstaking research to verify that. Admission is $35 but drops to $15 with a pass from the website. Locals are free on Mondays.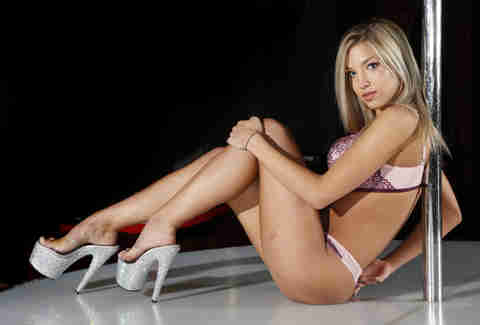 North Las Vegas
The only full-bar, full-nudity joint in town: So that law we just told you about? Forget about it -- at least at the Palomino Club. Founded in 1969, it's the only strip club in Vegas to have a policy of full nudity and a full bar grandfathered in. Whether in one of the fantasy rooms or the upstairs lounge, tip big and show some appreciation for legal loopholes. There's no official happy hour -- but who cares when you have full nudity and alcohol?
Off the Strip
Where Showgirls was filmed: No matter how much money you spend or how many ladies take the stage, Cheetahs will forever be known as the club where Showgirls was filmed back in the good ol' '90s. And while Elizabeth Berkley and Gina Gershon will be nowhere in sight, chances are good you'll see at least one celebrity: the "Godfather," a former pro wrestler with the WWF (eh, WWE) who actually runs the place now and is good for a story or two. Other perks include free pizza and wings during happy hour and special events, a free shuttle, and being open 24 hours a day. Keep in mind -- despite the dark interior -- the girls at noon look a lot different than the girls at midnight.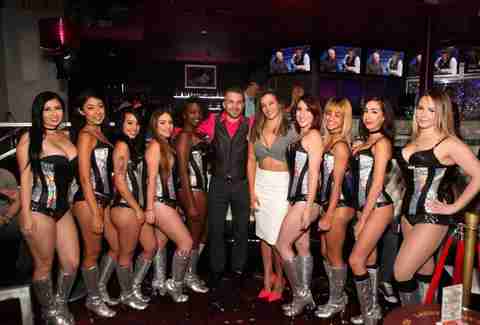 Off the Strip
Aces for big groups and bachelor parties: If the words "Larry Flynt" aren't enough to drum up some sexual energy, focus less on the name and more on what feels like an endless parade of girls, performing throughout the three-level venue on multiple stages. This place is actually one of the more vibrant and energetic strip clubs in Vegas, and not just because of the neon colors that welcome you at the porte-cochere out front. There's a rooftop deck that's perfect for large bachelor parties and private events while a see-through catwalk provides a view of the action from different angles. If you want a little more intimacy, book one of 11 suites or three skyboxes on the second floor. A male revue geared towards women runs on the third floor Thursday-Sunday.
Off the Strip
Aces for couples and private dances: Open seven days a week, from 6 at night to 6 in the morning, this overnight party spot charges admission of $45 -- which is waived with a "downloadable" pass from the club's website. VIP entry is $50 but includes a table and a $50 bar tab -- so you do the math. It's not too shabby. With free limos to pick you up from hotels on the Strip and Downtown, Deja Vu has built a reputation for private topless bed dances and catering to couples in the Champagne room. There's also an open bar on wells and domestics Mondays from 6-10pm. The less you spend on booze, the more you can spend on lap dances. Need some adult entertainment on the go? Grab a DVD from the retail shop on your way out the front door.
Off the Strip
Freshly renovated and ready for a long night: The name is legendary -- even if it doesn't really make any sense. The prices may be a little higher, but overall, the girls are generally top quality. Since four stages isn't enough, the Rhino recently spent about a year on a major expansion project, pretty much doubling its space and adding a sleek new exterior. A full kitchen is open 24 hours a day, ready to serve turkey burgers in the afternoon or steak and eggs in the morning. In other words, there's no reason to ever leave this place. Just make sure you try the grilled peanut butter and jelly sandwich served on banana bread. It's the best thing for your appetite after a lap dance.
East of the Strip
Small, quiet, and close: No, it's not closed. Club Platinum may look abandoned but it just keeps limited hours (6:30pm-4am) and seems a bit low-key due to its small size -- think of it as the Little Engine That Could of strip clubs. It's not uncommon to have just a few girls on the clock, but here's the good news -- there's never a cover and you can enjoy some video poker if you get bored. Located just east of the Strip near the Tuscany resort, Club Platinum is really about convenience more than anything else.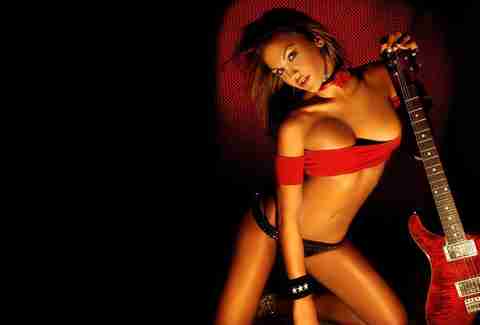 Southeast Valley
For those not looking to drop all their cash: Known as the only strip club in Henderson (although the address technically isn't in Henderson), Babes is perfect for those looking to save a few bucks on drinks -- and for truckers driving through Southern Nevada on the 515. The joint is especially proud of its hookah collection and the flavors come with strip club-friendly names like "Doggy Style" and "Panty Dropper." The food menu is full of familiar bar eats like wings, pizza, and fries with a different special every night of the week. Tuesday is a good option, with well drinks and beer just $1 if you're wearing a Babes T-shirt -- a reasonable request. A free limo offers rides from any hotel on the Strip, admission is free for locals, and you can pick a table in advance for free on its website, Ticketmaster-style.
Off the Strip
For those with a taste for the finer things: Treasures feels like a giant mansion party with beautiful women on two floors, dark wood finishes, and winding staircases. There's also a full steakhouse on property -- and while it may sound unnecessarily indulgent to order a 28oz porterhouse, veal chop, or twin Australian lobster tails inside a strip club, it's actually a nice touch for bachelor parties. No cover with free limo, although there may be a two-drink minimum.
Sign up here for our daily Thrillist email, and get your fix of the best in food/drink/fun.