Let's get this out of the way: the Strip is not "downtown" Las Vegas. Technically, it's not even in Vegas, so if you want to see some of the real city, head North on Las Vegas Boulevard until you find the famous neon cowboy and all of the fantastically trashy attractions on Fremont Street (what's up Heart Attack Grill?!). And then keep going... to all of these downtown spots you actually should check out:
Recommended Video
This Himalayan Salt Block is the Perfect Hack for Aspiring Cooks
Pizza Rock
The Downtown 3rd Block
Pick whatever kind of slice you want. Pizza Rock has you covered – serving up styles that include Chicago, New York, and Sicilian, with specialty ovens for each one. Go highbrow with the weird stuff ("Quail Egg White Rose Potato Guanciale" anyone?) or just pick up a late-night slice at the take-out window after a long night of partying.
Insert Coin(s)
Fremont East
If you've ever wanted VIP-style bottle service while playing a round of Mortal Kombat, then Insert Coin(s) is your place. A giant square bar takes up the center of the floor and the rest of it is covered in video games and girls wayyy hotter than the ones who went out with you when Mortal Kombat first came out.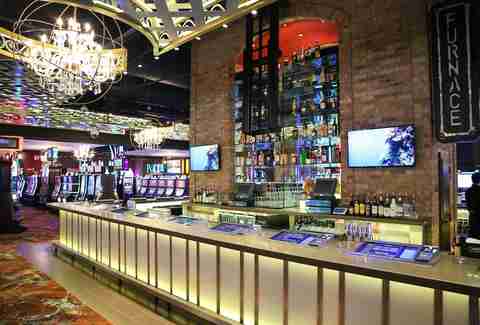 Downtown Grand
The Downtown 3rd Block
Downtown took a big step forward when the Grand opened last year. Not 'cause Vegas needed another hotel, but 'cause someone needed to prove it's possible to build something new and flashy without sacrificing the classic Vegas vibe. And because we needed more places where you feel safe parking your car.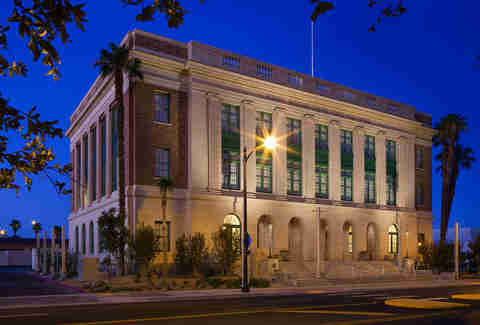 The Mob Museum
Mid-Downtown
The Mob Museum pays homage to all things gangster by showing off the tommy guns used in the Chicago St. Valentine's Day Massacre, and other cool stuff inside the old Las Vegas Courthouse, where a bunch of these dudes were prosecuted before they got played on screen by badass actors like... Warren Beatty?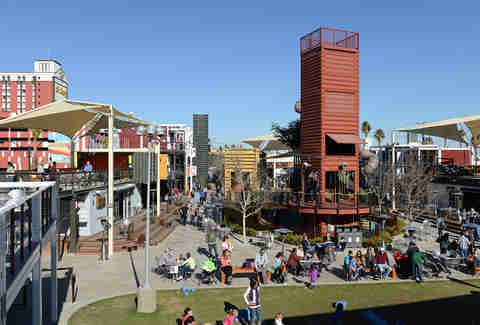 The Downtown Container Park
Fremont East
The concept is simple: take old shipping containers, pile 'em up in one spot, and make stores out of 'em (no national chains allowed). If you have trouble finding it… look for the giant, metal praying mantis out front. Sorry, look for the giant fire-breathing praying mantis out front.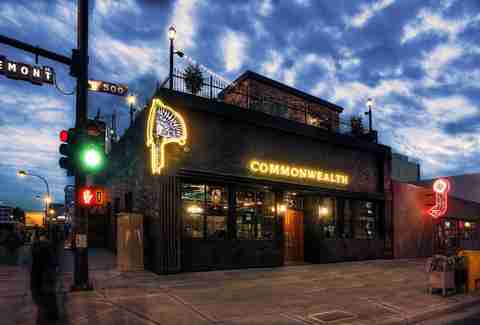 Commonwealth
Fremont East
You hear this a lot: "I'm not into downtown. But I like Commonwealth." Probably 'cause you can post-up on the roof and pretend you're in some college town that's miles away from Las Vegas, or hang in "The Laundry Room" -- a hidden speakeasy in the back with a drink menu inspired by the roaring twenties.
Artifice
The Arts District
Time to take things down a notch. The Arts District is home to neighborhood bars like Artifice and the Velveteen Rabbit... as well as independent shops, galleries, and even a little peace and quiet. Though that all changes once a month when the live music- and (hopefully) art school chick-heavy block party known as First Friday comes around.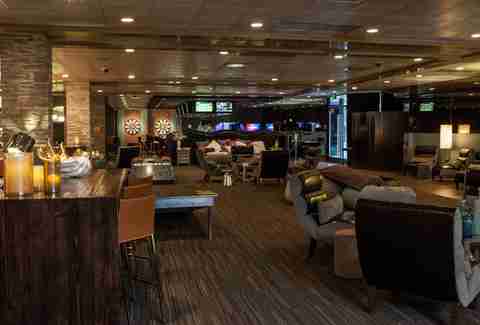 The Gold Spike
Near Fremont Street
The Gold Spike is an old-school casino that got bought by Zappos, which gutted it, took the slot machines out, and turned it into a glorified rec room for employees, and anyone else who wants to play Connect Four on the wall, shoot some pool, test your skills with a giant-sized Jenga set, or just hang by the fire-pits in the backyard.
The Boneyard at The Neon Museum
North Downtown
A few years ago, someone got the idea to preserve the history of Las Vegas instead of blowing it up all the time. So nowadays, the Neon Museum's packed with iconic signs and marquees that've been around since people first (with apologies to Starship) built this city.
The El Cortez Hotel and Casino
Fremont East
No resort's rolled with the changes downtown better than the 'Tez, which has made some upgrades while preserving a vintage Vegas-vibe: the casino was recently named to the National Register of Historic Places and is still a favorite with locals, thanks to deals like its Cafe Cortez $5 Beer & Burger Special.