Watch the Bellagio Fountains
Bellagio
It's the most obvious choice, but you can't go wrong with the Bellagio Fountains. The shows are set to music, and while Frank Sinatra may be a better selection than Celine Dion, the spectacle of water cannons shooting hundreds of feet in the air offers the perfect romantic atmosphere for free without making you look cheap. Shows are usually every half hour in the afternoon and every 15 minutes in the evening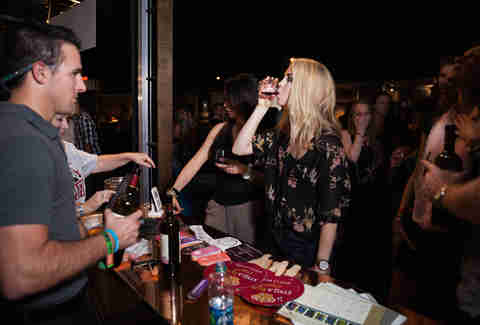 Try new wines at Rock 'N Roll Wine Tastings
Multiple locations
Every Thursday night Rock 'N Roll Wine holds free tastings at a rotating list of locations that range from the Artisan Lounge to VICE VERSA at Vdara. All you have to do is sign up for the list in advance. Red and white blends are always offered, but a few other surprises can show up as well.
Watch a volcano erupt
The Mirage
The Mirage built a volcano in front of the resort just so it could make loud explosions, shoot fire, spew lava, and make tourists think that something on the Strip is being blown up. It's set to Indian-inspired music that a dude from the Grateful Dead helped create. Shows take place every half hour at night.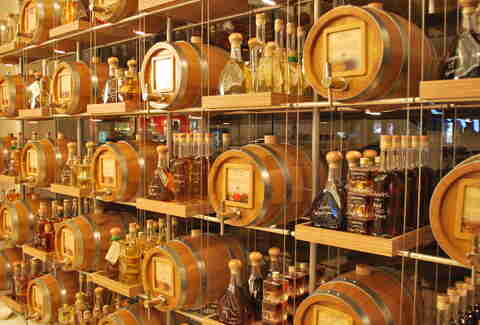 Drink whiskey at Vom Fass
The Venetian
Vom Fass is a cool little spot that sells its own in-house selection of wines and spirits from around the world. You can try samples from the kegs at any time. However, on Thursdays, Fridays, and Saturdays, an informal class called The Whiskey Experience takes place at 7pm. Enjoy tastings bourbon, Irish whiskey and Scotch while learning about how they're made and what makes them all different from each other.
Go for a hike
Red Rock Canyon National Conservation Area
The best place to enjoy the beauty of nature (aside from the many topless pools) in Vegas is at Red Rock Canyon. Grab your boots, some water, and a few friends so you don't get lost. It's also a great spot to lock lips with your date. Stick to mornings or late afternoons in the summer to avoid the worst of the desert heat.
Go to Sake Mondays at Katsuya
SLS Las Vegas
Free samples of sake are offered at Katsuya on the last Monday of every month with half-priceed bottles every Monday. As a bonus, you can always head over to the nearby Sayers Club. If there isn't a big name concert going on, the cover is usually free.
Take in the Fremont Street Experience
Downtown
Just watching all the weirdos and tourists wander down Fremont St is some free entertainment in itself. But there's also the Viva Vision LED light show that takes place under the 1,500ft-long canopy throughout the night, plus local bands that are playing on one of three stages at any given moment. That's not to mention the bigger acts that play for free in the summer. Past headliners have included 3 Doors Down, Bret Michaels, and Cheap Trick.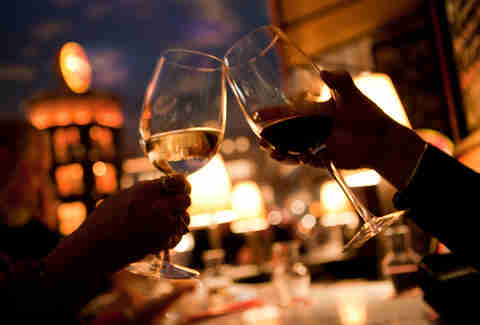 Wine and dine at Otto
The Venetian
Buy a bottle of wine and receive a free cicchetti (or selection of small bites) from the chef between 3-6pm. The plate will be specially prepared to go with your choice of vino and may include fruits, meats, marinated olives, bruschetta, vegetables and/or Italian cheeses. So once said wine is ordered, you can just leave the thinking to someone else.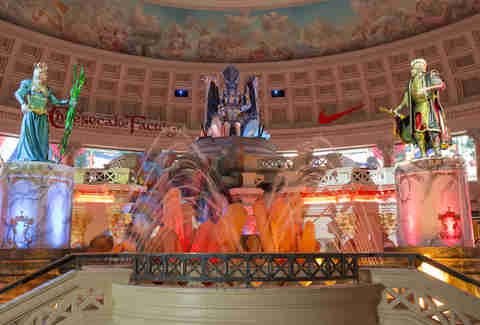 Watch The Fall of Atlantis
Forum Shops at Caesars
This animatronic show features statues that come to life and ramble on about some sort of family drama. The quality falls somewhere between what you'd find at Chuck E. Cheese's and Disney's Hall of Presidents, but hey, it won't cost you a dime and things get exciting with a cool-looking dragon and blast of fire at the end.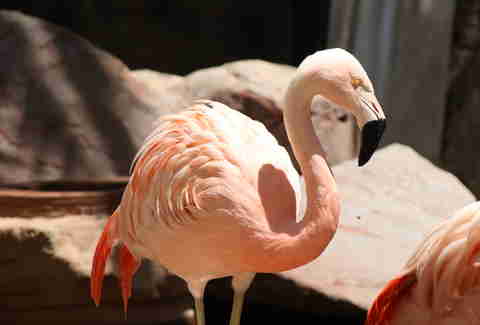 Relax with wildlife
Flamingo Las Vegas
On the grounds of the Flamingo hotel, you'll find a scenic wildlife habitat that's home to exotic birds, turtles, and koi fish. There's also a waterfall and an island in the center of it all with a collection of Chilean flamingos. It's pretty much the only place on the Strip that'll make you feel like you're not in Sin City anymore.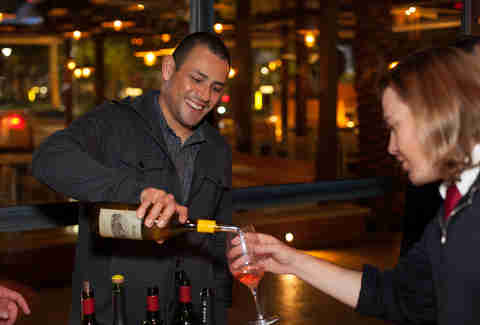 Sip wine at Private Cellar Thursdays
Red Rock Resort
Any day of the week is perfect to check out Hearthstone at the Rest Rock Resort, but the Private Cellar events every Thursday night offer free pours from a featured winery. Expect a few appetizers and surprises from the chef to be passed around as well. RSVP in advance.
Smell the roses at the Bellagio Conservatory & Botanical Gardens
Bellagio
The Conservatory & Botanical Gardens in the lobby of the Bellagio features rotating seasonal floral displays and is truly one of the best places to bring a date in Las Vegas. On the downside, it's probably the most photographed place per-square-foot in Las Vegas, so you're bound to walk into someone's shot or get poked in the face with a selfie stick.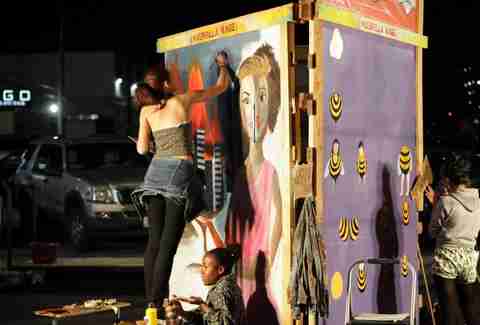 Party at First Friday
Downtown
This artsy block party takes place, as the name suggests, on the first Friday of every month. It's the perfect time to pay a visit to the Downtown Arts District, check out some exhibits, hear some music, and hit on girls.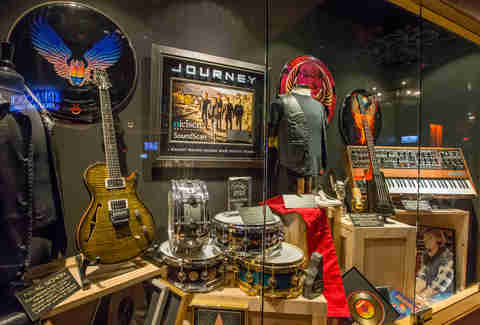 Relive rock history
Hard Rock Hotel & Casino
The typical Hard Rock Cafe in any city usually has a few guitars and platinum records on the wall, but things get taken up a notch in Vegas. The lobby of the Hard Rock Hotel & Casino is like a walking tour through the history of music. The memorabilia includes a drum set from Def Leppard, clothes from the likes of Prince and Madonna, and special exhibits dedicated to Journey, Imagine Dragons, and other acts who've headlined at The Joint.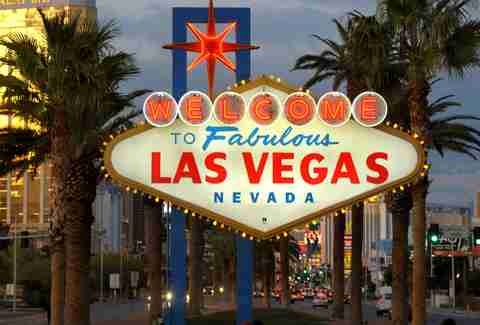 Take a picture with the Welcome to Fabulous Las Vegas sign
South of the Strip
Of course, the ultimate free thing to do in Vegas is to get a photo taken at, you know… that sign. Recently installed crosswalks and an expanded parking lot in the middle of the road now makes it a lot easier to visit without getting hit by a car.
Sign up here for our daily Vegas email and be the first to get all the food/drink/fun in town.