Just when you thought you knew Vegas like the back of your hand (the pool parties, the buffets, everything), you realized there's a whole 'nother secret hand that you didn't even see! Hopefully it doesn't belong to an alien prostitute, because -- according to these 12 Sin City secrets -- THERE ARE TOTALLY ALIEN PROSTITUTES IN VEGAS.
You can get kidnapped and stuffed in a trunk... for fun!
Spring Valley
Ranked the number four "Best Haunted Attraction in the World," Freakling Bros. Trilogy of Terror features "Gates of Hell," the first and only R-rated haunted attraction in Nevada. You have to sign a release form before you enter and be prepared to get grabbed, shocked (as in with electricity), and, if you opt for the "Victim Experience," bound, blindfolded, and locked in a box, with an actual safe word being your only way out before the end.

There are a bunch of "zombies" just waiting for you to shoot them
Chinatown
What if the zombie apocalypse actually happened? Everyone would rush to the Zombie Apocalypse Store, obviously, because it sells all the zombie apocalypse supplies you need (whether or not you join a Ricktatorship is up to you). It also offers the Zombie Apocalypse Experience, an interactive paintball game in which you get to shoot zombies. Because you can literally do anything in Vegas.
This bar doesn't just have ghosts. It has ghost prostitutes.
Goodsprings
The Pioneer Saloon in Goodsprings, Nevada, about 45 minutes outside of Vegas near the California border, was built in 1913 and is one of the oldest saloons in Nevada. Many movies have been shot here, but it's more famous for another kind of shooting -- one that left bullet holes in the wall (still there to this day) and a victim's spirit to forever haunt the place. The PS is also said to be haunted by some of the ladies of the night who used to work out of the hotel that was once next door. If you want to mingle with one of their many ghosts, get a group together for a Haunted Lockdown. And if you want to make nice with the ladies, we're told they like whiskey.
The Berlin Wall is in your urinal. Seriously.
Downtown
You can literally urinate on communism at the Main Street Station Casino in downtown Las Vegas, where a huge chunk of the Berlin Wall is on display in a men's bathroom with the urinals installed directly on it.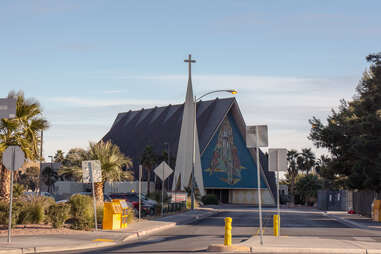 God wants you to win at the casino, apparently
The Strip
Odds are, that at some point during a weekend in Vegas, you'll be doing some kind of praying. At the Roman Catholic Guardian Angel Cathedral you can pray for luck by offering casino chips as tithes during a special Saturday tourist mass. A priest will periodically collect these chips and cash them in at their respective casinos. He is known as the "chip monk," naturally.
Wait, there are no hangovers in Vegas?
Las Vegas
If your offerings to the chip monk didn't quite save you, there are always packages with names like "Redemption," "Salvation," and "Rapture," at Hangover Heaven, an actual medical hangover treatment service that will come straight to your hotel room when you just can't even.
Fat Elvis is even fatter than you think
The Strip
One of the unique joys of Las Vegas is the many, many different Elvi available for your entertainment. "Big Elvis" Pete Vallee is one of them, and at 600lbs, he's a big hunk of burning love. Catch him at the Harrah's Las Vegas Piano Bar four days a week.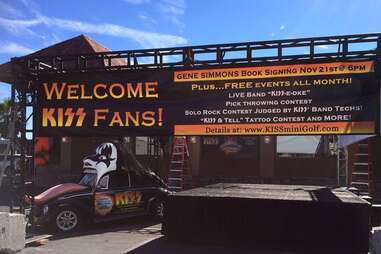 Putting your balls in Gene Simmons' mouth is the whole point
Eastside
KISS Monster Mini Golf is exactly what it sounds like: a KISS-themed mini-golf course with lots of black lights and giant platform boots, and an obstacle where the idea is to roll your ball up a 12 foot tongue into Gene Simmons' wide open mouth.
It turns out that mermaids are real
Southwest
The "Under the Sea" aquatic-themed Mermaid Lounge at Silverton Casino is surrounded by a 117,000-gallon saltwater aquarium filled with 4,000 exotic fish including sharks and stingrays, and oh yeah, there are also LIVE MERMAID SHOWS!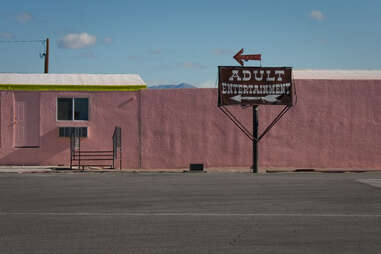 You can totally sleep with an "alien"
Amargosa Valley
Located just a little over an hour from Las Vegas, the Alien Cathouse is a legal Nevada brothel, but this one is just a little different than the others: located just South of the former Area 51 test site, the Alien Cathouse specifically caters to those with alien sex fantasies. And there's a gift shop!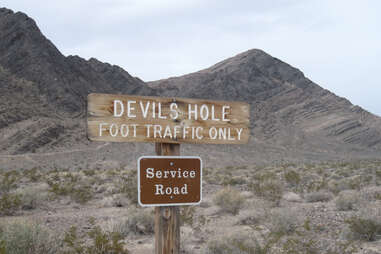 The premise of Piranha 3D was real! Except for the piranhas.
Amargosa Valley
No, this is not a euphemism for a service provided at the Alien Cathouse. The Devil's Hole is a 60,000-year-old fissure on the edge of Death Valley that opens up into the sprawling system of geothermal water-filled caves beneath. The full size and depth of this water system has never been reached or recorded. It is also the exclusive home of the ancient and endangered pupfish, and thus is a highly monitored National Wildlife Refuge.

There are over 300 hot springs out in the desert
Boulder City
It may be dry enough here that we're likely going to run out of water sooner rather than later, but we still have hot springs! Nevada is home to about 300 natural hot springs. There are plenty in relatively close proximity to Las Vegas, but some of the most popular are in Gold Strike Canyon in Boulder City on the border of Arizona and the banks of the Colorado River. It's a strenuous hike out and back with spots that require rope-climbing, and it should not be attempted in the summer when temperatures in the canyon can rise above 120 degrees. People die here. Frequently. Enough that there are warning signs and a makeshift water station not far from the trailhead. Don't be a dumb tourist about it and remember that some things stay secret for a reason.
Sign up here for our daily Vegas email and be the first to get all the food/drink/fun in town.