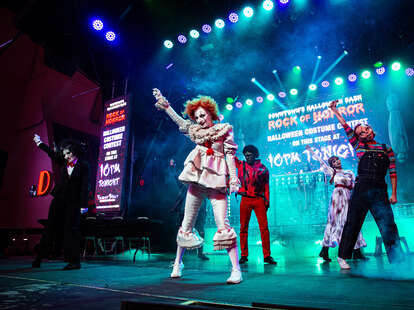 Photo courtesy of Fremont Street Experience
Halloween is making a comeback in Las Vegas. Last year's edition of the spooky holiday emphasized toned-down events and drive-thru experiences. Well, with coronavirus numbers moving in the right direction here in Nevada, Halloween is starting to feel a little more routine again—and we like it that way. One thing is certain: the best holiday treat is a vaccine, so make sure you're inoculated before heading out and about this holiday season. Now… time to pick the right costume and plan the perfect Halloween in Las Vegas. Here are the top events, attractions, and deals to check out.
Choose between a pair of movie-themed escape rooms
Ongoing
Industrial Corridor
Two of your favorite horror flicks are returning to life in the form of escape rooms. The all-new Escape Blair Witch was introduced just in time for Halloween. It's actually a series of rooms inspired by the Blair Witch Project with props and set designs to recreate the feeling of paranormal activity in the woods. The attraction is produced by Egan Escape Productions, a company also responsible for the Official SAW Escape Room. Enter the Egan & Co. Meat Packing plant and solve puzzles to complete a game devised by the dangerous Jigsaw killer.
Cost: Escape Blair Witch begins at $45.99. SAW begins at $49.99.
Now–Friday, October 29
Multiple Locations
Halloween attractions don't always have to be scary. Put some spirit in the season with Halloween Town, an outdoor fair and pumpkin patch for all ages. Nosh on carnival-style food and shop for the perfect pumpkin (or a few if you need to practice your jack o' lantern carving skills). Halloween Town has locations in Boca Park, Spring Valley, and Silverado Ranch this year.
Cost: $20 for 25 tickets or a wristband for unlimited rides.
Now–Saturday, October 30
Summerlin
The Halloween Maze is a new haunted attraction near Fort Apache and Flamingo. Make your way through eight rooms, encountering a series of sinister characters, ranging from killer clowns and zombies to classic horror creatures.
Cost: $20 (or $15 when buying online).
Now–Sunday, October 31
The Strip
Fashion Show Mall is bringing a sense of style to the Halloween season. Shoppers can take a detour through Trick or Chic—a hall of skeletons with guides sharing spooky stories Fridays, Saturdays, and Halloween from 3-7pm. There's also a Monster Mash light show in the Great Hall.
Cost: Free admission, but it helps to RSVP in advance.
Now–Sunday, October 31
Moapa
Take a short drive north of Las Vegas to the Moapa Valley Corn Maze, a farm that's full of festive activities on select days through Halloween. There are actually two mazes: one that's on the family-friendly side and another that's haunted and full of dead-ends. You'll also have fun with hayrides, zombie paintball, and the Shriek Shack, a haunted barn that's brand new this year. Not into the scary stuff? Just hang out by a fire pit with a serving of funnel cake or apple fries.
Cost: General admission is $12. A few of the attractions cost a little extra.
Now–Sunday, October 31
Meadows Mall
Las Vegas Haunts has been putting a fright into Nevadans for 23 years now. You've got your choice of two different experiences—"Asylum" (inspired by an old mental health institution) or "Hotel Fear" (modeled after a spooky hotel). Each one plays a role in a single intertwined storyline. All tickets include admission to both.
Cost: Tickets begin at $30. Online sales have staggered entry times to minimize waits and crowds.
Now–Sunday, October 31
West Valley
The Magical Forest at Opportunity Village once again takes on the role of HallOVeen with train rides, a classic carousel, mini golf, and lots more. This year, the price of admission includes access to all rides and two escape rooms. While the attraction is fun for all ages, the adults will appreciate the beer and wine garden. Gates open at 5:30 pm with reservations required.
Cost: Tickets begin at $22.
Tour a museum of monsters
Now-Sunday, October 31
Tivoli Village
The Museum of Monsters is an all-new pop-up exhibit at Tivoli Village dedicated to classic horror film characters. Roam from room to room, mingling with the likes of Dracula, Freddy Kreuger, and even Pennywise, the creepy clown from It. It's the kind of place where selfies are encouraged. The Museum of Monsters is just one of a few Halloween attractions at Tivoli Village. Kids will love the Undead Maze and haunted house. Adults will prefer the Twisted Pumpkin holiday-themed pop-up bar (running through November 2).
Cost: Museum of Monsters is $20, Undead Maze is $5 (Saturdays and Sundays), and Twisted Pumpkin tickets begin at $15.
Now–Sunday, October 31
Spring Valley
Freakling Bros. has a new home in the Ikea parking lot with three sinister horror show attractions. Castle Vampyre is inspired by Dracula, while Coven of 13 is based on evil witches and cloaked figures. Gates of Hell is the scariest of all, a devish journey that's billed as a sadistic sensory overload and the only R-rated haunted house in Nevada. You've been warned.
Cost: A "Freak Pass" begins at $50 and includes entry to all three attractions.
Now-Sunday, October 31
Multiple Locations
Adults can do their own version of trick or treating by shopping at their favorite cannabis dispensaries in Las Vegas. Cheeba Chews are THC-infused taffy candies that come in flavors like sour apple or caramel to match the spirit of the fall season. You'll find them at Planet 13, Reef, Medmen, Thrive, and at least eight other legal weed shops around the valley.
Cost: Prices begin at $19.99 for a pack of ten.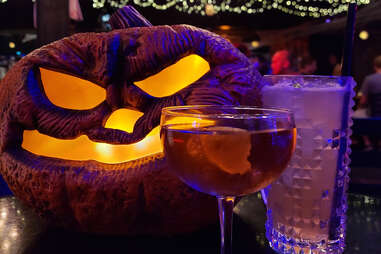 Now–Monday, November 1
Chinatown
One of our favorite bars in Las Vegas is doing something special for Halloween. The Sand Dollar Lounge is transforming into Nightmare on Spring Mountain, a pop-up concept with a full lineup of spooky cocktails. Make sure to check out the Doomsday Machine (Old Fashioned with butterscotch-infused bourbon) and Peter Peter (a pumpkin-spiced slushie daiquiri). About $10,000 was spent on Halloween decor, with themed costume parties held throughout the month. Come by as your favorite superhero (or super villain) for Marvel Universe night on October 27. Things wrap up with a Day of the Dead party on November 1. Definitely try the pizza.
Cost: Free admission.
Wednesday, October 27
Summerlin
The annual Night of the Witches benefit for HELP of Southern Nevada is happening from 6-8:30 pm at Grape Street Cafe in Downtown Summerlin. The price of admission includes a Witches Brew sangria with souvenir cup, raffle ticket, happy hour food pricing, and a gift bag for the first 100 guests. Dress up as a witch or warlock, compete in a costume contest, and ask Mystic Mona for a psychic reading.
Cost: Admission begins at $35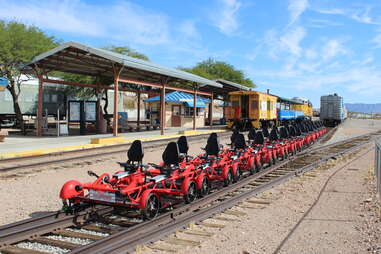 Wednesday, October 27–Sunday, November 1
Boulder City
Traveling down the train tracks with Rail Explorers is a fun outdoor activity any time of year, but in the days leading up to Halloween, guests are encouraged to dress up in costume for tours at 3:30 pm, 5:30 pm, and 7:30 pm, with spooky sightings along the way. Rail Explorers now has customized electric rail bikes with an advanced propulsion system. The journey is eight miles with a 20-minute break in the middle.
Cost: Tandem rail bike for two begins at $95, quad rail bike for four begins at $165.
Thursday, October 28-Saturday, October 30
Huntridge
It's the final weekend of performance for Ghost(s), an interactive production by the team behind the Majestic Repertory Theatre. Members of the Pyewacket Society for Occultural Affairs are looking for new recruits at The Usual Place bar. Are you willing to participate and make contact with the deceased? Expect the unexpected in an immersive experience that runs just under an hour.
Cost: Tickets are $35.
Thursday, October 28-Sunday, October 31
Downtown
The Downtown Container Park has four straight days of outdoor Halloween fun. Dress in costume and do the Monster Mash during a Silent Disco 7-10 pm October 28. Return on October 31 for an early Dia de los Muertos mariachi performance by the Las Vegas Arts Academy 3:30-4:30 pm, trick-or-treating for the kiddos with treats handed out by Container Park shops 4:30-6:30 pm, and a sunset screening of Hocus Pocus on The Lawn.
Cost: Free (silent disco is $10 to rent headphones with an RSVP suggested).
Thursday, October 28-Sunday, October 31
Off the Strip
The StarBase event space presents "Encounters: Aliens vs Zombies" for an interactive Halloween party 9 pm-2 am with live music, dancing, virtual reality games, and other fun stuff to combine tech with terror. Anyone dressed as an alien or zombie receives a free shot at 11:11 pm. A $250 cash prize is up for grabs in a costume contest.
Cost: $10 at the door or free admission with RSVP.
Solve a Halloween whodunnit
Thursday, October 28 & Sunday, October 31
Off the Strip
There are two interactive murder mystery dinners in time for Halloween. Lawry's The Prime Rib presents Music Can Be Murder October 28 at 7 pm with a three-course meal (with a main entree of prime rib, salmon, or a vegetarian dish). Interact with characters and try to solve the murder by dessert. The Stirling Club hosts Lethal Libations on Halloween night at 6 pm. The 1920s-themed event includes a special dinner and clues throughout the room to help solve the evening's mystery. Dress in your Prohibition-era best.
Cost: Music Can Be Murder is $115 per person. Lethal Libations is $165.60 for Stirling Club members and $191.28 for non-members (and includes all taxes and gratuity).
Thursday, October 28-Sunday, October 31
Off the Strip
AREA15 is the new host of the Fetish & Fantasy Halloween Ball, an adults-only gathering of food, drink, saucy costumes, and an adults-only marketplace with a DJ and other live performers. The event begins at 9 pm on October 30. Additional attractions and businesses throughout AREA 15 will have their own Halloween fun throughout the weekend as well. Wink World: Portals Into the Infinite transforms into HalloWink with discounts for those following a nightly costume theme (the '80s on October 28, fantasy on October 29, science fiction on October 30, and free choice on October 31). Emporium has craft beer, cocktails, classic arcade games, live DJs, and cash prizes for the best costumes October 30-31 (with a "Hallo-emo" theme Sunday night). Come by earlier in the week on October 28, when the Sanctuary hosts a Dia de los Muertos-inspired art session with cocktails and an opportunity to create your own clay sugar skull (4 pm) or painting (5 pm). Meanwhile, Viva Las Vengeance is an ongoing virtual reality experience (through at least November 14) based on Zack Snyder's Netflix zombie thriller Army of the Dead.
Cost: Tickets begin at $95 for the Fetish & Fantasy Halloween Ball, $11 for those in costume at Wink World, $20 for Sanctuary Sessions, and $24 for Viva Las Vengeance.
Rock out in costume on Fremont Street
Thursday, October 28-Sunday, October 31
Downtown
The Fremont Street Experience presents "Rock of Horror," a long weekend celebration with live music, flash mobs, and theatrical performances by Alter Igor on the 1st Street stage as well as Wicked Dreams, featuring aerialists, dancers, and other performers on the 3rd Street stage. Up to $1,500 in prizes will be handed out in costume contests on Halloween night, but if you really want to cash in, head to Circa. The hotel is hosting a Vegas Vickie Neon Idol costume contest with a whopping $10,000 awarded to the winner.
Cost: Free admission.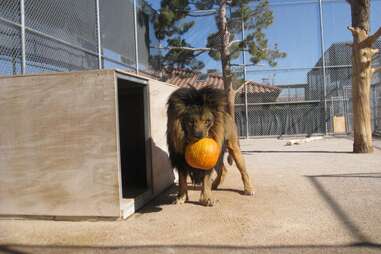 Friday, October 29–Sunday, October 31
Henderson
Las Vegas doesn't have a full-fledged zoo, but it does have the Lion Habitat Ranch. Located near the M Resort in Henderson, the ranch provides a home to more than 30 big cats, some of which were featured in Strip stage productions years ago—not to mention Ozzie the painting giraffe. The ranch is presenting "Boo at the Zoo" 11 am–3 pm, a family-friendly event with costumes, trick-or-treat stations, an educational scavenger hunt, and a feast of pumpkins for the lions.
Cost: Tickets are available online for $25 ($20 for locals). One adult admission includes one child under 14 for free. Children four and under are always free.
Friday, October 29-Sunday, October 31
Mandalay Bay
The Shark Reef Aquarium transforms into Hallow Reef for the holiday weekend. Hours are expanded from 10 am to 8 pm, with festive decor and treats to enjoy while walking though underwater tunnels and checking out more than 2,000 creatures, ranging from sharks and rays to sea turtles and even a komodo dragon.
Cost: Tickets start at $29 for adults and $5 for kids 12 and under in costume. Sign up to donate blood at Mandalay Bay October 29 9 am-6 pm and receive a free admission voucher.
Skip the candy for better Halloween bites
Friday, October 29-Sunday, October 31
The Venetian
Holiday treats come in many forms and some of your favorite Las Vegas bars and restaurants will be serving up themed specials. But make a point to stop by the Venetian, where you can feast on black garlic roasted snails with forbidden rice at Brera or pumpkin-filled pasta at Matteo's. Majordomo has a whole-roasted baby pumpkin dessert with brown butter ice cream, pomegranate caramel, and cinnamon puff crunch. Black Tap is scooping together a Halloween CrazyShake with chocolate ice cream, vanilla-frosted rim, candy corn, and a chocolate cupcake in a spider web design with other candy toppings.
Cost: Majordomo pumpkin dessert is $26, Black Tap shake is $17, other prices to be announced.
Friday, October 29-Sunday, October 31
The Strip
The LINQ outdoor promenade will be covered in Halloween decorations with deals, discounts, and special treats at shops, restaurants, and other attractions. Stop by Off the Strip for a lineup of Halloween cocktails, including the Deadly Night Shade (Chambord, Absolut Citron, and grenadine with cranberry and lemon juice) or the Candy Corn (a sweet and sour mix of vanilla vodka and pineapple juice). Try the "Reeks Like Children" shot at I Love Sugar (Smirnoff Kissed Caramel vodka infused with candy corn along with whipped cream and black sprinkles). On Halloween, the Museum of Selfies will offer a $5 admission discount to those in costume and the High Roller observation wheel will have a themed light show.
Cost: Prices vary.
Friday, October 29-Sunday, October 31
Downtown
Hidden Cinema's Rooftop Garden isn't just a great place to bring a date in Las Vegas, it's also a perfect spot for Halloween entertainment with a view. The pop-up movie theater (on the top floor of a Downtown parking garage with casino lights in the background) has a series of scary movies at 7 pm for the holiday weekend, including Addams Family 1 and 2 (October 29), Scream and Scream 2 (October 30), Hocus Pocus (October 31), and a late 9:45 pm screening of American Psycho (October 31). Enjoy the films from the comfort of a bean bag chair and order beer, wine, or hard seltzer from the bar.
Cost: Tickets begin at $10.
Saturday, October 30-Sunday, October 31
Treasure Island
Gilley's Saloon is throwing a country-style Halloween bash two nights in a row at 9 pm. There will be a costume contest each night for $1,000 in prizes and boot-scootin' music by Rebel Heart. Take advantage of drink specials (beginning at $8) on draft beer, shots, and you-call-it Tito's, Jack Daniel's, or Jack Daniel's Tennessee Fire cocktails.
Cost: Free admission.
Rob Kachelriess has been writing about Las Vegas in Thrillist for more than seven years. His work has also appeared in
Travel + Leisure, Trivago Magazine, Sophisticated Living, Modern Luxury, Leafly, Las Vegas Magazine
, and other publications. He's wearing a mask for Halloween. Follow him on Twitter @rkachelriess.