According to legendary choreographer and producer Donn Arden, the keys to a successful Las Vegas show were both "beautiful girls and major disasters." In the beginning, Arden was almost too right: two weeks before his Jubilee's slated 1980 debut, a tragic fire swept through the then MGM Grand (now Bally's). Then, on the show's belated opening night, leading up to the grand finale, an elevator gave out leaving the bulk of the performers stranded 100 feet below the stage, covered in wires.
Since then, though, Jubilee has made all other utterances of "the show must go on" seem trifling by comparison, racking up more than 20,000 performances over the course of 34 high-kicking, Swarovski-studded years, making it the longest running live show in Vegas.

More than that, Jubilee is the last surviving representative of Vegas' signature form of entertainment: the epically magnificent topless review. Back in the day, these spectacles were engaged in an arms race of one-upmanship, with each show trying to be more, well, spectacular than the next.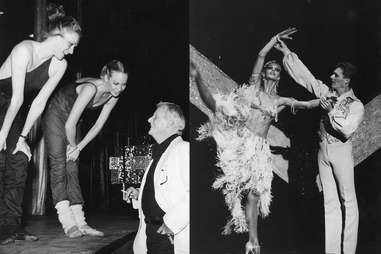 Winning that arms race almost certainly contributed to Jubilee's enduring appeal, but underneath the bombast, the show was built to last. Arden and his longtime collaborator, "Madame Bluebell" (showgirl godmother Margaret Kelley), were the two people most responsible for bringing the Parisian-style review to Nevada, and Jubilee was Arden's coup de grace.

The space itself was ambitious; built in the heyday of arena rock, it still staggers with 100-foot-tall ceilings towering over the contrastingly cozy 900 seats. The truly monumental, 3-dimensional disasters -- which have included the Hindenburg, the Great San Francisco Earthquake, and the sinking of an obsessively recreated Titanic – are still operated using the original hydraulics, a system so mammoth (three giant elevators, two revolving platforms, plenty of other mechanisms) that it's housed in three levels of sub-basement.
All of this means nothing without showgirls -- 45 of them take the stage every night -- and the show's remarkable run has been predicated on an equally remarkable consistency of showgirl leadership. Founding company manager "Fluff" LeCoque (you almost certainly can't pronounce her given first name) led her beautiful, leggy troops from opening night until just a few years ago, when she was well into her late 80s. Her successor, Diane Palm, has been here since the beginning as well, starting as a dancer with the original cast before moving on to teach other fairly remarkable women how to appear preternaturally poised and graceful while weighed down by a Schwarzenegger workout's worth of costume.
"It's not just about having a topless girl out there. That doesn't lead to a super-spectacular production show." – Diane Palm
The anchors of the plotline are reassuringly unchanging. The Titanic has sunk six nights a week for decades, and in every performance over that same period, centurions in rhinestone-studded loincloths have been seduced by Biblical slave women, thus allowing Samson to regain his strength to slay a 27-foot mechanical bull (like people in the Bible, that scene never gets old).
But a production that started out the same year Reagan entered the Oval doesn't last this long by remaining static. "We keep it fresh," says Palm. "When the show stops being entertaining, that's when it will be time to close the doors." Most recently, Jubilee went through a significant overhaul when they brought in Beyonce's choreographer, as well as EDM-savvy sound and lighting engineers to liven up 20th century catastrophes for 21st century audiences.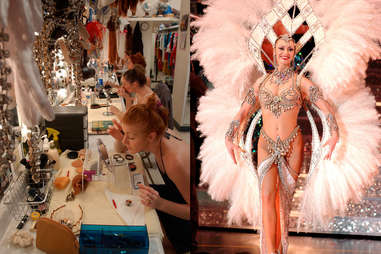 One thing that won't change – can't change, really – is that the costumes will always be stunning. To say you attended a topless review because of the costumes may sound a little like reading Playboy for the articles, but no matter how enthralled you become with what they don't cover, these get-ups are undeniably mesmerizing.

A simple rhinestone corset can weigh as much as a bulletproof vest, while a rhinestone skirt could add up to 8 pounds. The freaking hats weigh 8-16 pounds. Each of the dancers is bedecked in another 5 to 8 pounds of jewelry – add up all the jewelry in the show, and you're buried under 10,000 pounds

Changing in and out of these costumes – which each girl does seven or eight times a night -- is like a NASCAR pit stop, as dancers shed, say, five pieces and put on 10 new items in a mere 2 to 3 minutes. Some of the costumes require assistants just for dancers to be able to step into them, turning a woman into dazzling 10-foot-tall totem to feminine power, with a 6-foot wingspan of colorful feathers from ostriches, pheasants, and even a few turkeys. All of this happens with 10 or 12 other girls doing the same, while everything – sometimes including the floor – is in motion.
Witnessing the sheer magnitude of Jubilee -- the enormity of its sets, the skill of its dancers, and yes, those dancers' bare, natural, gloriously unapproachable breasts -- it's impossible to think of it as tired. Other Vegas shows might be wildly impressive, but they'll never be this audacious. "We provide a living example of what made Vegas so spectacular and over-the-top," says Palm. Missing it next time you're in Vegas wouldn't be a major disaster, but only because at 20,000+ performances and counting, you'll almost certainly get another chance.

Jubilee by the Numbers
We gave you a lot of fascinating numbers already, but with a production this big, there are always more. Here are some of the juiciest ones.

Percentage of breasts on stage that are natural: 100
Performers in the crew: 64 (45 women, 19 men)
Days a week they work: 6
Weeks a year they work: 52
Length of show, in minutes: 79
Stage techs, seamstresses, dance coaches, wardrobe attendants & other support staff: 60ish
Minimum height for dancer: 5'8" (5'11" for men)
Maximum height: 6'2"
Number of outfits in the active dressing rooms: 1,000
Number of dressing rooms backstage: 8
Additional costume staging areas: 4
Distance rhinestones and sequins would stretch end-to-end: 8,000 miles
Cost of each Swarovski crystal on some dresses, in 1980: $8
Cost of gowns used in finale, in 1980: $7,000
Weight of the bull slayed by Samson, in tons: 3
Pounds of dry ice used nightly: 4,200
Pounds of pyrotechnics used nightly: 10
Stage: 10 stories tall and 75 feet across with 2 stories of basement, 3 stories of subbasement