There are a zillion awesome pool parties happening in Vegas every single day. But each is spectacular in its own particularly glorious way. That's why we called out some prime examples of parties that will suit a host of specific-amenity seekers. Looking for rocking music? We got you. Opulent atmosphere? Covered. Best rubdown? Yup. Here's where to go if you're looking for…
A Great View
Drai's Beach Club, The Cromwell (address and info)
One of the best spots to enjoy the water is eleven stories above Las Vegas Boulevard, from the rooftop of The Cromwell hotel. The view of the Strip is almost as good as the view of all the bare torsos splashing around.
A Phenomenal Lineup
Wet Republic, MGM Grand (address and info)
A lot of those big-name (and highly-paid) DJs who pound out the dance music indoors at the Hakkasan nightclub do the same thing during the day poolside at Wet Republic. Steve Aoki, Tiësto, and Afrojack are among the headliners.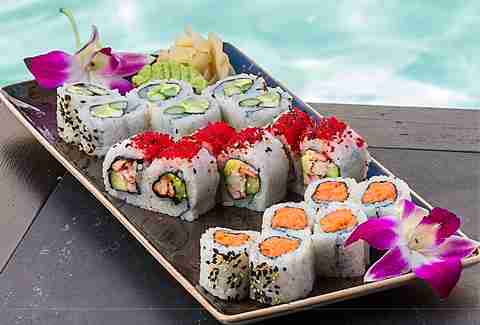 Amazing Food
Tao Beach, The Venetian (address and info)
One of the best things about this rooftop dayclub is being able to share the kitchen with Tao Asian Bistro downstairs. That means plenty of appropriately nautical sushi, killer Thai fish tacos, and... barbecue chicken satay. Hey, chickens can probably swim.
Fetching Eye Candy
Encore Beach Club, Wynn Encore (address and info)
The same partygoers who pack XS and Surrender nightclubs also crowd the swimming pools when not on the dance floor. Encore Beach Club features sets from ultra-popular DJs like Zedd and Avicii, so expect to see plenty of highly attractive people migrate to the, uh, "dancer" poles in the heart of the pool.
A Sweet Show
Rehab, The Hard Rock (address and info)
The season is kicking into high gear for Rehab with performances by Flo Rida and Ludacris as well as DJ sets by notable celebs. Rather rock instead? The summer months offer poolside concerts by Courtney Love, Puddle of Mudd, and yes, Nelson.
A Very Solid Cocktail
Foxtail Pool Club, SLS Las Vegas (address and info)
The Foxtail Pool Club just happens to be connected to the Foxtail lounge with bartenders ready to serve up a fun but standard menu of cocktails on the rocks, frozen drinks, and beer for those hanging out by the water. But check the "Passion for Wine," a take on sangria made with Grey Goose Le Melon, Syrah, and a mix of fresh fruit that includes passion fruit puree. It's perfect for sipping while trying to guess what sunglassed loungers are really looking at. Your rippling abs? Totally your rippling abs.
A Poolside Massage
Delano Beach Club, Delano (address and info)
The Delano is a new boutique hotel that goes for a South Beach vibe and a relaxing atmosphere that spreads to the pool area. The Delano Beach Club still has a DJ but the music is a little more chill and retro (think Welcome to Ibiza Chill Sessions Volume V not Welcome to Ibiza Chill Sessions Volume VII). It's the perfect background for poolside massages, courtesy of the hotel's spa.
Er... Nudity
Naked, Artisan (address and info)
Artisan is a boutique hotel just off the Strip that offers a "European-style" swimming pool with a perfect name. Women are invited to go topless and there's (appropriately) no cover charge, but space is tight with only four cabanas and just a handful of daybeds.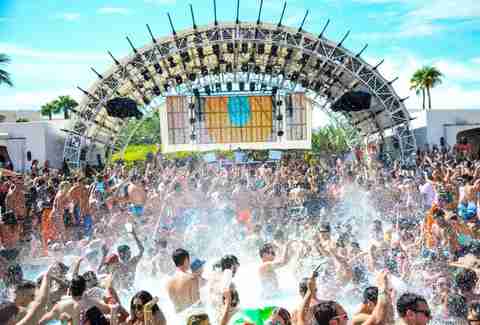 A Killer Sound System
Daylight Beach Club, Mandalay Bay (address and info)
Daylight is all about excess with an elevated stage, high-tech LED screens, and a sea of cabanas. It also has a mammoth sound system to pound out beats from the likes of big name DJs like Skrillex and Baauer (otherwise known as that dude who destroyed YouTube with "Harlem Shake"). If it all gets to be too much, just head next door to Mandalay Bay Beach and zone out on the lazy river.
A Place to Go When Skipping Work
Palms Pool & Dayclub, The Palms (address and info)
If you can't wait for the weekend, the Palms has you covered. Its weekly "Ditch Fridays" party is the wildest poolside bash you'll find during a workday, with water guns, champagne showers, and Xbox in the cabanas. The world's largest Hooters is being built right next to it, so anticipate some poolside chicken wings as well in the near future.
Locals to Hang Out With
Daydream, The M Resort (address and info)
You don't have to hit the Strip to party by the pool. The M Resort in Henderson offers Daydream for those seeking the dayclub experience. There are no famous zillionaire DJs, but you can still find fully loaded cabanas, hosted bars, and neon night parties.
Nonstop Dancing
Marquee Dayclub, The Cosmopolitan (address and info)
The dancing never stops at Marquee Dayclub, regardless of who is manning the DJ booth. The music is heavy on Top 40, and lots and lots of EDM with little room to move on busy weekends -- in a good way, because you're going to be very close to some very beautiful people.