Obviously, the first thing you do in Vegas during the Summer is hit each and every one of its epic topless pools, but the second thing is... well, all 13 of the things on our list of stuff you absolutely must do in Las Vegas this Summer, some of which aren't even in Vegas (we're looking at you Red Rock and Lake Mead!), but all of which will help you beat/get the most out of Sin City's brutal heat.
What: The Electric Daisy Carnival
When: June 20th-23rd
Where: The Las Vegas Motor Speedway
This festival draws more than 100,000 people who like neon colors/girls in skimpy outfits each night for tons upon tons of electronic dance music (or "EDM" for those who don't want to waste a second of their day), from over 175 artists, including people like Paul Oakenfold and Tiesto, who you may have actually heard of.
What: BLOQ PARTY at The LINQ
When: June 17th… and every Tuesday night afterwards
Where: We already told you... at The LINQ
The busiest alleyway in Las Vegas is getting busier with a massive outdoor party at The LINQ that goes from 6pm-2am every Tuesday night. Every shop and restaurant will offer some sort of big discount… and some of them are pretty good, like two-for-one tickets at Brooklyn Bowl, half-off admission for locals to the High Roller observation wheel, and specialty shots from BLVD. Cocktail Company.
What: UFC International Fight Week
When: July 1st-6th
Where: All over the place
An annual tradition continues with a week of exhibits, autograph signings, pool parties, and a massive fan expo… all leading up to not one, but two major UFC events on Saturday and Sunday at Mandalay Bay. The UFC is also throwing its promotional weight behind Lion Fight 16 at the Palms on Friday -- where you can check out some fights with less expensive ticket prices.
What: Ride a water slide at Cowabunga Bay
When: July 4th
Where: Henderson
After a year of delays, this massive water park finally has an opening date. The 23-acre attraction features an enormous wave pool, water slides (including one with a trap door!), and a 1,200ft long lazy river. If you can't wait until then… there's always the Wet 'n' Wild water park on the other side of the valley which boasts the new "Tornado" funnel-shaped slide this year.
What: Watch the Independence Day Fireworks… then go inside and gamble
When: July 4th (of course)
Where: The Red Rock and Green Valley Ranch resorts
Ok. So every little town has July 4th fireworks, but try and find somewhere else that shoots them off of the top of a major casino. Aside from New Year's Eve, it's the only time of the year you'll actually see the roof blown off the joint. Literally.
What: Take a ride on the craziest zip line you've seen in your life
When: Before (our version of) monsoon season starts in August
Where: The Rio
The VooDoo Zip Line stretches between the two towers of the Rio resort -- beginning on the patio of the VooDoo Steakhouse 50 floors above the ground. So after you chow down on a ribeye, enjoy one of the best views of Vegas on a wild ride that lasts a little more than a minute and goes about 30 miles per hour.
What: NBA Summer League
When: July 11th-21st
Where: Cox Pavilion and the Thomas & Mack Center
Las Vegas may not (ever?) have a major league sports team, but every Summer, stars from the NBA pay Sin City a visit for a series of pre-season warm-up games. Why spend the Summer binge-watching TV shows on Netflix when you can binge-watch a total of 67 games featuring 24 NBA teams over 11 days?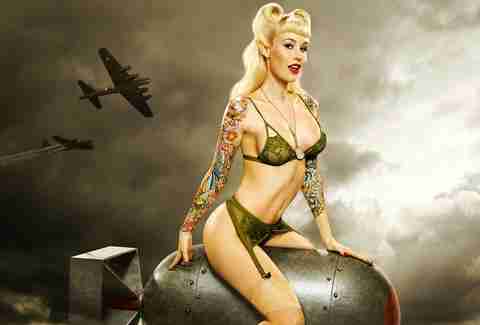 What: Pin-Up (temporarily) gets a new star performer
When: July 24th-31st
Where: The Stratosphere
Former Playboy Playmate Claire Sinclair takes a break from her starring role at one of Vegas's best topless shows so fashion model and star of Best Ink Sabina Kelley can step in and show off her tattoos... and some skin that isn't covered by them, hopefully.
What: First Friday
When: August 1st
Where: Downtown
For the first time in three years, the monthly block party is taking a break, but it's coming back in August after some changes, including expanding its territory from the Arts District to Fremont East and making the event more eco-friendly -- so you can feel good about partying and chugging cocktails.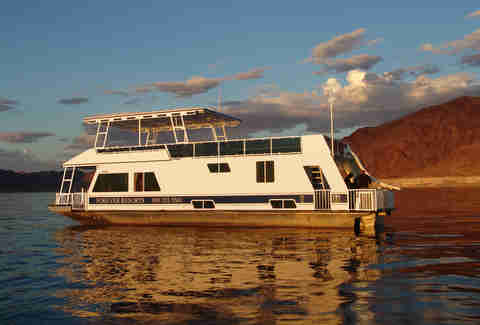 What: Hit the water on a fully loaded houseboat
When: Any clear and sunny day
Where: Lake Mead
Why deal with the weekend crowds at the only beach near Las Vegas when you can rent your own houseboat out of Callville Bay from Forever Resorts? It comes with private rooms, satellite TV, BBQ grills, water slides and yes, air conditioning. Perfect for leaving behind the comforts of home... without really leaving behind the comforts of home.
What: Enjoy a bite outdoors
When: August 31st
Where: The Monte Carlo
It's National Eat Outside Day (yes, there is such a thing), so it's the perfect time to check out the Monte Carlo's new outdoor plaza. It's not quite as big as The LINQ down the street, but it features plenty of live music, an extended promenade and some of the best new restaurants in Vegas including the Double Barrel Roadhouse, independent coffee roaster Sambalatte and casual Asian spot Yusho – which is known to serve duck testicles on occasion.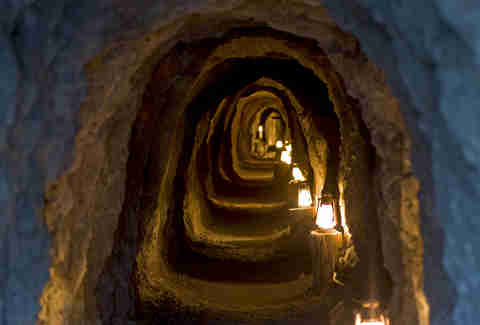 What: Tour the deserted mines that helped finance the creation of Sin City
When: Whenever you want
Where: Eldorado Canyon
Papillon offers a package that takes you by helicopter over Hoover Dam and into the historic Eldorado Canyon -- where you'll tour the spooky caverns of what was once the largest gold mine in Southern Nevada. The ghost town outside comes with its share of stories about murdered pioneers and prospectors, who are said to still haunt the area. Oh, and there's a Champagne picnic lunch too.