Even if you don't understand Las Vegas, you should know that it gets crazy during March Madness. Heck, the first couple of rounds can make Superbowl Sunday look like bingo night at the VFW (though, to be fair, a bingo night with a huge pot). In fact, it's so crazy that we couldn't let you come to town without a few tips (go some place huge, make reservations everywhere, etc.) from our complete guide to March Madness in Sin City. You're welcome...
The Palazzo
This is the no-brainer for the non-planner. Emeril's massive restaurant/bar/sports book has everything. As in you could stay here the entire weekend and not miss a thing. The restaurant has upscale versions of traditional game day foods, which were thought up by the Lagasse team, plus a bar is spitting distance from anywhere in the venue. There are big monitors above every booth (and all the walls are lined with booths) and multiple private rooms with their own monitor setups. But the big draw here is the stadium itself: rows and rows of big white couches, theater-style, descending down to a wall of monitors and a row of betting stations.
Eastside
Not only does the Hard Rock have a damn decent sports book running CG Technology software, the sports-betting big man on campus, but it's also practically built for a guys' weekend. There's a full-size fitness center, an LCD-screen-packed sports lounge, two music venues, six restaurants, bars and cocktail waitresses everywhere, a spa and salon (with a barbershop), and a tattoo parlor. Many hotel casinos try to make sure you never leave the establishment. The Hard Rock actually succeeds.
The alternative: The Hardwood Suite at The Palms Resort Casino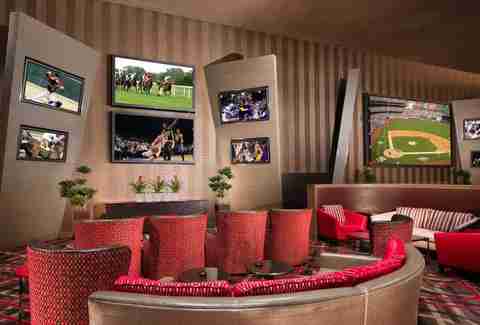 ARIA Resort & Casino
First of all, it's 10,000sqft of betting, which nails our "huge" criteria. It also boasts the ability to stream 200 live events at once, scattered between the two 9x16ft televisions and the 90 smaller screens around the floor, like an upscale, more-tense scene from somewhere on Wall Street. Most sports books aren't this fancy. But hell, you're coming to Vegas, right? May as well do it the right way.
The alternative: MGM Grand Race & Sports Book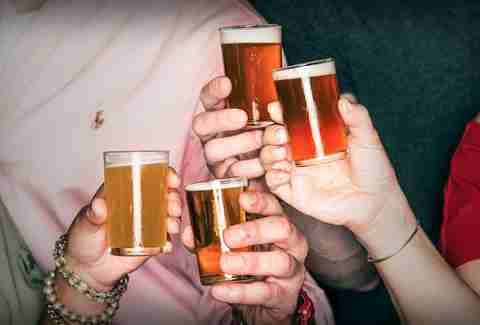 The slam dunk dinner spot: Yard House
The LINQ
Even though Yard House is a chain, this one is special. Towering over The LINQ with two stories and 18,000sqft of space, it's the largest Yard House in the universe, and it's built around a glass-enclosed keg room with 160 taps of imports, crafts, and ol' reliable domestics. And because it's Yard House, there are big TVs everywhere you look, all of them playing soap operas (kidding, that would be ridiculous).
The alternative: Twin Peaks
MGM Grand
Like everything at the MGM, TAP is enormous. As in 220 seats enormous. So after your bets are placed and the games are over head here to hoist a few instead of staring at stats and screens all night (though you can -- they have 60 of them). Like any good (gigantic) bar, TAP also has plenty of food to go with a killer beer selection, meaning you could easily do dinner here too. 
The alternative: The Ainsworth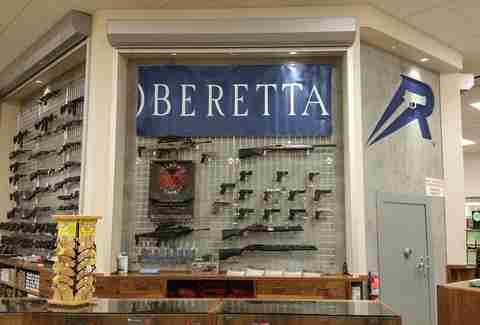 West of the Strip
You can find places to drown your sorrow (in liquor) everywhere on the Strip. But if there's one thing to make you feel better about losing, it's guns. The Range 702 is right on the other side of the interstate from all the commotion, has 25 shooting lanes, and a bunch of different themed packages. And a bar. But without looking at all the guidelines, we're sure there are some laws in place about the combination of the two. Or at least we hope.
The alternative: The Gun Store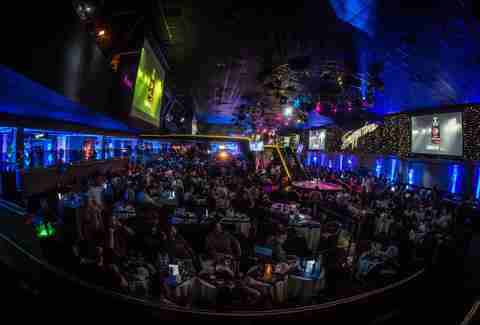 Off the Strip
Sapphire's one of those strip clubs that's so massive it needs to find other things to offer besides scantily clad girls -- and it does so all the time, getting itself on our bachelor party guide and our fantasy draft party list in the process. The venue is full of big-screen TVs and is known to have a watch party (with open bar and buffet) for the tournament final. Whether a strip club is your idea of a place to celebrate or just a place that needs to be visited when you take a trip to Las Vegas, this covers your bases.
The alternative: Take your pick
Sign up here for our daily Vegas email and be the first to get all the food/drink/fun in town.