From strippers to "social" clubs: the naughtiest things to do in Las Vegas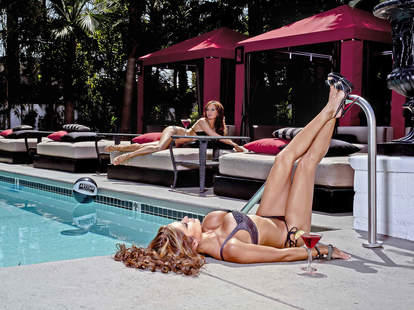 You know how they say what happens in Vegas stays in Vegas... but the memories of what happened -- and the STDs you got as a result -- certainly don't. But, if you're willing to risk the latter in search of the former, have we got a list for you, because these are the naughtiest things to do in Sin City...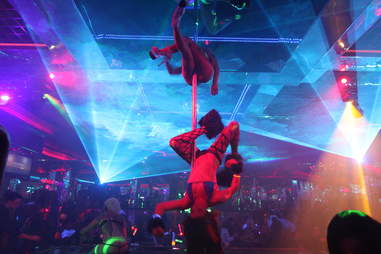 Crazy Horse III
Hit a strip club...
There're tons of strip clubs in Las Vegas, and we fully support
trying each of the eight best
, but if you need a starting point, try Crazy Horse III. They've got girls, celebrities, neon parties, and sushi that's actually pretty good. Oh, and did we mention the girls?! There's even Posh -- a lounge next door where you can pregame with a few drinks before you blow the rest of your cash on lap dances.
Bare
... or a topless pool...
There is no shortage of
topless pools in Las Vegas
. One of the best is BARE at the Mirage -- an intimate oasis surrounded by trees that offer just enough privacy to encourage European-style sunbathing (European-style = boobs!). The best part about an adults-only pool? No screaming kids in water goggles and floaties running around. OK, that's the second best thing.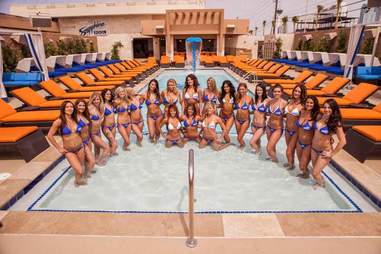 Sapphire
... or both.
Can't decide between a strip club or a topless pool?
Sapphire combines both ideas into one
. You'll enjoy the eye candy while the model employees enjoy the sun and lounge around poolside. You may never want to go indoors at a strip club again.
Conventions and trade shows
Las Vegas is usually the top choice for industry gatherings, including the adult entertainment industry. The top expo is the AVN Adult Entertainment Expo -- otherwise known as "the porn convention". It takes places every year at the Hard Rock, which, to be fair, feels like a porn convention pretty much every night.
Caesars Entertainment
Get a room, already!
There are plenty of things that make The Cromwell
one of the best hotels on the Strip, including what could be the sexiest suites in all of Las Vegas. Each room at has a two-way mirror between the shower and the bedroom, which depending on how you adjust the lights, is seemingly designed to ensure you get the opposite of clean.
Rob Kachelriess
Join a sex... err "social" club
There are a few other pretenders, but the Green Door has a hard-earned reputation as the top hangout for swingers in Las Vegas. Have fun, frolic, or just watch from the sidelines at this infamous social club just blocks away from the Strip. Wander through rooms like the Dungeon, the Fountain Room, and something called the Sexagon. Who knows what you might see... or what you might wish you hadn't? Couples get a discount for showing up early in the evening.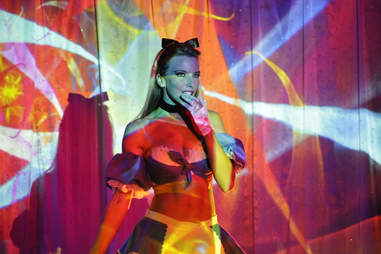 X ROCKS/Edison Graf
Adult stage shows
The best thing about Vegas shows is that most of them aren't the Blue Man Group. The second best thing is that
some of them are topless
. Shows range from the classic
Jubilee
at Bally's to the fist-pumping
X Rocks
at the Rio to
Crazy Girls
at the Riviera, which is intimate, edgy, and comes with a famous bronze statue showcasing the rear view of its star performers.
Sheri's Ranch
Well, you know...
One of the
biggest misconceptions about Las Vegas
is that prostitution is legal. It's not. But you know what is? A rental car. Just grab one and head about an hour West to a land of enchantment called Pahrump. That's where you'll find Sheri's Ranch -- the closest legal brothel to Las Vegas. It's fully certified, safe, and won't get you in trouble with the cops. It's also attached to a sports bar that serves burgers and wings -- which means it's fully equipped to fulfill every desire.
Sign up here for our daily Vegas email and be the first to get all the food/drink/fun in town.