Being James Bond would be pretty awesome, right? Driving around Aston Martins... shooting really cool guns... throwing proximity mines all over the bathroom in Facility... Well, thanks to Machine Guns Vegas, you can now actually do almost all of those things with The 007 Experience. Drive Like Bond: The day starts when they show up at the front door of your hotel with a 420HP Aston Martin Vantage, which's all yours for the next 24hrs. And while it may not have rearward spraying jets like the one in Thunderball, it does have an iPod dock. Shoot Like Bond: Next you'll hit a reserved VIP lounge at Machine Guns Vegas, where you'll have your own private shooting lane and 270 rounds for guns like a SIG P226, an MP5, an M60, an Uzi, and a Sup. 22, plus MGV's beautiful, Bond girl-esque female instructors who'll ensure you'll have one extra round in the chamber for later. Scotch Like Bond: From there you'll head over to Stitched Life at the Cosmopolitan, and partake in a one-on-one style consultation and Scotch tasting while they put the finishing touches on a custom-tailored suit complete with a Chadburry shirt, bow tie, pocket square, belt, socks, and Allen Edmonds shoes -- pretty much guaranteeing all the girls'll start GoldenEye-ing you.
Recommended Video
Freshen Up Your Bartending Game With This Cranberry Crush Rum Cocktail
Previous Venue
Next Venue
Venue Description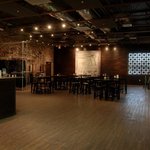 1. Machine Guns Vegas
3501 Aldebaran Ave, Las Vegas, NV 89102
If a lounge and a shooting range were to have a baby, it would be named...Machine Guns Vegas. From pistols to machine guns, take your pick of firearm and get ready for the 007 experience. It's not mandatory, but you should probbbbably show up in a tux so the Gun Girl hostess can latch on proudly.