Remember the American Muscle Car Experience that allowed you cruise through the desert behind the wheel of some red, white, and blue horsepower? Well, what if we told you Richard Petty wanted you to hit the Las Vegas Motor Speedway and push a group of American-bred vehicles to extremes through a series of acceleration, braking, cornering, and top-speed challenges? And that he loves your mustache? Well, you'd probably say, "Cool". You'll be driving three beasts through four challenges, and these things are NOT stock: a supercharged 580hp Camaro ZL1, a Dodge Challenger SRT8 392 with 470hp, and the Ford Mustang Shelby GT500, the hp king of the group thanks to a 662-horse engine with 631lbs of torque. Sure, these things can get from 0-60 in under four seconds, but the first challenge will test how fast it can get there with YOU behind the wheel. The next section sets a braking module light trigger that'll notify you when to slam your foot on the brakes to test the cars' stopping power. Buckle up on challenge three (seriously, how have you not been buckled up this whole time? Maniac!), because you're about to engage in a series of harrowing cornering exercises, then check out all sorts of fancy computers to see how much lateral g-force was generated. If you aren't sick yet, the fourth and final challenge gives you four laps around the whole track, with the last three testing just how high you can get the speedo going. When it's all said and done, you'll get a printout of detailed stats documenting just how good (or horrendous) of a driver you are. Richard Petty's mustache will sign it.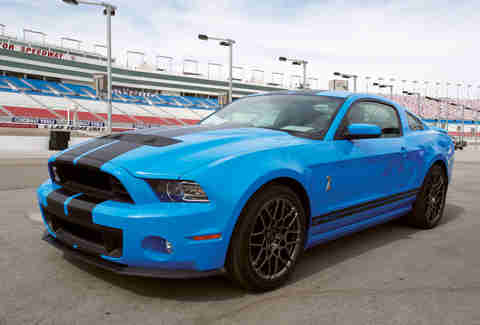 Previous Venue
Next Venue
Venue Description
1. Las Vegas Motor Speedway
7000 Las Vegas Blvd N, Las Vegas, NV 89115 (Off Strip)
Only 15mi from The Strip, the LV Motor Speedway hosts events the NASCAR Sprint Cup Series and NASCAR Nationwide Series, as well as racing classes and demos like Exotics, Dream, and the American Muscle Car Challenge.