Erik Kabik
Erik Kabik
Opened in the old Bill's Gamblin' Hall & Saloon space, the seriously hyped Cromwell Hotel is something new for Sin City: a saucy, boutique-style hotel that still offers everything you need in a Vegas resort (sigh... except a topless pool), and is already the coolest place to stay on The Strip for at least 12 reasons. And yes, Giada is one of them.
1. They don't need no stinkin' parking lot
This place was so eager to open, they didn't even bother to finish the parking garage. But don't worry, the valet is working just fine. Oh, and after you hand over your keys, you can just skip check-in and go straight to your room.
2. If you DO check in, you get a personal escort to the elevators
... Which is helpful if you're the type who can't follow directions from their tranquil and not-at-all-hotel-lobby-like check-in counter.
3. The lobby bar makes drinks inspired by iconic Playboy centerfolds
Bound by Salvatore is helmed by an acclaimed European mixologist named... youguessedit!... Salvatore, whose Playmate-inspired cocktail, Bunny Bubbles, is made w/ Champagne, raspberry, and pomegranate.

4. There's never a wrong time for a martini
The Breakfast Martini is made with gin and orange marmalade -- the kind you'd find on your morning toast.
5. You can drink for free… sometimes
Thirsty… and left your wallet in your suitcase? Bound by Salvatore hosts a "General Manager's Happy Hour" Thursday-Saturday where all hotel guests receive Moet & Chandon Champagne at no charge between 5-6pm. There's also a complimentary coffee and tea station on each floor.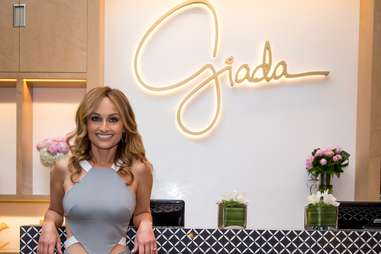 6. Its big-name restaurant lives up to the hype...
Giada is the first restaurant ever from celebu-chef Giada De Laurentiis, which means, unlike a lot of other celebrity chefs in Las Vegas, she'll probably be in town more than just a few times a year. Oh, and the bacon-wrapped dates = the best appetizer in Vegas. Period.
7. ... and you can actually afford it
Giada's menu features a wide variety of dishes at surprisingly fair prices. Seriously, she could charge more for the view alone, which includes open windows overlooking the busy intersection of Flamingo and Las Vegas Boulevard.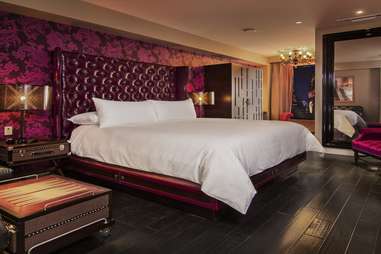 8. The rooms come with Champagne...
... and a set of magnetic checkers on the coffee table!
9. They also come with two-way mirrors in the shower
That means you can see the silhouette of whoever's in there (or more than a silhouette if you adjust the lights), so bottom line: don't book The Cromwell if you're visiting Vegas with your Mom.
10. There's a party on the roof
When the sun goes down, it's time to head 11 stories upstairs… to the roof and Drai's nightclub. The party spot surrounds the pool area with 150 VIP tables, plenty of palm trees, stripper poles, and a view of the Strip.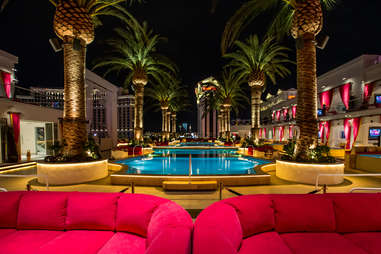 11. The party doesn't stop
Drai's is launching Yacht Club -- a Tuesday night swim party. If that's not enough, come back a few hours later when Drai's Beach Club opens in the morning. And hey, if the cabanas are all booked, try to find a seat on one of those comfy red couches... or even better, comfy red beds.
12. They're not done
In addition to finishing the parking garage, future plans include an after-hours version of Drai's below the ground floor, which, when combined with everything else, means once you check into The Cromwell, you never really have to leave.