We interrupt your regularly scheduled programming about how to fly biplanes over the desert and $750 cupcakes to tell you that Britney Spears is doing a 100-show residency at an "intimately sized" night-clubby theater at Planet Hollywood in Vegas, and you need to go see her, for these very reasons

You can get tickets for just $59 That's only $9.05 more than Carrot Top! And $39 cheaper than CRISS ANGEL® Believe™, which spends all the extra cash on trademarking names nobody else wants to use

She might lip sync! First, there were rumors out there from a very reputable "source" of the NY Daily News that she would be Milli Vanilli-ing, so she'd always sound really good. Then she swore she wouldn't be, which would probably make her sound really bad. Hopefully she's lying

You can book a Meet & Greet package that lets you meet & greet Britney herself Or go with the Front & Center VIP Table Package that comes with a bottle of Moet ("or a comparable substitute"), guaranteed valet access ("if desired"), AND a commemorative VIP laminate.

Britney has a Katy Perry collab song on the Smurfs 2 soundtrack Collectively, Donny & Marie, Lights: A Tribute to Journey, and Mirage headliners Kevin James & Ray Romano have a total of zero.
Recommended Video
Spoil Your Pup at The Dodo's Best Dog Day Ever Event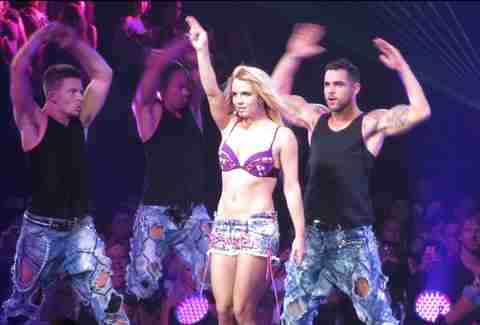 Robin Leach wrote a story about her!
And he's apparently a low-paid blogger for the Las Vegas Sun, where he's also worked on such Pulitzer stuff as "Rick Harrison of 'Pawn Stars' weds today in Southern California" and "Strip Scribbles: New magic show on The CW features Las Vegas magicians". Fancy, right?!? For Leach, such work is just part of the lifestyles of the poor and vaguely remembered.

She's back in prime hotness shape
Britney claims she will "be in top condition and running at full speed", which is around 2-4mph, depending on how big her heels are.

She wears bras as tops these days
Sue Ellen Mischke, eat your visibly beating heart out.

Her new single is called Work Bitch
It's unclear if that's a directive or a job title, but either way, it's a fun song for kids to sing.