Besides an NBA team and an inferiority complex, what does Brooklyn have that Las Vegas doesn't? Well, until recently, the answer was a badass place to see a show, eat dinner, hit a nightclub, and go bowling at the same time, but now Brooklyn Bowl's open at The LINQ and it's (sssshhhh, don't tell everyone's second-favorite borough) the opposite of inferior to the original...
Instead of attracting the kind of sweaty bald guys in bowling shirts that fill your usual lanes, BB's bringing in former Playboy Playmates like Claire Sinclair and Holly Madison.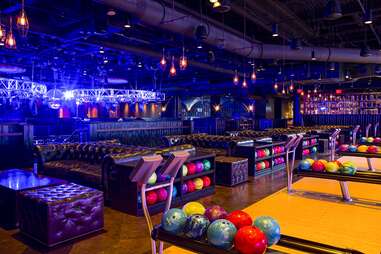 Don't worry about standing in line at the counter, 'cause each lane comes with a personal shoe runner, who'll take your size and return with a pair of bowling shoes just for you... and all the other people who've worn them, obviously.
Each of the 16 lanes (on two levels!) comes with comfy leather couches where, between scoring splits, you can ensure you're never able to do the splits again by crushing Blue Ribbon's famous fried chicken, the world's best hummus dip, and on Sundays, Cinnamon Toast Pizza.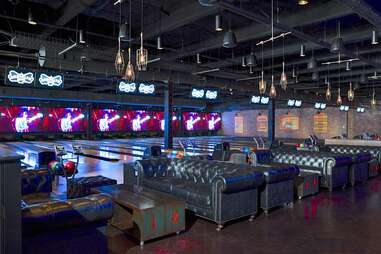 If said couches & food aren't enough, the video screens at the end of each lane'll show the... um, shows going on in the next room.
Sick of rolling 94s? You can hit the (also multi-level) tunes space and see a diverse array of acts like Elvis Costello, The Roots, Disclosure, Steve Winwood (what?), and Jane's Addiction who will be performing Nothing's Shocking (an album you still have on cassette somewhere on the floor of your '94 Honda) in its entirety.
The whole place combines the sleek amenities of Lucky Strike with the anti-sleek style of almost every other bowling alley, and is decorated with weird and goofy bowling pins that resemble a collection of dogs that no one would ever take home from the pound, and are watching you every... single... second.
If you need a break from the show, check out the outdoor patio or one of BB's several bars, where both draft beer and house cocktails are served in pitchers, including the "Drunken Palmer", which is made with Seagram's Sweet Tea Vodka and lemonade.
Best of all, when the show's over, you're surrounded by all the other sweet stuff to do at The LINQ, including another thing that only Brooklyn used to have: a ferris wheel.