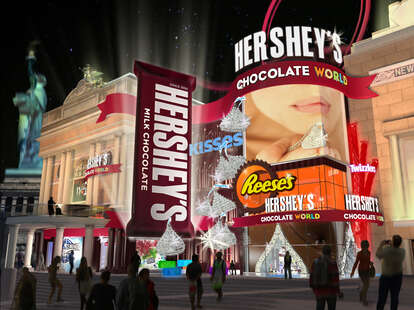 MGM Resorts International
Las Vegas is kinda like Disney World, or your homework for Mrs. Batten's 7th grade math class… it's never finished. And this year, multiple new additions that pretty much exhaust the number of math words you remember from Mrs. Batten's class range from a ferris wheel, to a sports area, to a shton of shopping destinations, will radically alter The Strip. Here's how it'll look in 2014:
The LINQ
Caesars Entertainment is just one of a few casinos actually encouraging people to go outside by building an entertainment district between The Quad and the Flamingo, which'll boast the world's largest observation wheel (already making a huge dent into the Vegas skyline), as well as shops and restaurants, and will give you one more reason not to ever go to Cleveland -- they're opening an outpost for the Rock and Roll Hall of Fame.
Treasure Island
The famous Sirens show went on "hiatus" a few months ago, and sadly the scantily clad wenches and their sinking ship won't be coming back. No, instead of offering free shows to tourists every few minutes, they're giving them a chance to spend their booty in a collection of shops anchored by... a CVS pharmacy? Yup.
The SLS Las Vegas
While it was sad to see the aging-but-legendary Sahara (which once hosted the likes of Frank Sinatra and Elvis Presley) go, the sleek and modern new SLS Las Vegas is already offering a sharp contrast to the old resort's Arabian theme, all for around $300 million, most of which Matthew McConaughey probably paid 'em to tear down the only thing left to remind people of a certain 2005 movie.
Circus Circus
The guys at The Adventuredome inside Circus Circus decided to build a brand new roller coaster, which they're calling the "El Loco", presumably because its smaller cars and narrower track (allowing for quick and sudden twists and turns) mean you'll be crazy to ride it. Or because they are... to think people will still come to the Adventuredome.
New York-New York's "Central Park"
You can't have a resort named after New York without a Central Park -- well, you can, but only for 17 years or so. That's why they're building a new outdoor shopping district that'll wind its way towards The Monte Carlo, be filled with trees, benches, and a bevy of retail and dining outlets -- including Hershey's Chocolate World, a two story interactive experience that could give the M&M store across the street at run for its candy-coated money.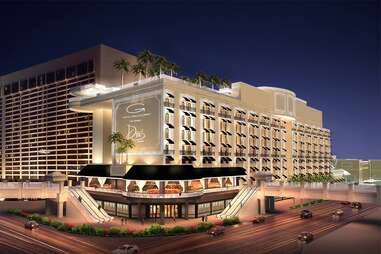 The resort formerly known as the Gansevoort
The transformation of Bill's Gamblin Hall and Saloon into a new boutique hotel is nearly complete. It will feature stylish rooms, a new version of Drai's nightclub by the rooftop swimming pool, and the first restaurant from celebrity Chef Giada De Laurentiis. Now all it needs is a name.
Grand Bazaar Shops at Bally's
More than 150 boutiques (most of which are presumably shoe stores) and restaurants are apparently set to fill up this giant open-air market under a sea of multi-colored rooftops, but if that's not enough, there will also be live music and a light show at midnight each night.
New unnamed arena
A former NBA player and entrepreneur named (after?) Jackie Robinson is using the space between the SLS and the long abandoned Fontainebleau resort to build an 863000sqft NBA-ready arena, which will feature four levels, a retractable roof, a nightclub, and a boutique hotel, all in city without a pro sports team... but if he gets one to move here, he'll probably be the King(s) of the Strip.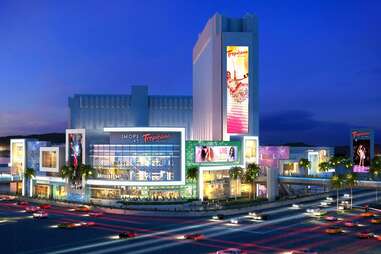 The Shops at the New Tropicana
Guess what The Tropicana is doing with some underutilized space in front of the resort: are they opening a bunch of shops like everyone else? Yes! But these actually sound pretty sweet, since the two-level shopping complex is inspired by South Beach.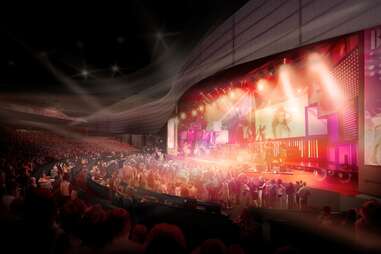 The Axis at Planet Hollywood
Normally when Britney Spears comes to visit, you just hide all the Ding Dongs and make sure no one plays any Justin Timberlake, but instead of doing that, the 7000-seat theater at Planet Hollywood decided to change its name to The Axis, add a new sound system, giant LED screens, and some VIP tables, so don't "Cry Me A River" about how you can't get bottle service at a concert.