In addition to experimenting. With. Punctuation., The Cosmopolitan's new nightlife destination Rose. Rabbit. Lie. is experimenting with the way people party in Vegas by turning a bar, restaurant, nightclub, and a ticketed show into an "immersive" experience that's got something for everyone, except people who need structure, and presumably haven't bought new clothes since the late '90s. Here's how it works: 

Recommended Video
Feast Your Eyes on the Torpasta
Things start in an octagonal, haunted mansion-like antechamber with eight identical doors leading to not-at-all-identical rooms like this gilded-age-inspired bar that, in addition to looking like it's literally gilded, is the place to swill sweet draft cocktails (Moscow Mules!) before taking your seat for the show.
They also serve 'tails in fancy glass flasks that're large enough for two, and're perfect if you want to A) share something to sip on with your date, or B) totally not share.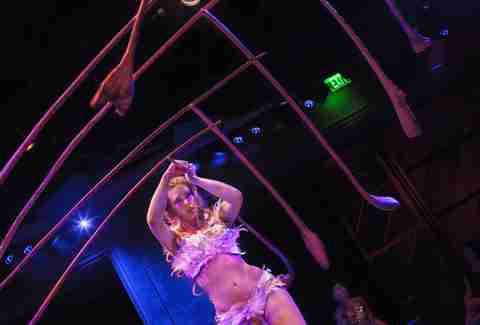 The show itself is called Vegas Nocturne and begins with a scantily clad woman carefully balancing a collection of bones in the air, inspiring totally lame jokes about a different kind of bones that we're totally above making here.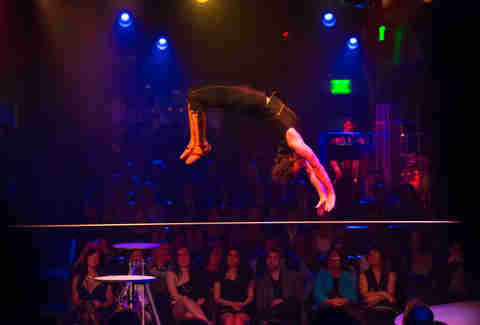 Things continue with the Nutcracker Suite played on water glasses; then a tightrope walker's performance on two perpendicular cables in the middle of the room; and a rubbery tennis player squeezing his entire body through a racket.
Also: Neil. Patrick. Harris.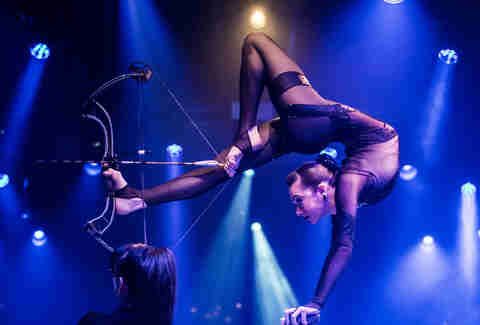 The two-hour show ends with a cast of characters ranging from a card dealer in a dragon suit, to a moon-walking dog, an acrobat performing above what, unfortunately for the first row, is a very full bathtub, and finally a contortionist who uses her feet to shoot a bow & arrow across the stage.
Guests are then invited to leave "The Ballroom" at the center of RRL for dinner inside "The Library", where an entire section of the menu is devoted to caviar...
And where performers are likely to interrupt your dinner with various impromptu shenanigans (dancing on the bar, etc.), or pull you into one the other rooms for a more private show.
But hopefully not until you finish the Whole Roasted Giant Alaskan King Crab that costs $1200 (seriously?!), or this take on beef Wellington, which boasts prime tenderloin, foie gras, creamed spinach, roasted king mushroom trumpets, and black truffles served beneath what looks like a puff pastry atrium.
When you are done, it's time for another show, this one lasts about 40 minutes, but unlike the first one, it doesn't really end. Instead, like a dream in which Express never bought your favorite menswear store, the show slowly fades away until suddenly there's just a DJ, a dance floor, bottle service, etc., and it turns out they weren't Lie.-ing about this place being a nightclub.