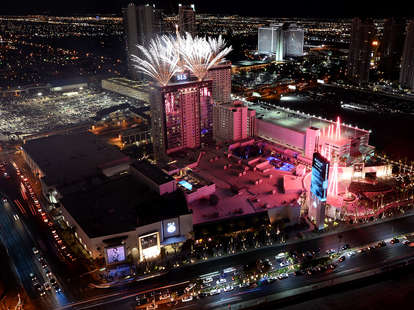 Ethan Miller
Ethan Miller
Between The Cromwell and a whole slew of other sweet projects, it's harder than ever to stand out on the Strip, but somehow the new SLS Las Vegas, which opened last month in what was left of the old Sahara, still manages to give you all sorts of reasons (12 of 'em to be exact) to hit Las Vegas Blvd's North end.
LiFE's already one of the best nightclubs in Vegas
You can't have a new resort on the Strip without a next-level nightclub to go with it. This one's got a long graffiti-lined hallway leading up to the front door, stadium-style seating that gives everyone a clear view of the dance floor once they get inside, and plenty of areas to blow your money on bottle service all night.
Bazaar Meat will change the way you look at steakhouses
They've got a huge range of quality protein, from Spanish-style bone-in ribeye to bison carpaccio and Wagyu beef cheeks, all courtesy of Chef José Andrés, who's even offering up a... waitforit!... bizarre spin on cotton candy made with foie gras. It's also the only restaurant by a James Beard Award-winning chef that offers gambling.
Scratch-and-sniff wallpaper?!?
That's what you'll find at The Griddle Cafe, where the walls are lined with images that look and smell like those candy dots you used to buy as a kid. It's appropriate since the restaurant is described as the "Disneyland of breakfast" and has menu items like red velvet pancakes and strawberries and cream waffles, all of which you can enjoy in a private dining room with a two-way mirror... so you won't get caught checking out the girls coming in to refuel after a night at the aforementioned LiFE.
It's got Vegas' first Umami Burger
But it's not just any Umami Burger... it just happens to be connected to the sportsbook and to an outdoor beer garden that has a great view of the nearby Stratosphere and all the people on the sidewalk having less fun than you. Pro tip: don't leave without ordering the already infamous Truffle Burger.
You can sleep like a rockstar
The suites at the SLS Las Vegas feature tapestry wall coverings, plush furniture, and yes, mirrors over the beds. Four of the best suites were designed by Lenny Kravitz, proving that the rocker can do more than just write songs about getting laid.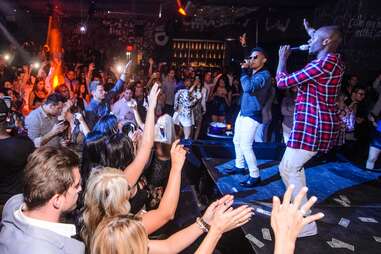 It's got multiple party spots
If LiFE is a little too heavy on the fist pumping and EDM, there's always Foxtail. It's a more intimate lounge/music space with and a clear path to the pool so you can schmooze your date under the stars. Or just check out the girls dancing inside giant birdcages.
Your favorite celebrity's favorite sushi spot is here
In Hollywood, Katsuya slings some sweet raw seafood that attracts some big crowds... and a slew of TMZ cameramen outside the front door. In Vegas, Katsuya... um, pretty much does the same thing, but with less paparazzi and more opportunities to try the salmon sashimi with caviar or custom-made sake.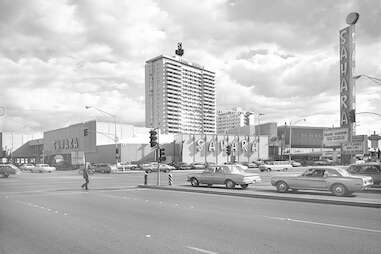 It subtly reps the Sahara
The SLS remembers where it all began, and because the old place was never demolished like so many of the other classic casinos, they could use most of the old structure. There are other subtle tributes too, including images of the Sahara in the carpet and a chandelier that's made from about 50 S-shaped door handles from the old resort.
There's a concert venue in the middle of all this
The Sayers Club is a small lounge with leather couches that could be the best place to see a music act in Las Vegas. You know, the kind that actually sing or play instruments instead of pressing a button on a laptop. Lenny Kravitz took a break from designing hotel rooms to play the first gig here.
You won't want to leave the lobby
While your girlfriend is checking out one of the seven boutique shops from Fred Segal -- the only retailer to be awarded a contract with the resort -- you can grab a seat at the Monkey Bar or try the flashier, LED light fixture-equipped Center Bar in the middle of the casino.
Yes, there's a day club
The best thing about Vegas? The epic pool parties. The second best thing? Who cares when you're can hang out at Beach LiFE, where, if you're not into sipping booze in cabanas with bikini-clad beauties, you can always... wait, how can you not be into something like that?!
Not done eating? There's even more food!
Ku Noodle puts an artistic spin on Asian food that is just as good as the best spots in Chinatown; 800 Degrees has pizza that's cooked at guess what temperature; and the all-you-can-eat buffet upstairs even has a fireplace that's perfect for those cold winter nights, something that's about as common in Vegas as new resorts.
Sign up here for our daily Vegas email and be the first to get all the food/drink/fun in town.