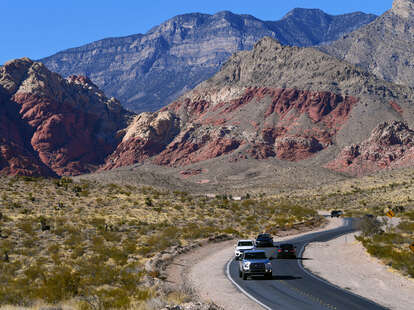 There's no denying the enduring appeal of a good road trip. Pick your destination, choose your own adventure, and hit the pedal to the floor—within a reasonable speed limit, of course. Even better, you can be around as many (or as few) people as you like, which is important to consider in the age of social distancing. Road trips proved to be a popular distraction over the summer and continue to feed a craving for escapism as we head into fall and winter. Fortunately, Las Vegas is just a few hours away from a variety of compelling destinations. So take a break from whatever's going on this weekend and fill up your gas tank (or charge your Tesla) for a drive to one of the most intriguing getaways in and around Nevada.
Distance from Vegas: 4 hours, 30 minutes
Fall and winter are perfect for visiting Sedona. It's far less busy and crowded, allowing you to social distance to the fullest with more than 300 miles of hiking and biking trails. Sedona is known for its Native American history, bed-and-breakfast accommodations, and art galleries. The town also carries a certain sense of mysticism—said to be in a vortex with the energy of nature especially strong in four locations: Airport Mesa, Cathedral Rock, Bell Rock, and Boynton Canyon—all easy to reach without shelling out cash for a tour guide. Just south of Sedona is the Verde Valley, where the old mining towns of Cornville, Cottonwood, Clarkdale, and Jerome each have their own charm and character. Follow the "wine trail" with 25 tasting rooms between them.
Find an amazing Airbnb near Sedona
Distance from Vegas: 1 hour, 30 minutes
Describing Laughlin as a mini-Vegas on a river isn't entirely off base. Both towns—less than a hundred miles apart—are known for casinos, entertainment, and bright neon lights. But Laughlin is less chaotic with a small town feel and employees who actually do recognize regulars by name year after year. The dining and nightlife is low key and low pressure. Yet the character of the town is best shaped by its location along the Colorado River, which separates Nevada from Arizona. It gets a little more quiet towards the end of the year. Not much action on the river, but you can still take water taxis from one hotel to another and board guided boat tours and dinner cruises. The drop in temperatures makes hiking a little easier, especially beyond Christmas Tree Pass (perfectly named for this time of year) at Grapevine Canyon, where you can explore a dried river bed and examine petroglyphs—drawings on stone walls left behind by Native American tribes hundreds of years ago.
Find an amazing Airbnb near Laughlin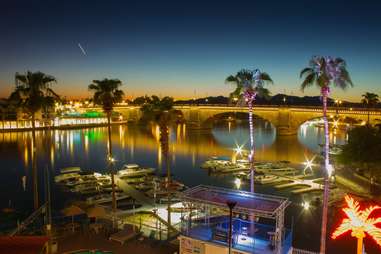 Distance from Vegas: 2 hours, 30 minutes
Lake Havasu is the best island getaway within a three-hour drive of Vegas. Breaking up the Colorado River between Arizona and California, the vacation town definitely has a quirky side. The waterfront is decorated with scaled-down replicas of historic lighthouses from around the country and the island connects to the mainland with a brick-by-brick restoration of the same London Bridge that crossed the River Thames in the late 1800s. The landmark is the centerpiece for the annual Festival of Lights, which runs from late November to early January and includes a boat parade and half-a-million holiday lights. The Western Winter Blast Pyrotechnics Show in February is nearly as colorful, drawing top professionals from the Western Pyrotechnic Association to show off their skills with an elaborate fireworks presentation above SARA Park.
Find an amazing Airbnb near Lake Havasu
Distance from Vegas: 4 hours
While the Grand Canyon is often associated with summertime family vacations, the largest hole in America takes on an engaging mystique when sprinkled with snow during the winter months. It's easiest to visit from Las Vegas by helicopter, although the bumpy four-hour road trip to the West Rim is considerably less expensive. It also allows you to explore on your own time frame, whether learning about the Hualapai Tribe's Indigenous history or sticking around to stargaze after the sun goes down. No visit is complete without testing your anxiety on the Skywalk—a bridge with a see-through bottom that hangs over the edge of the canyon. Spend the night in your own cabin or glamping tent.
Find an amazing Airbnb near the Grand Canyon
Distance from Vegas: 4 hours
When someone says "road trip" and "Las Vegas," in the same sentence, nine times out of ten, they're talking about Southern California. So hop in your car and start driving southwest on Interstate 15. You'll hit Baker (stop for gas), Barstow (stop for Starbucks), San Bernardino (keep going) and finally, Los Angeles. But what makes the trip worth the drive is going all the way to Santa Monica to finally see the coast. Of course, you can always play tourist in Hollywood, check out the L.A. restaurant scene, or just see what's going on over the weekend. Half the fun in driving to SoCal is seeing all the weird roadside attractions along the way, like the World's Tallest Thermometer or Lake Dolores (a creepy abandoned water park that will give any ghost town a run for its money).
Find an amazing Airbnb near LA
Distance from Vegas
: 45 minutes
A quick drive from Vegas, Boulder City is the closest town to the Hoover Dam and has a small tourism industry based around the engineering masterpiece. (Tours are on hold during the COVID-19 pandemic, but outdoor viewing areas recently reopened.
So check in for the latest details
before visiting.) Boulder City is also one of the few Nevada communities where gambling is illegal. So if you need a fix, stop while driving down on U.S. 93 and play a few slots at the
Hoover Dam Lodge
. However, the casino-free
Boulder Dam Hotel
(with a Hoover Dam museum in the lobby) offers a more satisfying sense of history. Boulder City is a great homebase for hitting the water at Lake Mead, although experienced hikers may prefer to trek through Gold Strike Canyon to reach the hot springs near the Colorado River (which were closed during summer, but are now back open for the milder seasons). For outdoor fun, hang out with the bighorn sheep at Hemenway Park or grab a seat on the patio at
Milo's Cellar
for wine,
the Dillenger
for burgers, or
Jack's Place
to drink a beer and watch a game.
Find an amazing Airbnb near Boulder City
Distance from Vegas
: 7 hours
Who needs an interstate? The desert drive between Vegas and Reno on Route 95 is dubbed the
Nevada Electric Highway
due to all the electric car chargers along the way. So if you want to test the limits of your Tesla, this is the best way to do it (The extra zip on the gas pedal is also a nice advantage for passing tractor trailers on what is mostly a two-lane highway). Recharging can be done in two stops and takes about 20-40 minutes. It's a good excuse to leave the dog in the car and set the climate control to "pet mode" while exploring quirky, historic towns like Hawthorne or Tonopah, which has an infamous
creepy clown motel
. Once you get to Reno, stroll the Riverwalk, tour the city's street art, and check out all the other c
ool things to do
. The
dining scene
isn't too shabby either. Skip the casino resorts (which pale compared to Vegas) and stay at one of two smaller, stylish boutique hotels:
The Jesse
, which has a cool agave spirits bar, or the
Whitney Peak Hotel
, which has an outdoor rock climbing wall overlooking the Reno Arch.
Find an amazing Airbnb near Reno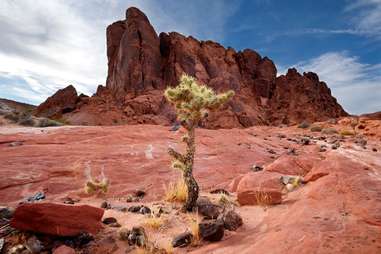 Distance from Vegas: 1 hour, 30 minutes
Mesquite, about 95 miles northeast of Las Vegas, tends to market itself as a more laid-back alternative to Sin City, but it's really a casino town for the party animals who live right across the border in Utah. A vintage vibe is felt in the tableside food presentations at
Katherine's Steakhouse
or the seven golf courses squeezed within a few miles of each other. Interact with exotic animals at
Camel Safari
or
go off-roading with an ATV
. Yet half the fun of a road trip to Mesquite is getting there. Detour off Interstate 15 and take one of
America's most scenic drives
through the Valley of Fire State Park before reconnecting later. The bright, dramatic sandstone formations almost appear to be on fire when the sun hits them just right. Hence the name. The red sand at Rainbow Vista creates a life-on-Mars feel, so it's no wonder parts of Total Recall were filmed there back in the '80s.
Find an amazing Airbnb near Mesquite
Distance from Vegas
: 4 hours
Ely may be small, but it's rich in history and Old West character. About 250 miles north of Vegas, the mountain community has some of the best fishing and hunting in the state, although the winter months are better suited for snowmobiling and sledding. Check out the ice carvings on Cave Lake during the annual Fire & Ice Festival and join Santa on board the Polar Express, a vintage coal-fired train at the N
evada Northern Railway Museum
. Great Basin National Park is one of the least-visited (and thus, more quiet) national parks in the country. You can still stargaze with minimal light pollution, but the popular Lehman Caves tours are currently on hold. Downtown Ely has an easy charm throughout the holiday season, especially during the Festival of Trees in early December. The best accommodations are the historic
Hotel Nevada
, the tallest building in the state when it opened in 1929, and the
Prospector
, a quirky, contemporary retreat with playful lobby decorations and a pet-friendly casino.
Find an amazing Airbnb near Ely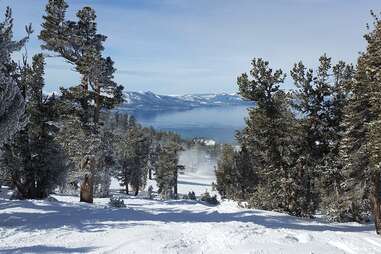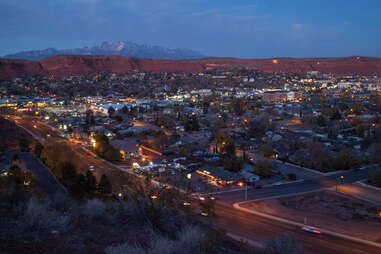 St. George, Utah
Distance from Vegas: 2 hours
St. George is the first place Las Vegans run into after cutting across the northwest corner of Arizona and crossing the border into Utah. It's the largest city outside the sandstone cliffs, waterfalls, and rock formations of Zion National Park, one of the most colorful examples of natural scenery in the entire state. Not all trails are created equal. The infamous Angels Landing is a 2.5-mile hike with steep and narrow pathways. It comes with a warning sign that mentions the number of people who have died on the trail. The Sand Hollow Reservoir, on the other hand, is a comfortable spot for boating and fishing. Balance out all that outdoorsy stuff with the dining, bars, art galleries, and shopping of downtown St. George.
Find an amazing Airbnb near St. George
Sign up here for our daily Vegas email and be the first to get all the food/drink/fun in town.
Rob Kachelriess has been writing about Las Vegas for Thrillist for more than six years. His work has also recently appeared in Travel + Leisure, Vegas Seven, David Magazine, Vegas Magazine, and Luxury Estates International's seasonal publication. He fills up the gas tank before crossing into California. Follow him on Twitter @rkachelriess.