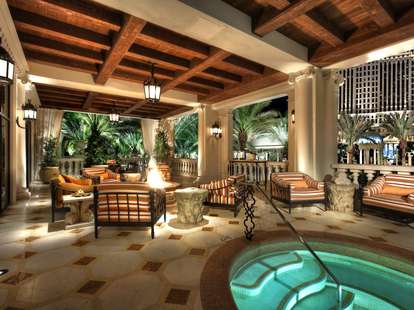 Caesars Entertainment
Caesars Entertainment
Las Vegas has more hotel rooms per square inch than any city in the world, ranging from some that should probably be destroyed, to the most luxurious suites your (or hopefully your dad's) AmEx Black Card can buy, including these 10 high roller suites, where you can go bowling, swimming, shoot hoops, and (yup!) even sleep.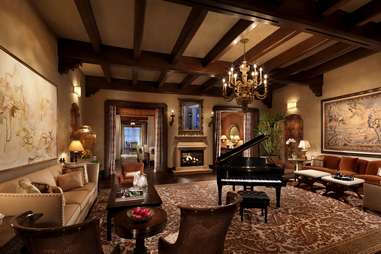 Marcus Aurelius Villa
Caesars Palace
Part of a collection of luxurious suites, this mansion-esque space comes equipped with an exotic fish tank, baby grand piano, a double-sided fireplace, and a terrace that's got a whirlpool spa, a fire pit, and a view of the Strip. You know -- that place crawling with girls who just left the club and would love to come back to your (sadly, temporary) place.
The Kingpin Suite
The Palms Casino Resort
Sure, Brooklyn Bowl is basically the perfect bar, but why leave when you can have your own regulation-sized bowling alley in your room? A room that also comes with a pool table, bar, and entertainment system. Just don't ruin it all by watching actual competitive bowling on the theater-size projection screen in the lounge.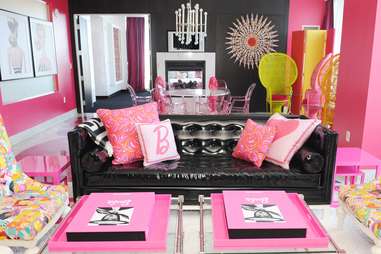 The Barbie Suite
The Palms Casino Resort
First, let's assume (please!) that your date's the reason you booked this room -- she's always wanted to stay in the real-life version of Barbie's Dream House! -- then let's just hope she's not the kind of girl who'll expect a "Malibu Barbie Corvette" to go along with this pretty, and very pink, suite.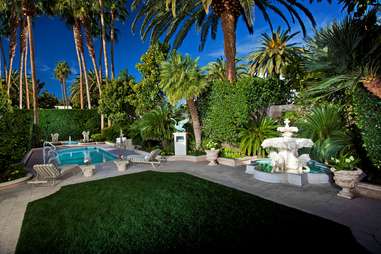 The Villas
The Mirage Hotel & Casino
These high-end suites come with something you don't see too often on the Strip -- large, green backyards, where you can lounge topless (or bottomless) by the pool, secure in the knowledge there's a forest of palm trees to block the view of nosey neighbors.
PH Boulevard Suite
Planet Hollywood Resort & Casino
If you like your luxury accommodations with a little frat house-flavor, this is your spot: it's got air hockey, ping pong, foosball, and pool tables scattered throughout the rooms, and presumably a beefy guy named Ralph who just stands around yelling "Vegas, baby!" until he, well, ralphs.
Rio Presidential Suite
The Rio Las Vegas
This 3,000sqft spot boasts a wet bar, a baby grand, and a butler available 24hrs a day to do things like bring you some water wings while you party in the pool on its mammoth private balcony with a panoramic view of the city.
The Sky Suites
Aria
Size matters. These rooms are among the largest on the Strip – and cost round $7,000 a night. The two-story suites have an amazing high-rise view of the Strip from CityCenter along with three bedrooms, five bathrooms, a massage room, fitness room, and billiards room, plus private limo service – if you ever actually decide to leave this place -- none of which suggests you're compensating for anything, at all.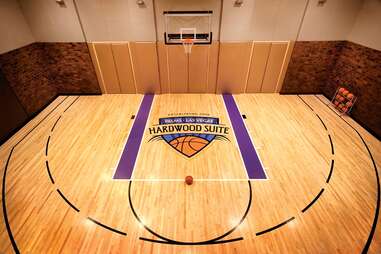 The Hardwood Suite
The Palms Casino Resort
The only hotel room in the world with an indoor basketball court, this 10,000sqft mega-suite covers two floors, and is equipped with a scoreboard and an actual locker room where, unlike NBA players who frequent Vegas's best strip clubs, you can treat your jock itch.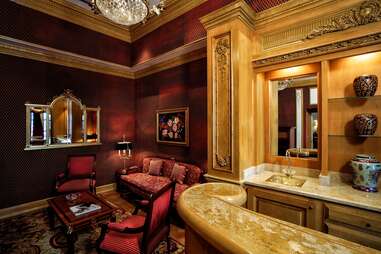 The Napoleon Suite
Paris Las Vegas
This Versailles-inspired suite's five bedrooms and six bathrooms are awash in vintage décor, fabric-covered walls, a baby grand, crystal chandeliers, and bathtubs adorned in drapery, which is also what Don was thinking of calling the agency he wants to start after he leaves Sterling Cooper Draper Pryce.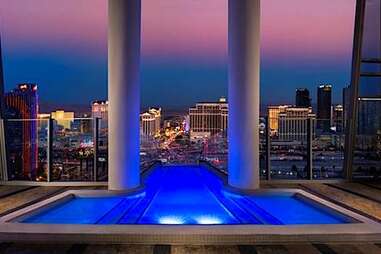 Sky Villa
The Palms Resort Casino
This formerly Playboy-themed... um, penthouse boasts more than 9,000sqft of luxurious living space spread over two stories, and its famed, glass-enclosed Jacuzzi which can fit more girls per square inch than any other hot tub overlooking the Strip in the city, aka around a dozen.