It's easy to make bad decisions in Vegas: You could go out on the town without reading our guide to Sin City's best nightclubs (and best strip clubs!), or go to, like, Reno, by mistake. But those aren't the worst decisions you can make in Vegas. Nope, the 18 worst ones, from the mundane to the uniquely, absurdly Vegas, are right here...
1. Attempting to recreate The Hangover
Listen, all of that stuff can happen here. And while it's hilarious to watch Zach Galifianakis experience it, it's a different story when you end up in Chinatown owing money to a guy who wears a white suit and sunglasses at 2am. That said, hit me up if you need a tiger. I got a guy.

2. Owning a car with leather seats
In every other city, you'd maybe burn your hand on a seat belt buckle during the summer. In Vegas sitting on leather (especially in a dress) between the months of April and November means giving up a layer of skin in your swimsuit zone.

3. Buying an alcoholic slushie in July
Think of any well alcohol at a bar. The liquor put in these washing-machine slushies is even worse. It'll get the job done for sure. But with all that sugar and syrup, and 114-degree temperatures in the shade, most of that drink is going to be in the bushes before you hit the sheets.

4. Driving to a casino on New Year's Eve
This mostly applies to the casinos on the Strip. If you aren't staying at the casino, you aren't parking anywhere but the sidewalk (not advised).
5. Going to The World Famous Green Door thinking it's going to look like a porno
No, those buxom blondes saying how much sex they had at The Green Door aren't real people. Unless the porn you watch has "old people birthmarks" in the title, you're going to be let down.

6. Going to Fremont Street on First Friday
It used to be The Spot. Now it's the home of 22-year-olds who are just there to grind on each other on the sidewalk and moon you while crossing the street.

7. Taking a cab to Red Rock Canyon from the Strip.
You could pay someone to literally give you a piggyback ride all the way there for less than it'll cost to take a cab.

8. Finding a date for Drai's After Hours on Craigslist
If she looks like someone you want to spend a night with, you're either going to be sold black market Viagra or you're going to get your kidney stolen.
9. Going to OG Strip club for a "free" bottle and table
No, dummy, it isn't just a free bottle. There is no free lunch, especially when there are also boobs around. (Those aren't free, either.) If you're gonna go, make sure you have plenty of cash for the tip you're JUST NOW learning about.

10. Letting any of Wet Republic's pool water get in your mouth
This isn't the ocean. If chlorinated water is murky and green, it's because the chlorine surrendered to stronger forces... body fluids and Kahlúa.

11. Thinking you can hook up at the AVN Awards
Sure, it's porn's biggest award show, but don't go if you're only trying to hook up with porn stars. They've been wearing skyscraper heels for the whole week, and their bouncers were given unspecific (as in, "get creative") guidelines for how to handle guys like you.
12. Throwing up at Double Down Saloon
Sure, you can't always help it, but if you don't buy the punk bar's puke insurance, you're going to clean it up yourself. Frankly, this should be instituted at all bars. But really, don't do it here.

13. Drinking more than three Fink Bombs at Frankie's Tiki Room
Serious booze, serious sugar. At Frankie's the drinks are rated on a one-to-five skull alcohol scale. Fink Bombs are five skulls. And since it's a Tiki drink, you won't really know you've been drinking hard until you get up to go to the bathroom and forget your own name. Unless you're 300+ pounds, stick to around three Bombs, and still drink plenty of water.

14. Wearing an MMA-related T-shirt
People here will be hard on you. You won't get into a good club, even if you (stupidly) paid more for this T-shirt than one with a collar and buttons. Drunk guys fresh out of the Friday night fights will want to scuffle. And you're just going to get called names everywhere you go. Doesn't matter if you're a skinny IT guy from Toledo. Leave it at home.

15. Thinking you're going to get a squat rack at Las Vegas Athletic Club for the first two months after New Year's
For some reason, the New-Year's-resolutions people always pick LVAC. You can tell because the true meat heads are always super-hostile until about Valentine's Day. Time to be the guy who works out at 11pm.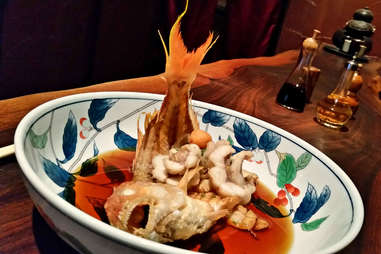 16. Never visiting Chinatown
The restaurants on the Strip are, for the most part, mindblowing. But if you don't visit the cream of the crop in Chinatown (Kabuto! Raku! Ichiza! Chadathai!), you've made a horrible mistake. Sure the cab rides are practically expensive, but the best food you can actually afford is on Spring Mountain between Valley View and Jones.

17. Going to the Strip and "just winging it" on a weekend
Not only does it show that you didn't put any time into it, but if you try to just show up to a restaurant or a club on a Friday or Saturday, especially one that has any kind of reputation (i.e. a DJ you've heard of), you're not going to eat and you're not going to dance.

18. Going to the Las Vegas North Premium Outlets without a game plan
The stores here are high(er) end, but at outlet mall prices, meaning families from China and Russia who like American brands flock here more than anywhere else in The Valley. And that is really saying something. Pro-tip: go either early in the morning or an hour or two before close, and go during the occasional terrible weather. If it's raining (ha!), you'll be waltzing through a beautiful ghost town.
Sign up here for our daily Vegas email and be the first to get all the food/drink/fun in town.