Actually Cool Things to Do in Las Vegas During Quarantine
There are still so many options.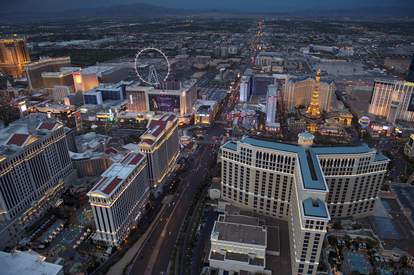 Sam Morris/Las Vegas News Bureau
Planning a trip to Las Vegas isn't as easy as it used to be. Thanks to coronavirus, Nevada went on a statewide shutdown that led to widespread social distancing and effectively turned the Vegas Strip into a ghost town. Businesses are slowly starting to reopen but how the rest of the year pans out is anyone's guess. However, one thing is certain: Vegas will reclaim it's old swagger one way or another -- possibly with some dirt cheap hotel rooms and air fares in the near future. So while you begin to plan your next Sin City getaway, let's take a look at the coolest things going on in Vegas right now and how to currently enjoy some of them while staying safe.
Neon Museum
The Neon Museum packs a lot of Vegas history into one place, offering guided tours of old signs and marquees from casinos and other businesses long departed. In promising news, the attraction is planning to reopen May 22 with strict health protocols in place. To sweeten the deal, Nevada residents can score $10 discount tickets for a limited time. Until then, download the official Neon Museum app (using the password NEON) to digitally explore 25 exhibits. 
Explore the local neighborhood dining scene
Some Las Vegas restaurants chose to sit it out during the pandemic, while others stuck with delivery and pickup orders to stay afloat. As Nevada loosens restrictions from the statewide shutdown, restaurants are reopening dining rooms at their own pace and comfort level. Employees are required to wear masks, seating capacity is limited, and bar areas remain closed -- but it's a start. Meanwhile, the vast majority of Strip restaurants will likely remain closed until resorts reopen. If you prefer to cook at home right now, a few of our city's best chefs are even giving online cooking classes, including Rick Moonen, the Wynn's David Walzog, Ronnie Rainwater of Delmonico Steakhouse, and Forte's Nina Manchev, who's been regularly showing off her best recipes with Secret Burger.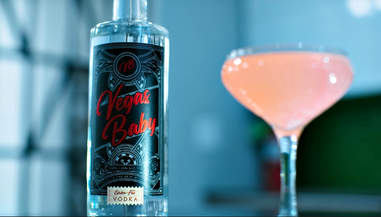 Vegas Baby Vodka
Bring the Vegas cocktail scene to your own at-home bar
There are some fantastic cocktail spots on and off the Strip but while the quarantine continues, you're going to have to brush up on your at-home bartending skills. Order up some spirits from Lee's Discount Liquor, Total Wine, or Liquor World, who were all granted temporary licenses to deliver booze to private homes. Make a point to sample and support Nevada-produced spirits like Ambros banana-infused whiskey, Grandma's Apple Pie Moonshine, Frey Ranch Gin, and Vegas Baby Vodka.
Take a Downtown art tour via Google Earth
The Life is Beautiful festival was officially cancelled this year, but let's not overlook all the colorful street art the event has left behind in Downtown over the years. Much of it can be explored by using Google Earth, including a robotic tribute to slot machines by Pixel Pancho, a vibrant showgirl by Tristan Eaton, the latest example of a dysfunctional character by D*Face, a multilayered mural with solar-powered accents by Felipe Pantone, and a multi-story mural by Shepard Fairey on the exterior of the Plaza hotel. Of course, you can also leave the safety of your laptop, go for a drive, and see these impressive works in person. 
Ethel M

| Rob Kachelriess
Take a bite out of artisanal chocolates
It doesn't get talked about much, but Las Vegas has some of the best chocolate makers in the country. Ethel M, Jean-Marie Auboine Chocolatier, and Hexx Chocolate all ship their delicious hand-crafted candies and chocolate throughout the world. If you need a great Vegas-oriented gift for someone special, you can't go wrong here.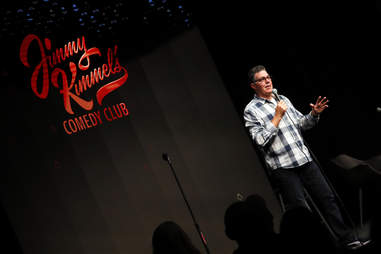 Jimmy Kimmel Comedy Club
Laugh your ass off in Las Vegas
Vegas has its share of big-name comedy headliners, including regular gigs by Jerry Seinfeld and Jeff Dunham at Caesars Palace. Other venues include Jimmy Kimmel's Comedy Club at the LINQ, Brad Garret's Comedy Club at the MGM Grand, and the Laugh Factory at the Tropicana. While we wait for these places to open their doors again, turn to online streaming services to bring the funny. Jerry Seinfeld just released his first original standup special in more than 20 years on Netflix. On a smaller scale, Don Barnhart, resident headliner at Jokesters inside the OYO casino, has a new special that's free to watch on the Dry Bar app.  
Host your own beer festival
Las Vegas would normally be overloaded with food and drink festivals, including Motley Brew's Great Vegas Beer Festival and Downtown Brew Festival. With one already cancelled and the other in jeopardy, it might be time to organize your own at-home beer drinking event. Fortunately, local brewer Crafthaus makes it easy with online ordering and curbside pickup Thursday through Sunday, 12-5pm. The service is only available at the company's original location in Henderson. 
The Lake Mead National Recreation Area recently opened back up for annual passholders. Crowds have been huge with people eager to swim, boat, picnic, and hang out on the beach. We'll leave it up to you to decide if this is appropriate social distancing or not, but if you want an annual pass, you must buy one online. None are being sold at the entrance stations at this time. If you'd prefer to stay home and take in the natural beauty, take a look at this video produced by the National Parks Service.
The Cromwell
Gamble at all the right places
Gambling is a big draw in Vegas, although casinos will probably be among the last businesses allowed back open. When that happens, feel free to check out The Cromwell, OYO, and El Cortez, which all have a reputation for player-friendly blackjack and other table games. Poker fans will be bummed to learn the massive World Series of Poker tournament at the Rio was delayed until the fall. However, games can still be played online. 
Now that recreational cannabis is legal in Nevada, Las Vegas is loaded with dispensaries. Count Planet 13, The+Source, Acres, Thrive, Oasis, and Curaleaf among those now offering curbside pickup in addition to delivery services. NuWu takes the idea one step further as the only dispensary in Vegas with its own drive-through window. Some dispensaries are now resuming in-store sales with a limited amount of customers allowed inside. Check with your favorites directly for the latest policies. 
Kevin Mazur/Lady Gaga
Get in line to see your favorite stars in smaller venues
One of the best reasons for a Vegas visit is the rare opportunity to see your favorite chart-topping artists in a more intimate setting than an arena or stadium. Unfortunately, COVID-19 interrupted a few debuts, including Kelly Clarkson at Planet Hollywood, the Jonas Brothers at Park Theater, and Sting at the Colosseum. Nobody knows when crowds will be allowed back into live music venues, but for the time being, check out this online performance from current Vegas headliner Lady Gaga, who organized the One World: Together at Home benefit for the World Health Organization. 
Explore the food and drinks of Chinatown
Las Vegas has an awesome under-hyped Chinatown that's just a few blocks west of the Strip on Spring Mountain Road. Many of the neighborhood's top restaurants are serving food via delivery and curbside pickup. Favorites include the spicy Szechuan flavors of Chengdu Taste, the robata-grilled cuisine of Raku, the masterful Japanese dining of Sushi Kame, and even the modern French of Partage, which also has an option for weekly orders.  Now that neighborhood restaurants are allowed to cautiously reopen dining rooms, expect Chinatown to reclaim its spot as one of the best neighborhoods in Las Vegas for eating out.     
Demian Becera/Insomnia Events
Nightclubs are kind of a thing in Vegas, but the biggest one of all is the Las Vegas Motor Speedway, which transforms into the Electric Daisy Carnival for a colorful and crazy three-day weekend each year. The dusk-to-dawn electronic dance music party welcomes more than 140,000 people each night to enjoy nonstop DJs performing on at least eight different stages. If that sounds like a social-distancing disaster, you'll be relieved to learn this year's event has been rescheduled from May to October. To celebrate the festival's original dates, EDC is hosting a virtual rave-a-thon May 15-17 with dance music delivered by live-stream.
Smith Center
Yeah, we have slot machines at the airport, but Vegas also cares about arts and culture. Find your proof at the Smith Center. The Art Deco palace of performing arts has three different rooms to showcase the finest in entertainment and is also home to the Las Vegas Philharmonic, which has a long list of online resources for anyone eager to indulge in classical music while in self-quarantine. A highlight is the weekly MusicWise Facebook Live events, featuring in-depth conversations between Music Director Donato Cabrera and a series of special guests.  
Get your caffeine fix from the best coffee spots in Vegas
The secret is out. Vegas has a killer coffee scene. When times are good, they're great coworking spaces to bring your laptop. (As long as you spend, no one will care if you hog the WiFi.) For now, you'll have to settle for grab-and-go java. PublicUs, Vesta, Makers & Finders, and Mothership all have drinks and beans ready for pickup or delivery. Founders Coffee is even more convenient with a drive-through window. Most of these coffeehouses seem cautious about resuming full services, but check with them directly for the latest information. 
It was originally ordered from a Sears catalog, but the oldest bar in Southern Nevada is still standing just a few miles near the California border. It's expanded dramatically over the years with a kitchen, dining room, patio, courtyard, and even a whiskey-aging program to keep people coming back for more. Throughout the Nevada shutdown, the Pioneer Saloon has remained open for takeout orders, but is now back open with limited outdoor seating. The spicy half-pound Ghost Burger alone is worth the drive.      
Do brunch Vegas-style
If you like eating meals topped with eggs, home fries, biscuits, bacon, or anything else considered an integral combination of breakfast and brunch, Vegas is here for you. Our town has no shortage of delicious brunch options in every neighborhood. As restaurants begin to shift back to full operations from a strict takeout and delivery model during the pandemic, three recent openings feel tailor-made for brunch. Johnny C's Diner at the Las Vegas Motor Resort has a fresh spin on familiar breakfast and lunch staples, courtesy of Chef Johnny Church. Meanwhile, Sunny Side Up at Boca Park is a Chicago import that's heavy on egg dishes, from omelettes and benedicts to burritos and tostadas. If you're on the run, Egg Sammie, is a new grab-and-go breakfast sandwich shop in the southwest valley.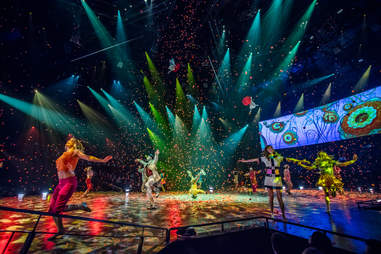 Matt Beard/The Beatles LOVE
See a Cirque show -- it's kinda required
The Strip
Vegas has a Cirque du Soleil show to fit every mood. If you want to dance, go with Michael Jackson ONE. If you're feeling nostalgic, take a trip back to the psychedelic '60s with The Beatles LOVE. For something on the naughty side, check out Zumanity, the only Cirque show with nudity. For thrills, O takes things up a notch with water acrobatics and KA is a spectacle with a revolving, levitating stage. Mystere is the Vegas original, but never seems outdated. Tickets remain on sale for performances in July and beyond, but if you want to get up to speed now, CirqueConnect is an online portal with 60-minute specials, behind-the-scenes featurettes, workout videos, and other content to showcase the company's best performers.  
Get the best views of Vegas from a helicopter
When the city is operating at full-speed, the lights of the Strip shine bright and it's easy to lose count of the helicopters in the sky. Companies like Maverick, Sundance, and Papillon offer a variety of tours above the Strip and to remote destinations like the Grand Canyon or Valley of Fire. For the next best thing, put on your virtual reality goggles (Oculus Rift or HTC Vive will do) and take a simulated flight over the Hoover Dam. The modern marvel is the only thing holding back 10 trillion gallons of water at Lake Mead. It looks amazing from the air.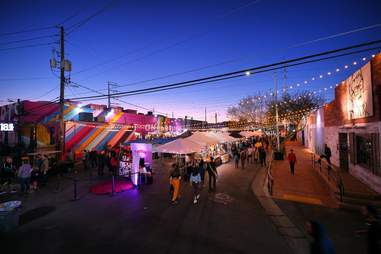 First Friday Las Vegas
Downtown
About a mile south of Fremont Street, the Downtown Arts District is one of the fastest growing areas of Las Vegas, thanks to its bars, restaurants, and thrift shops, which all share a common city culture. The neighborhood is a little more quiet these days, but you can still get a feel for it -- from a distance. Order a few bottles from Garagiste, an exceptional wine bar with pickup and delivery services, or take home some coffee and brunch bites from the pickup window at Makers & Finders. The Arts District is also home to First Friday, an arts and culture festival on the first Friday of each month, and a virtual version launched in May.
Off the Strip
While there are a few Topgolf locations around the country, the one in Vegas smokes 'em all. You've got three levels to drive golf balls while staring straight at the Strip skyline -- which looks great day or night. Meanwhile, hang out in your own private bay while ordering drinks and food like a ridiculous Pretzel Board, which is kinda like a charcuterie and fruit plate served inside a giant soft pretzel. Topgolf is making plans to reopen soon with new precautions, including protective dividers and 11 feet of space between bays. For now, golf purists can get in a regular game at TPC Summerlin, Bali Hai, and other full-fledged courses around Las Vegas, which were allowed to re-open to the public in late April. Clubhouses remain closed.    
Downtown
Las Vegas is full of strange and spooky places, where you might encounter the ghosts of Bugsy Siegel, Tupac Shakur, or even Redd Foxx. At this point, one of the eeriest tourist attractions is Zak Bagans' The Haunted Museum, featuring a collection of creepy artifacts. One exhibit, the Devil's Rocking Chair, supposedly spooked guests so much, the museum decided to close it altogether. While tours are on hold, Bagans and his Ghost Adventures team locked themselves inside the venue for 14 straight days to see what would happen. They handled the cameras themselves -- Blair Witch style -- without a crew. See how it unfolded during a four-part miniseries, Ghost Adventures: Quarantine, which debuts on June 11 on the Travel Channel.
Sam Morris/Las Vegas News Bureau
Get out of the house for a beautiful desert hike
You're probably itching to escape home quarantine and head outdoors to enjoy the sun. The desert landscape outside Vegas is full of hikes to explore. Parks like Red Rock Canyon, Valley of Fire, and the Grand Canyon remain closed to the general public, but should reopen sooner than, say, a casino. If you're okay with downsizing your adventure, check out alltrails.com, an online resource for searching nearby hiking trails. You may find a few charming discoveries close to home. Don't underestimate the weather. Along with your mask, bring plenty of water and stick to mornings or late afternoon to avoid the sun's peak hours.
Sign up here for our daily Vegas email and be the first to get all the food/drink/fun in town.
Rob Kachelriess has been writing about Las Vegas for Thrillist for more than four years. His work has also appeared in
Modern Luxury, Leafly,
and Luxury Estates International's seasonal publication. He's eating chocolate as he writes this. Follow him on Twitter @rkachelries.