If you're going to do New Year's Eve right, you don't round up a few actors from the curiously successful Valentine's Day and rush out a "sequel" featuring them as totally different people! You DO go to Vegas, but since a shton of other people are gonna do the same thing, we put together a few simple, yet vital, steps you can take to make sure your NYE goes off without a hitch.
THE PREGAME
The best way to prepare for a night of drinking is with… drinking. So get to these places early, and start figuring out how to survive a night when The Strip will be shutdown and parking will be impossible.
Recommended Video
This Tea Changes Color Like a Mood Ring
SHe by Morton's
The Strip
The Aria steakhouse is not really clear about when to use capitalization offering two super-tasty, multi-course prix-fixe menus, which include delicious options like seared foie gras, beef filets, crab-stuffed lobster, and steak tartare.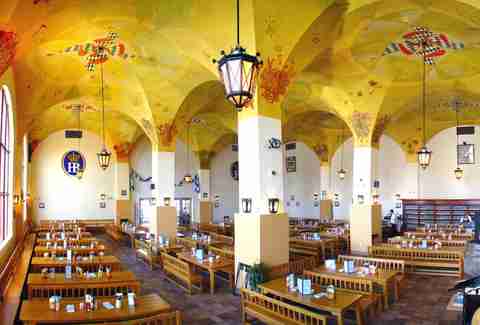 Hofbrauhaus Las Vegas
Off Strip
Save the Champagne for midnight and load up on beer early at this mecca of German cuisine and culture. Midnight strikes in Germany a few hours before it does in Las Vegas… so it's a good excuse to start chugging before it even gets dark out.
Tivoli Village
Off Strip
Take your pick from a number of bars and restaurants in this outdoor shopping district. Your best bet may be The Den… the new lounge on the second floor above The Poppy Den restaurant.
THE PARTY
It's time to add dance floors, fist-pumping DJs, and, hopefully, someone to makeout with at midnight to your itinerary. Here're some of Sin City's sweetest options...
Lavo
The Strip
The Palazzo's favorite party spot is offering music, hors d'oeuvres and a cozy dance floor that will let you sweat out the toxins you've been ingesting since before it was midnight in Berlin.
Cabo Wabo
The Strip
Before midnight rolls around, load up on tequila at Sammy Haggar's Las Vegas spot. The all-inclusive party will transform the dining room into a dance floor downstairs with a private bar, buffet and beer pong (yes, beer pong) upstairs.
Hyde Bellagio
The Strip
The real draw here is the food, the booze and the up-close view of the fountains, but Paris Hilton is also your host for the night, and it's safe to assume she knows a thing or two about throwing a party.
THE MOMENT
It's almost midnight. Grab a glass of Champagne and scope out the best view for fireworks. It's hard to mess this one up. The Strip has a synchronized show shooting off from the rooftops of seven resorts. In other words, there will be explosions everywhere you turn.
Paris Las Vegas
The Strip
Head to the very top of the Eiffel Tower to watch the spectacle from one the highest points in Vegas. Tickets to the party include Champagne from 11 to midnight.
Mandarin Oriental
The Strip
One of the best views from the center of the Strip with giant floor-to-ceiling windows offering a great view and good place to escape from the club kids.
Nobu Hotel
The Strip
The perfect place to watch the fireworks may be from your very own suite at this hotel-within-a-hotel inside Caesars Palace. Pro Tip: BYOB to save some dough while ordering some sweet Japanese fusion eats from room service.
THE RECOVERY
It's daylight, you have a headache and you don't know who (or what!) is in your bed. Welcome to 2014! Get some coffee and start getting your body ready to do all of this again next year.
REVIV
The Strip
Look carefully or you may miss this unique rejuvenation clinic in The Underground shopping area of the MGM Grand. If you do find it, they'll hook you up to an IV and get vitamins and other hydration treatments flowing through your system the easy way.
Shine Alternative Fitness
Summerlin
Get started on that New Year's resolution to hit the gym, or just get some blood rushing to your head with some AntiGravity Yoga... just try not to fall on your head. Oh, put that whole "hitting the gym" thing off a day and get a free class January 2nd.
Park on Fremont
Downtown
IVs and yoga aside, the best way to cure a hangover is with… more alcohol, so hit this boozer in Fremont east for some hair of the dog, aka a sweet Bloody Mary paired with some badass brunch-style eats.