Las Vegas Thursday January 23rd: Forget the Winter Olympics, Haze Nightclub at The Aria is holding the Haze Selfie Olympics, where your ability to take annoying photos of yourself could help you win $5000 and get your GPOY published in Seven Magazine. BTW, voting takes place on Instagram with the hashtag #hazeselfieolympics.
Recommended Video
Get Fit and Look Like A Badass
Thursday, January 23rd, 1p: The International Eatery food court at downtown's Neonopolis is having a grand opening, which is almost as good an excuse as bar hopping on Fremont to stuff yourself at DJ's Taco Bar, stir-fly specialists China Max, or Dino's Little Italy Pizza Stand. Continue Reading
Friday, January 24th, 530pm: Garduños at Fiesta Rancho is lacing you with three courses of their classic South-of-the-Border eats, and four brand-new tequila cocktails for just $39.99 --  better call 'em to reserve a spot ASAP.


Friday, January 24th: MOPAR's Midnight Mayhem is exactly like illegal street racing (minus the part about it being illegal) 'cause it's open to any street-legal vehicle and any licensed driver who wants to live a quarter mile at a time... as long as said quarter mile is at the Motor Speedway.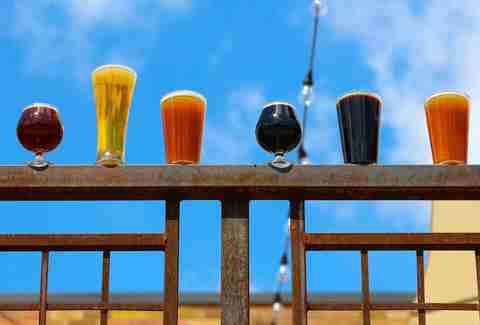 Saturday, January 25th: Big Dog's Brewing Company is trying to warm you up with its annual Winterfest: the Beer Festival's got about 40 craft beers, and goes from 3-9pm, while the after party's got live music and goes wayyy later than that.
Saturday, January 25th: Hyde Bellagio is celebrating its two year anniversary. The party starts at 1030pm with a performance by The Sayers Sessions, and presumably ends well into HB's third year.
Sunday January, 26th: The Springs Preserve's new interactive exhibit is bringing 40 life-sized contraptions designed by Leonardo da Vinci to life, and would totally make you watch his show on Starz if you, like, actually got that channel. Admission is free for members.


Sunday, January 26th: Dig out your best ski gear, or, like, buy some, 'cause The Bank Nightclub at the Bellagio is hosting a Park City Takeover/ industry party where you've got a chance to win a "two night trip for ten" to Park City, Colorado.