Las Vegas Thursday, November 21st, 8p: It's ladies night at Sammy's Restaurant Bar and Grill in Henderson, and you know what that means! Seriously, if you do, then tell us, 'cause all we know is that they're hosing a "Tequila and Tapas" event and you can score three free drink tickets if you RSVP here.
Thursday, November 21st, 7p: The Thirsty Third Thursday Pub Crawl kicks off at Hennessey's Tavern, then hits downtown spots like Gold Spike Bar, Hogs & Heifers, The Side Bar, Mickie Finnz, and the Las Vegas Country Saloon. $20 gets you six drinks and half-priced food. Continue Reading
Friday, November 22nd: You know it's Winter when the temperature dips below, like, 70 (brrrr!) and The Cosmopolitan turns their Boulevard Pool into an ice rink, complete with fire-pits, S'mores, and cold(er) weather-appropriate cocktails. All-day access is $15 today, through January 5th.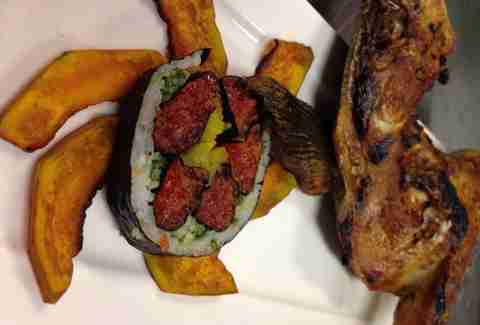 Friday, November 22nd: Thanks to Yonaka Modern Japanese, and their $70 5-course Pre-Thanksgiving Wine Dinner, you can start adding all that extra holiday weight a full six days before Turkey Day. Call ahead to make reservations.
Sunday, November 24th, 5p: Show off the flawless facial hair you've been growing all month (and somehow beat prostate cancer) at Commonwealth's Heineken Haberdasher Run through downtown, then stick around for their Moustache Party, where, presumably, a lot of Heineken will be served.