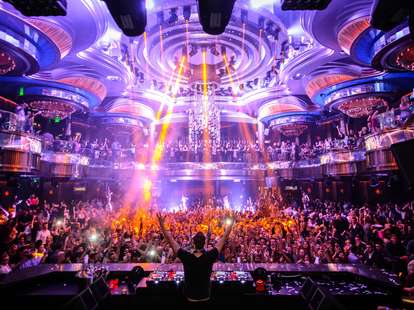 You already know Sin City is the place to go for epic nightclubs. And you might know that Caesars Palace just launched the biggest new night spot since Hakkasan opened two years ago. You may even know that its name sounds sorta like the place where the Atlanta Hawks played basketball in the '80s, but there are a lot of things you don't know about OMNIA. At least 10 of 'em, in fact...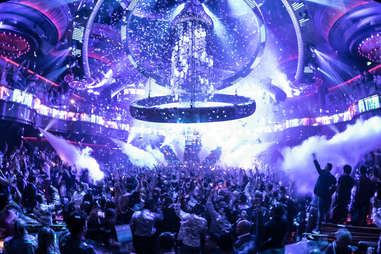 1. It's HUGE... even for Vegas
The three-level venue covers 75,000sqft and includes an outdoor terrace with a wide panoramic view of the Strip. The club is so big it not only more than doubles the size of PURE, but it also takes over the former poker and World Series tournament rooms at Caesars Palace.
2. The insane-looking ceiling is actually a chandelier
The main attraction here isn't the ridiculously high-paid DJs like Calvin Harris and Afrojack. It's the high-tech chandelier that is made from eight oval rings and hangs over the main room of the club. It's truly insane and looks like a spaceship is landing over the dance floor. It's 22,000 pounds and moves at four feet per second.
3. It's not "made in America"
Granite and stone to build the club was imported from Spain, Italy, Hungary, Budapest, and China. Apparently there wasn't enough quality rock here in the US, but the American economy will benefit from the money being tossed around for VIP tables. It's at least a thousand bucks to reserve one.
4. There's more than just one club
The Heart of OMNIA is a club within a club. Its where Justin Bieber celebrated his birthday after a long day of Selena Gomez jokes while taping his Comedy Central roast. He was joined by Martin Garrix who's best known for "Animals" (that song you hear EVERY time you walk into a club) and for being 18 years old, which means he's actually too young to be allowed in the nightclubs where he works… and has to be carefully escorted in and out of the booth every time he plays a set.
5. Big Brother is watching...
… always. OMNIA makes the most of motion-detection technology with liquid-crystal display screens that react to people walking (or stumbling) by and if that wasn't enough, that UFO/chandelier above the dance floor moves in sync with the music.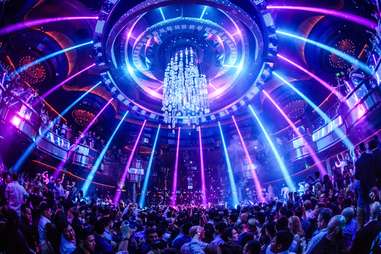 6. U2's Production Manager designed the club
Don't worry. OMNIA won't give you a free album that nobody wants on your iPhone.
7. State-of-the-art technology = less sweat
OMNIA was made with climate control in mind. The air conditioning system is state of the art and steady throughout the entire venue. It'll keep your drinks cold while minimizing sweat on the dance floor.
8. Feeling romantic? Then head to the veranda.
The terrace was inspired by A Midsummer Night's Dream, Shakespeare's play about fairies, hooking up in the woods, and a love potion. Keep in mind, any use of a "love potion" or any other drugs will get you kicked out of the club. So will wearing a shirt without a collar.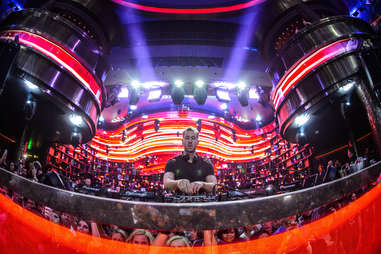 9. It's all about that bass
OMNIA is the only club in Vegas with L-Acoustics sound technology. Even the most monotonous thunk-thunk-thunk dance music can now be heard crystal clear. If house or hip-hop is more your thing, head over to Heart of OMNIA.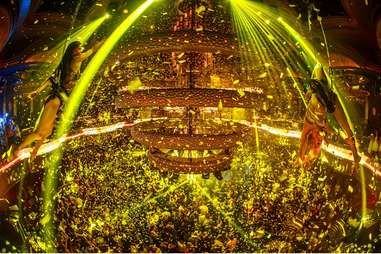 10. Don't even ask how much it cost
It took 225,000 man hours to build OMNIA. If we assume the average worker makes $15 an hour, that alone equals almost 3.4 million dollars... or the cost of bottle service for a typical night in Vegas.
Sign up here for our daily Vegas email and be the first to get all the food/drink/fun in town.