Las Vegas has something for everyone, from epic hotel rooms to epic steakhouses to... well, pretty freakin' epic strip clubs. That means eventually everyone will probably come visit, all of them thinking they know everything there is to know about Sin City, when they clearly don't. So, to make things easier for them (and you), we created a list of 17 things tourists need explained to them about Vegas... including the fact that people don't really call it Sin City. Oops.
1. The Strip isn't Las Vegas
Technically, it's outside the city (don't worry, there's plenty to do in the actual Las Vegas, too), but Vince Vaughn, and everyone who's ever seen Swingers, wouldn't sound nearly as good shouting, "Unincorporated Clark County, baby! CLARK COUNTY!".
2. Prostitution isn't legal
That doesn't mean you won't find a few of these fine professionals roaming the lobby of your hotel, but the nearest legal brothel is a few hours away. Have a safe drive!
3. What happens in Vegas probably won't stay in Vegas
Ask Prince Harry. Or your friends on Facebook. Or the doctor who's writing up a prescription for that odd-looking rash that won't disappear.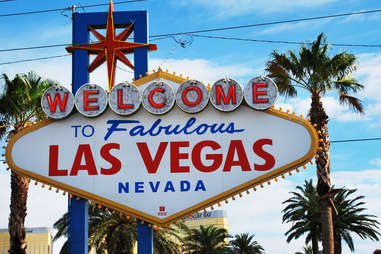 4. It actually gets cold here
People don't expect it to get below freezing in the desert, but it does. It even snowed in 2008!
5. Oh, and it's not THAT hot
If you can't handle three digit temperatures, then why did you come here in the Summer?! Ahh, that's why.
6. Not everyone in Vegas gambles
Almost everyone gambles. Which is why you'll see slot machines in grocery stores, gas stations, the airport, and pretty much anyplace you can think of.
7. No one really calls it Sin City anymore
Sure, there're the aforementioned strip clubs, and topless pools, and lingerie parties, and bikini contests, and breastaurants, and the chance to win a date with a p*rn star, and... wait, maybe we should still call it Sin City.
8. It isn't a non-stop party
Some of our clubs/bars/strip joints close earlier than you might think, and the Strip can actually get pretty quiet at 3 in the morning, unless you know where to find the best after-hours spots.
9. Sadly, not everything is cheap...
You can still find some deals (like $0.99 margaritas!) here and there, but the days of the 99-cent buffets and free drinks for gamblers are pretty much gone.
10. ... Unless you're a local
Sorry, your Oregon ID isn't getting you 2-for-1 drinks, but ours is!
11. That pass/wristband you got to a sweet nightclub from some guy in the lobby of your hotel?
It's better than nothing... but it won't always help you skip the line, and you could still be left waiting around outside Vegas's best/biggest clubs.
12. No, the mob doesn't run Las Vegas
That's an old, old story. Today, no one's going to break your legs or drag your body out to the desert... at least not while wearing a fedora and going to a see Sinatra afterwards.
13. You haven't been to Summerlin
Since most of what you think is Summerlin -- including Tivoli Village (on the border); Whole Foods (outside the border); and the Red Rock Resort (ok, it's barely inside... maybe) -- aren't actually inside this upscale suburb.
14. Our traffic's pretty good!
The only people who disagree are the tourists stuck at the intersection of Las Vegas Blvd and Flamingo.
15. Motorized shopping carts aren't the best way to get around the Strip
C'mon, man! Leave those for the people who need 'em and get some exercise.
16. There's plenty of fresh food here
Yeah, we're in the middle of the desert. And you can joke about avoiding things like sushi, but Vegas is home to the world's top chefs/restaurants, so you better believe they're flying stuff in within 24 hours. Oh, and you may also find a farm or two around here somewhere. Really.
17. Your bachelor party might not be THAT great
A big group of guys isn't getting into the club, so either improve your ratio by sweet-talking some lovely ladies into joining your group, or just rent one of these places and never leave.