How a Pastry Chef Is Keeping the Vegas Karaoke Spirit Alive
Off-key singing, private rooms, and cheap beer.
Welcome to Karaoke Week, Thrillist's celebration of our favorite global phenomenon with drink recipes, singing advice, celebrity recommendations, tips for hosting karaoke at home, and much more.
No matter how bad things get, Las Vegas will always be a town of unlimited possibilities. A place where you can roll the dice, cash in big, and go home a millionaire. Build the life you want, live the dream you want. Playing tourist is fun. Being a resident of Las Vegan is even better.
Few represent the lifestyle as well as Jesse Siharath. The pastry chef works hard at Emeril Lagasse's Delmonico Steakhouse at the Venetian by day. By night, the 30-year-old is a fixture at Karaoke Q Studio -- a lounge in Chinatown where patrons stay up late, belting out off-key but earnest renditions of "I Will Survive" and "Don't Stop Believing." It's something Siharath has been doing much of his life.
"My family always sang karaoke," he says. "I guess you could say it's an Asian thing."
Though he doesn't have a go-to song or genre, he admits that being a '90s kid has him gravitating towards artists like Savage Garden, TLC, All-4-One, and Destiny's Child. In fact, he lip-synced "Survivor" to win an Ameteaur Night contest at Drink & Drag -- the now-closed Fremont Street bar that combined bowling with drag shows. But sometimes country music finds its way into the mix. Siharath was born in Texas and lived in Arkansas and Tennessee before studying the culinary arts at Johnson & Wales University in Charlotte, North Carolina.
"Living in the South, you develop a love for country music," he continues. "Like Dolly Parton, Shania Twain, even Keith Urban. I'll do George Strait, as well."
Whatever the song choice, there seems to be two categories of karaoke performers. For Siharath, it's a social thing, something to enjoy with friends behind the closed doors of a private room in a Chinatown karaoke parlor. How you sing or what you sing is less important than who you're singing with.
For others, however, karaoke is all about the show -- living out a pop star fantasy on stage in front of strangers. This type of karaoke is for the extraverts. Perhaps those who had a rock band in high school or played the lead in a high school musical.
That's where Vegas' two most notorious karaoke destinations enter the picture. Dino's Lounge is the one of the longest-running dive bars in Las Vegas, sitting on historic Las Vegas Boulevard real estate -- a couple blocks from the Stratosphere tower and in that murky area where the Strip merges with Downtown. Dino's was continuously open for more than five decades before being forced to temporarily close earlier this year due to the COVID-19 pandemic.
Until then, karaoke ran Wednesday through Saturday nights, beginning at 10pm and going as long as people kept buying drinks. The bar is dark and the stage is visible from all corners. There's nowhere to hide from curious eyes, even if some of them occasionally drift to the vintage erotic films that illuminate the TV screens. You've got to set the mood somehow.
Just east of the Strip, Ellis Island is another slice of classic Las Vegas, although one that's seen more evolution over the years. The hotel and casino recently upgraded its on-site brewery and celebrated the opening of the Front Yard last year, an atrium-like extension with a contemporary menu of booze and bites. However, it's most enduring legacy may be the popular karaoke nights -- offered in a cozy corner bar off the main casino floor.

"The karaoke room is small, and kind of old school. I think that's part of what makes it so welcoming," says Christina Ellis of Ellis Island. "We get everyone ranging from actual entertainers on the Strip to drunk bachelorette parties. There's something really fun about walking a block off the Strip and belting it out in our lounge with a cheap beer until 4am."
Of course, the scene has been struggling during the pandemic. While bars put their karaoke nights on hold, regulars have been looking for alternatives. Some have turned to apps. Others have actually bought their own karaoke machines to get through quarantine.
Siharath went a step further, rounding up a group of friends -- some as far away as Iowa and Hawaii -- for a virtual karaoke session on FaceTime. "It was a lot of fun," he recalls, despite the technical imperfections. "We had drinks and food like we normally do, and I think we ended up singing for four hours. I'm sure my neighbors were confused about why there was somebody belting horrible off-key songs."
For now, however, Chinatown's parlors will remain the go-to options for karaoke junkies. The private rooms automatically provide a degree of built-in social distancing with customers required to wear masks outside of them. Just a few months ago, Kamu Ultra Karaoke debuted at the Venetian, bringing a much-needed upscale Asian-style karaoke lounge to the Strip.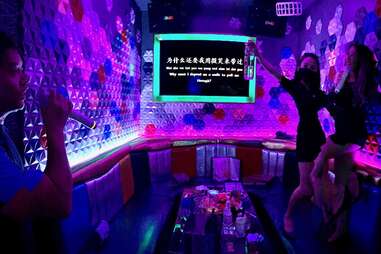 As Las Vegas tries its best to turn back the clock and return to business as usual, it helps to have an outlet to channel your inner voice, reach deep in your diaphragm, and belt out a song that may not be perfect -- but comes from a place of sincerity and exhilaration.
"There are a lot of politics and other things going on in the world," Siharath says. "People are scared and unsure. With karaoke, you can forget about the stress and just sing."
Sign up here for our daily Vegas email and be the first to get all the food/drink/fun in town.
Rob Kachelriess has been writing about Las Vegas in Thrillist for more than six years. His work has also appeared in Travel + Leisure, Trivago Magazine, Sophisticated Living, Modern Luxury, Leafly, Las Vegas Magazine, and other publications. Follow him on Twitter @rkachelriess.