Everyone knows that Vegas is the place to go for outrageous nightclubs, no-limit poker, scantily clad women, and... um, other things you probably can't afford. Unless you take our advice about where to stay, where to get bottomless breakfast for six bucks, and everything else you need to know to have an epic Vegas weekend on a serious budget.
Thursday: Arrival in Vegas
What you want to do: The true high rollers fly into Vegas by private jet with catering, elaborate entertainment systems, free Wi-Fi, and best of all -- NO TSA!
What you probably should do: Check out the flights on Allegiant Air -- a discount carrier based in Vegas offering flights on the cheap from around the country. If you're still itching for your own private flight above the strip, Sky Combat Ace will give you a tour in a vintage biplane. It costs less than the chartered jet, and it's one of the most romantic things you can do in Vegas. Just don't count on that Wi-Fi service.
Checking in
What you want to do: Las Vegas has some pretty swanky hotel suites that come with everything you can think of -- including a bowling alley, basketball court, and private swimming pool.
What you probably should do: Head off the Strip to The Plaza Downtown. It recently went through a $35 million renovation, so even though the room rates are as low as $39, you don't have to worry about that "old carpet" smell.
Drinks
What you want to do: Caesars Palace has FIZZ -- a Champagne lounge that cost more than $3 million to create and offers bottles of 2005 Cristal Rosé for $2,725. That's just slightly more than the Fizz Deluxe -- a single cocktail made with Cognac and Dom Pérignon that's topped with a rose petal and dusted with 24k gold flakes… for $2,500.
What you probably should do: Rock 'N Roll Wine holds a free wine tasting every Thursday night at great locations that include Ghostbar, Artisan, and Poppy Den. All you have to do is RSVP in advance on their website. Whether you're on a tight budget or not, you never turn down free wine -- especially when it's this good.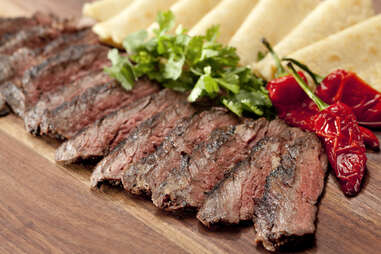 Friday: Buffets
What you want to do: The Cosmopolitan changed the standards for the classic Las Vegas buffet with the Wicked Spoon. It was soon joined by the Bacchanal Buffet at Caesars Palace as two places that stand above the others with high-quality cuisine and emphasizes quality over portion size. They also have high prices to go along with the long lines out front.
What you probably should do: Station Casinos has breakfast buffets as low as $5.99 at some of their resorts, and if you'd like some booze with your brunch, their house bars will serve you a frozen margarita for just under a buck.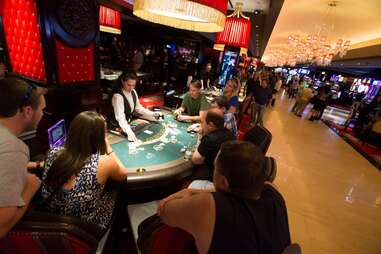 Gaming
What you want to do: Grab a few drinks, ignore our advice about how to avoid common gambling mistakes, and start betting thousands a hand at the high-limit tables inside the Cromwell, Bellagio, and other swanky resorts.
What you probably should do: Check out the "Dealers Angel" blackjack machines at the Venetian, Monte Carlo, and other casinos. You play on a video screen but it pays 3:2, and the "dealer" stays on 17, which are some of the most player-friendly rules you can find.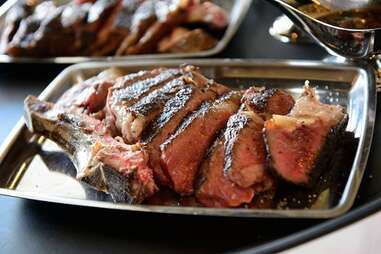 Dining
What you want to do: Las Vegas is packed with some of the best… and most expensive… steakhouses on the planet. 6-8oz cuts of 100% Wagyu beef at Wolfgang Puck's CUT will run you nearly $150 -- and that doesn't even include the side dishes.
What you probably should do: Just a few miles West of the Strip at Tivoli Village, Echo & Rig cooks up some mean and delicious grass-fed steaks direct from its own in-house butcher shop that are in the $20-30 range. Still not cheap enough? Head Downtown to El Cortez, which is famous for its $5 burger and beer special. It even comes with chips.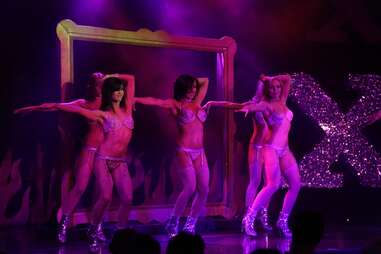 Strip clubs
What you want to do: There's no shortage of strip clubs in Vegas, but unfortunately, you usually get what you pay for. Sapphire and Spearmint Rhino have some of the most beautiful women around -- but their lap dances will drain your bank account in record time.
What you probably should do: Check out a topless stage show instead. X Burlesque provides hot girls, nudity, and even a dance routine on a pole -- just like at a real strip club! And while that means there's no touching, and no lap dances, it also means there's no tipping!
Saturday: Adventure
What you want to do: Compound Las Vegas provides tactical military training that's ultra-exclusive and usually reserved for Hollywood actors preparing for a role, or high rollers with tons of extra money lying around. It's the real deal and put together by Special Forces professionals so you can use machine guns, helicopters, and all kinds of Navy SEAL-style training to assault a compound in the middle of the desert.
What you probably should do: Head down to the Fremont Street Experience and hitch a ride on Slotzilla -- the zipline ride that shoots riders off a 12-story-tall replica of a slot machine. A second level will soon be introduced where riders can fly horizontally, so you can act like Superman and save a few bucks at the same time.
Nightclubs
What you want to do: Roll into the clubs, where you can order bottle service and watch your money quickly disappear while holding court at your VIP table, or just order a cocktail… that costs five grand.
What you probably should do: Carnaval Court at Harrah's hosts an outdoor party on the Strip that features live music, a dance floor, and big crowds. A short walk will lead you to the often overlooked Casino Royale where Michelobs are $1 and Coors Light drafts are 75 cents!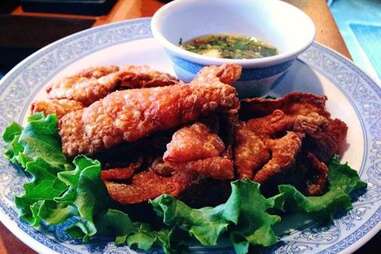 Late-night cravings
What you want to do: Head to Chinatown where Raku serves expensive bites like Wagyu beef sashimi or a $100-per-person omakase menu until 3 in the morning… but it usually requires reservations made well in advance.
What you probably should do: Right next door to Beauty Bar, The Griffin, and other Fremont East boozers is Le Thai, where you can get a stir fry, noodles, or curry dishes for $15 or less. You'll figure out quickly why locals like to come straight here when they're done (or still) drinking for the night.
Sunday: Brunch
What you want to do: The Sterling Brunch at Bally's is so tempting because you can enjoy steaks, omelets, and lobster in the buffet line while special-ordering caviar and tuna tartare, plus the bottomless Perrier-Jouët Champagne is included in the $90 price tag.
What you probably should do: Head just off the Strip where The Courtyard Café at The Orleans, which serves breakfast 24 hours a day… or in other words, whenever you feel like waking up. For $7.99 you can get an 8oz sirloin steak, two eggs, hash browns, toast, and a bank account that's still balanced.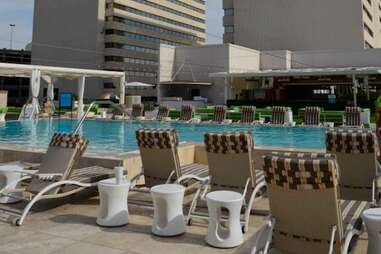 Pool
What you want to do: Wrap up your weekend with a massive pool party high above the Strip at Drai's Dayclub. It's on the roof of the brand new Cromwell and comes with an amazing view to go along with the palm trees, dance music, pricey bottle service, and cabanas/daybeds that'll cost thousands to reserve.
What you probably should do: Skip the party atmosphere and spend your time by the rooftop pool at the Downtown Grand. It may not be the Strip, but you get a great view of Downtown, and some delicious -- yet cost effective -- dishes from PICNIC. The restaurant's carry-out window serves a wide variety of eats that include garlic edamame dip and perhaps the best fried chicken in Las Vegas.