Basketball fan drops actual knowledge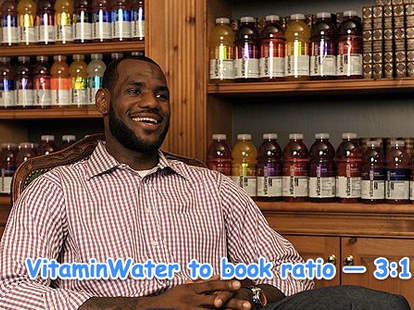 Sportswriters rarely capture the triumph and tragedy of athletics, instead using their columns to vent, or in Peter King's case, talk about how much he loves getting a Venti. Coffeenerdness! Appraising athletes with the words of more accomplished writers: Lit and Basketball.
Started by a dude who blogs about the Orlando Magic, LaB pairs illuminating prose from authors past and present with pics of NBA studs, duds, and coaches (it hasn't happened yet, but hopefully we'll see Richie Adubato/Thomas Pynchon, since it can't be proven either ever existed). Amongst the brilliance:
"Baby," I said, "I'm a genius but nobody knows it but me." Charles Bukowski on Stephon Marbury staring at himself in the mirror; presumably, "Baby" is Marbury's endearing nickname for 7ft Foshan Dralion teammate Zheng Zhun.
"Sophisticated--God I'm sophisticated!" F. Scott Fitzgerald on Chris Bosh shaking the hand of a mounted polo player, just one of the many hobbies Bosh occupies himself with while waiting for Mike Miller's sharpshooting to help clear out the paint.
"His life was made an agony by the number of fine scalpels that he felt to be incessantly engaged in dissecting his dignity." Charles Dickens on The Answer, who, when his rep was in Jeopardy, responded in the form of a question: "Practice?!?"
The site's proprietor also tosses in tertiary figures (Ray Allen's mom, who JD Salinger calls "slightly insane"), and occasionally subs out lit for song lyrics, e.g., The Strokes saying of Kobe "There's no one I disapprove of / Or root for more than myself" -- proving that even the greats can be their own worst Monday Morning Quarterback.