10 Actually Great London Date Ideas
Because booze and poor judgment can only go so far on a date, you're gonna need something else to do with your next Tinder match, which is why we've put together this list of 10 bulletproof, capital-based suggestions...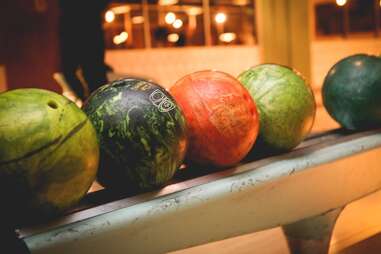 Vintage bowling
Bloomsbury Bowling (address and info)
Bloomsbury
Tucked away under the Tavistock Hotel, this old-school alley boasts eight lanes, plus karaoke rooms, a diner, arcade, a solid bar, and even has club nights, which means you can keep it light and easy, depending on how the pins are tumbling.
Food walking tours
Eating London Tours (address and info)
East London
Gone are the days when London was known for bad food and worse weather (well, at least the food has improved). Eat your way around eight of East London's eateries for three and a half hours, while being fed extraordinary morsels of history and trivia.
Go to a Secret Cinema
Secret Cinema (address and info)
Various locations
The SC has been changing the way we watch films for a while now, from its crazy immersive experiences like Back to the Future or The Grand Budapest Hotel, where it creates a whole interactive world to its uber-secret screenings -- you don't know where or what, but you know it's going to be amazing. If you're up for a bit of adventure, then this is pretty much perfect.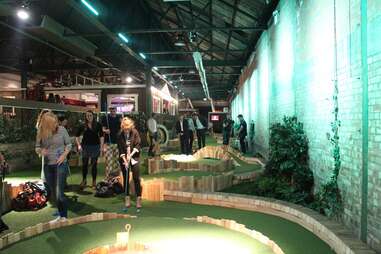 Crazy golf!
Swingers (address and info)
Shoreditch
Everyone loves playing with balls on dates (do NOT make that joke on the night though), and getting a little twisting action can help you measure range of movement, so head to the first concept brought to you by the gloriously named Institute of Competitive Socialising. Swing your way through nine holes and drink to your winning (or graceful losing) at their clubhouse loaded with two cocktail-heavy bars and a street food corral.
Swing dancing classes
Swing Patrol (address and info)
Various locations
They say that dancing is a vertical expression of a horizontal desire, so... express stuff. Swing Patrol offers classes at all levels around the city pretty much every night. Huzzah!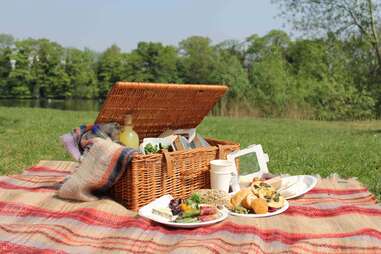 Picnic in the park
Any park (address and info)
Various locations
It might seem like a distant memory right now, but there is actually sunshine occasionally in this city. Swear. On a nicer day, grab a hamper from The Bull & Last in Hampstead or Albion in Shoreditch, which are loaded with everything from Scotch eggs to strawberries & cream and Champagne and soak in the sun, if we ever see it again.
See a gig at The Lexington
The Lexington (address and info)
Angel
With one of the largest whisk(e)y selections in London, The Lexington also has an awesome venue space upstairs where international up-and-coming acts come through. Plus the food is always on point, so catch a gig, then settle into one of the overstuffed chairs and eat away to an excellent DJ-driven soundtrack.
Ping pong
Bounce (address and info)
Holborn
There's more than just 17 table tennis tables at this Holborn den; there're DJs, a full bar, a wood-fired pizza oven (romance!), and a chance to graciously/begrudgingly let your partner win, too. It throws some pretty epic parties as well, so check out its calendar.
Hip Hop Karaoke (address and info)
Various locations
This is not the karaoke you know from drunken office parties and bad decision nights at the Dolphin. With a song list that boasts everything from Snoop Dogg to Wu-Tang Clan -- all rated by level of rhyming difficulty -- see if she actually knows every word to Big Pimpin'.
Eurostar (address and info)
Paris
Okay so, when we said "the capital," we never specified which country. And this has got to be the ultimate date. Book a couple tickets over to Paris for a few hours (or days, whatever), and prepare to bathe in ROMANCE.
Sign up here for our daily London email and be the first to get all the food/drink/fun in the city.