This is a small island, and space (especially places with anything even resembling a bedroom attached) comes at quite a premium. Yet somehow there are still places in the UK that are left completely abandoned and free from human involvement. Here are nine of the eeriest/best...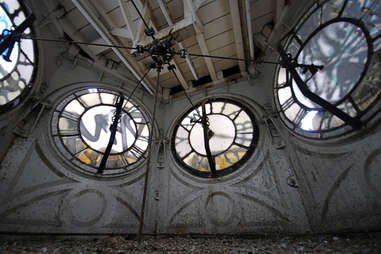 Brady's Bar clock tower
Brixton
The bar below it used to be something of a musical mecca (Hendrix jammed there regularly), but now this tower's clock hasn't ticked for a couple of decades. Thanks to a Back to the Future-esque "save the clock tower" campaign though, this South London icon is now getting a much-deserved slap of paint...
Merrydown Cider factory
Horam
If you drank cider in the UK before 2005, then chances are you had some from this very factory (although it was, we hope, a little cleaner at that point).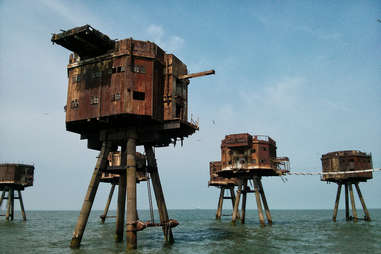 Maunsell Forts
Thames Estuary
Originally built during WW2 to stop Jerry from making his merry way across the channel, these abandoned forts have since been used to broadcast pirate radio, and act as a home to the Principality of Sealand, a country still struggling to gain diplomatic recognition from the UK.
RAF Stenigot radar dishes
Stenigot
Another WW2 installation, this one was kept secret (as with all the other radar facilities in the UK) by claiming that we, as a nation, had unlocked the power of carrot night vision. These particular things are called "tropospheric scatter dishes," and they were so effective they were only decommissioned in the '80s.
G Block, Bletchley Park
Bletchley
Yet another secret WW2 military installation, this is where Alan Turing laid the revolutionary groundwork for Benedict Cumberbatch's Oscar nomination. And also, sort of invented the computer.
Hellingly Hospital
Hellingly
This disused psychiatric hospital (or as we like to call it, abandoned lunatic asylum) was originally built in 1898. Just to add to the creepiness, there was a wing specifically for "mentally defective children," giving it about a 9/10 on the haunt-o-meter.
Loudoun Castle theme park
Galston
Armed with the slogan "Scotland's best family theme park" (which, given that there's only one other major theme park in the country, might not have been such a bold claim) Louden Castle was closed after the unfortunate death of a ride operator, thus leaving it pristine, but abandoned.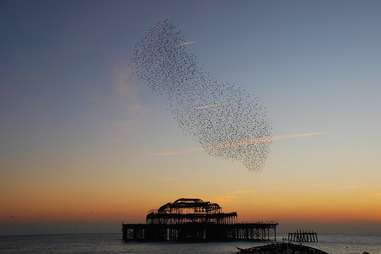 Brighton's West Pier
Brighton
Not the sea, nor fire, nor this flock of starlings could take down Brighton's West Pier completely. Her indestructible skeleton still stands there, Terminator style. It closed in 1975, and has been slowly chipped away at ever since.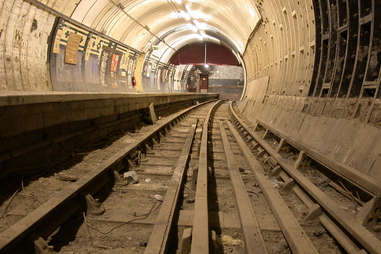 Aldwych Tube station
The Strand
Appearing in virtually every film you've ever seen with an abandoned Tube station in it (28 Weeks Later, V for Vendetta, Patriot Games, etc.), Aldwych, formerly The Strand, was once the place where all of London's artistic treasures were stored in order to keep them safe from the blitz. There's even been tentative talk of it being reopened as a DLR station, or an underground cycle path.
Sign up here for our daily London email and be the first to get all the food/drink/fun in the capital.