Running from 8p 'til dawn, Redhook will ensure that even the most apathetic observer has a good time watching the US ballots roll in, by providing an all-you-can-eat rib dinner from Ribstock-winning chefs (plus corn on the cob, fries, pineapple slaw & pecan pie), bottomless beer, bottomless coffee, espresso cocktails, after-midnight hotdogs, and breakfast come sun-up. As if that wasn't enough, your party affiliations will also net you either a NY Sour (Dems), or a glass of Chardonnay (Repubs), as well as "a rifle & a bible", or "a food stamp & a tax bill".
Recommended Video
Finally, a Recipe That Lets You Drink Beer and Still Be "Healthy"
Previous Venue
Next Venue
Venue Description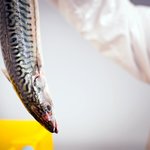 1. RedHook
89-90 Turnmill Street, , London, EC1M 5QU
RedHook is a seafood & steakhouse restaurant with a serious list of cocktails that changes weekly. Canadian Lobster paired with a champagne cocktail sounds amazing on any given night.