Because love means nothing in ping pong, the folks at Bounce have elected to put out a romance-killing shindig on Valentine's, whose rules include "no sharing of pudding, no pet names, and no Michael Buble", while activities will see you play "Smash Your Ex", a round-robin style "Single and Proud", and "Cupid's Day Off", matching up random guests for doubles.
Previous Venue
Next Venue
Venue Description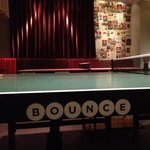 1. Bounce
121 Holborn, London, EC1N 2TD
Also known as the place to hanging out with your friends while simultaneously desiring to mercilessly crush them in ping pong, Bounce also delivers on restaurant-quality pizza and massive drink list. Everyone can make up and chase defeat with a cold brew.