Free beer, free vodka, and all-you-can-eat hot dogs, crayfish, and ribs
London Freebie of the Week
The very awesome Hops & Glory pub over in Islington is throwing a three-day fest of music, free beer, hangover brunches, free beer, BBQ, and did we mention free beer? Well, we did, three times, because not only does it come from London Fields & BrewDog, but the event's in support of the British Heart Foundation. Plus, if you Tweet at @thehopsandglory your favorite hangover cure with the hashtag #GloryDays, you could win a bottle of Belvedere vodka on us. Greatly improve your weekend right here.
Friday, July 4th: After killing it at the Saturday market, Mr Musubi is now taking over the pop-up stop at Off Broadway, bringing the classic Japanese snack of rice parcels w/ delicious fillings (slow-braised ginger beef, three-day salt-cured salmon, etc.) to the Western World. Find out all the deets, here.

Continue Reading
Friday, July 4th: Head over to Farr's School of Dancing for an all-out celebration of 'Murica with Farr's & Stripes for 12 courses of the colonies' finest. Work your way through Rocky Mountain oysters, ribs, crayfish, biscuits & gravy, Mississippi mud pie, and much more. Now get your game face on, and book your ticket here.
Friday, July 4th: After crushing the competition at both Glastonbury and Bestival, Crayfish Bob is back in the capital for a 4th of July all-you-can-cram crayfish boil. There'll be music, cheerleaders, and the UK's first Nascraw Crayfish Race. Find all the info, here.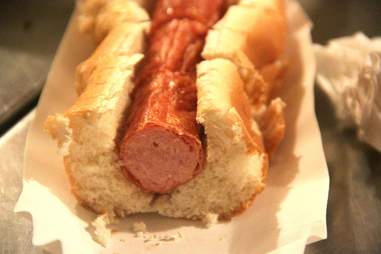 Thrillist
Sunday, July 6th: Today, 10 guys & 10 gals will be donning elastic-waisted trousers and settling into the Big Easy Rib Eating Competition. See how many ribs they can shovel away in under 30 minutes for a chance to win a £100 Big Easy voucher and a place in history. Be wowed (and potentially grossed out) right here.
Booking ahead...
After selling out for the last couple years running, Forza Dispensa is back for an eight-week Summer fest down in an old Peckham meat-packing warehouse, wherein you shall be packing away meat from Ginger Pig, and washing it down with Italian spritzes. Details here