Because no human being in history has ever earnestly used the phrase "as fun as Heathrow," we thought we'd try to make the experience of traveling through the hub a tiny bit more bearable, and -- dare we say it -- maybe even nice. Here's how...
1. Get there the fastest/cheapest possible way
Sure, you could Uber or minicab it, but unless you're headed out at 4am or have like, 11 bags, it'll take longer on four wheels than via the rails. 
The Heathrow Express: It gets you from Paddington to Heathrow in 15 minutes for £21.50 each way. Only real catch: this racehorse only goes to T5, so you'll need to transfer if you're headed elsewhere, which can add an extra 10-15 mins to the start of your adventure.
The Heathrow Connect: Leaves from the same station, and even the same platform as the Express... but is half the price, and only takes an extra 10 minutes.
The Piccadilly Line: Not only the cheapest option, but if you're traveling from South or East London, it can also be the fastest. Citymapper will do the maths for you, if you're not sure.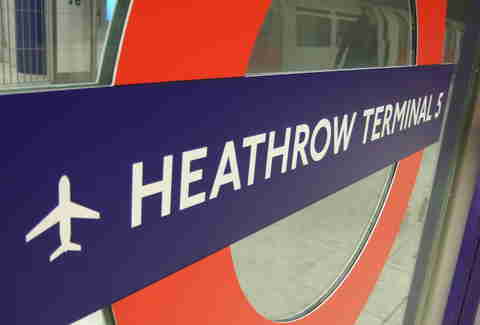 2. Get faster service & shorter queues at T5
In Terminal 5, the Tube exit is on the left side, so stretch your legs and walk down to the far right-hand side for Check-In and Bag Drop for shorter queues and faster service. You'll be sitting down for the next couple hours anyway.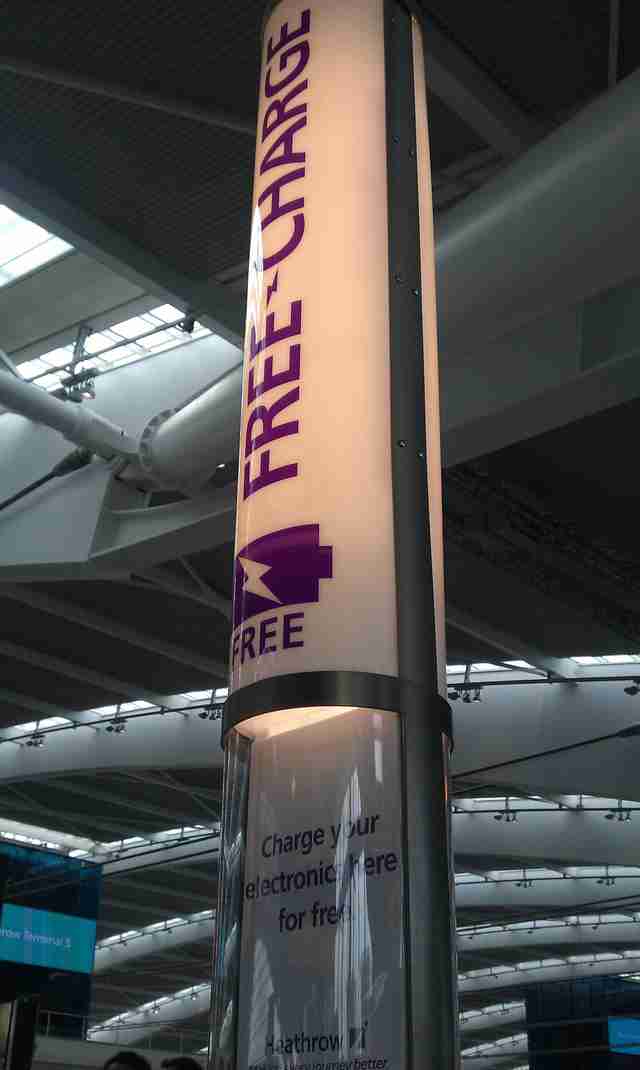 3. Juice your phone for free before the flight
Heads up: your mobile has to be charged and ready to roll. If you can't turn it on, you may not be allowed on your flight. If you find yourself low on juice, grab a power-up at one of the handy charging points scattered around all terminals.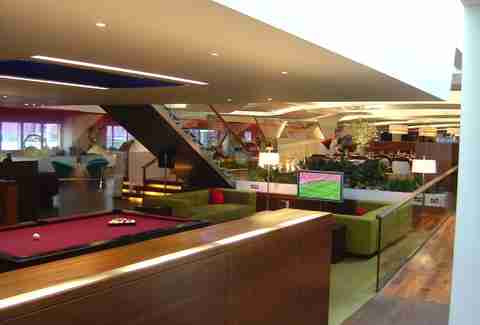 4. Get unlimited food & drinks
Heathrow is the best example of why flight status matters. The Virgin Atlantic Clubhouse in Terminal 3 is probably the best lounge in the world with restaurants, lounges, bar, a Bumble and bumble salon, a Cowshed spa, a pool, music studio, screening room, library, work center, arcade, and more. The catch is that you have to be upper class, have mega-status, or buy a day pass for a whopping £240.
If your wallet just had a panic attack, never fear. Also in Terminal 3 is the No. 1 Traveller Lounge, with access running from an easy £24 for three hours. Granted it might not be as OTT as the VA Clubhouse, but with almost all of the same perks (Wi-Fi, spa, food, workspace, cinema, etc.), you can still have all the perks like free food and booze. If you're in the recently reopened T2, there's the Plaza Premium Lounge, which gives you showers, spa, a tapas bar, Champagne lounge, resting suites, etc., for around £40 for two hours. 
 
5. Don't pay for Wi-Fi
Heathrow respects that you have to update your FB status and make everyone mad jelly about your trip, thus it provides four hours of free access. Stuck there for longer? Sign up for Heathrow Rewards (cost: 30 seconds of your time) and you can score an additional four hours.
6. Get the best airport food in the world
Hit The Perfectionists' Cafe in T2 for some of Heston Blumenthal's award-winning chow or head to T5 where Gordon Ramsay has Plane Food with some serious TLC cooked in.
7. Then get the best plane food in the world
Feel incredibly smug while your fellow passengers hand over silly amounts of cash for flavored cardboard when you get any of the picnic hampers available from 118 food outlets at Heathrow. Priced between £5-50, you can happily chow on fare from Heston and Gordo or even the simpler options like Pret and EAT.
8. Use Heathrow as a locker
If you're only hitting London for a couple days before jetting off to somewhere, pack a smaller bag with just what you need and keep the main bag stashed at the baggage offices located in Terminals 2-5.
9. Book a bed for an hour or two
Flight delayed? Forget the impressively uncomfortable terminal seating -- go and take a nap in a real bed in one of Yotel's cabin rooms, located post-security in Terminal 4. With free hot drinks and Wi-Fi, you can recharge and even shower before facing your next flight, and they're bookable by the hour. 
Sign up here for our daily London email and be the first to get all the food/drink/fun in the city.