The 16 best fictional Londoners of all time, ranked
In several centuries of fiction, London has had, to put it mildly, a lot of characters pass through its streets. It's inspired some of the greatest creative minds in history from Shakespeare to Dickens to Lee Nelson, so the task of whittling their creations down to a mere 16 characters was not an easy one -- but it was damn fun.
16. Scrooge
A Christmas Carol
So powerfully compelling was this character that his surname has since become a synonym for being a penny-pinching a-hole. Also, Ebenezer is just a fantastic first name. But names aside, it's not often you can make the protagonist of your story so completely dislikable, and yet so utterly captivating.
15. Mr. Bean
Mr. Bean
Living alone in Highbury, Bean brought tweed back to North London and made us all feel a little less stupid when tripping up over literally nothing, God bless him.
14. Evey Hammond
V for Vendetta
The reluctant sidekick to V from the movie/graphic novel V for Vendetta had a bit of
a hard upbringing between her parents being killed, being assaulted, and living in a 
dystopian version of London. Good thing V was there wearing a cool Guy Fawkes mask to whip her into the happily shaven-headed antiheroine we now know and love.
13. The Heiress
"Common People" by Pulp
Sure, she's originally from Greece -- but studying at Central Saint Martins, moving to Hackney, and casually engaging in class tourism makes her a pretty solid Londoner, even by today's standards. Her greatest achievement? William Shatner performed a spoken word cover of her song.
Recorded Picture Company (RPC)
12. Don Logan
Sexy Beast
Logan may be a stone-cold sociopath, but he's an immensely entertaining stone-cold sociopath, and because of that he gets a free pass. When you hear the enthusiasm, creativity, and sheer menace of his curse-laden dialogue, just remember the actor playing him was also Gandhi.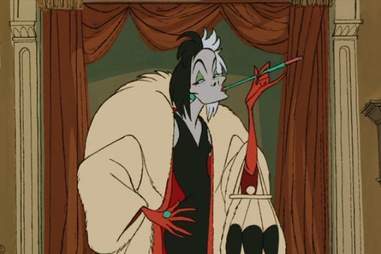 Walt Disney Productions
11. Cruella de Vil
101 Dalmatians
It's clear that Mr. & Mrs. de Vill never bought the big book of baby names, and it's very clear their daughter Cruella -- with her breaking and entering, theft, animal abuse, and the loudest car horn in London -- decided to take that ball and run with it.
10. Terry and Julie
"Waterloo Sunset" by The Kinks
These two from the classic song by The Kinks make a point to meet at Waterloo Bridge every Friday and head out to meet friends. Sappy? Sure. But you know what? The Thames sort of DOES look incredible at dusk.
R.P. Productions
9. Oliver Twist
Oliver Twist
Somewhere, deep down, aren't we all Oliver Twist asking for just a little bit more? The answer is yes, we are. And of all the metaphor-friendly, parentless, filth-caked street urchins that've graced these imagined streets, we challenge you to find one more lovable than this little ragamuffin.
8. Spike & Drusilla
Buffy the Vampire Slayer
If Sid & Nancy weren't crazy enough for you, then you need to get up on this pair's level. These star-crossed & cursed lovers from the Buffy-verse brought a little cockney East End charm to the charming town of Sunnydale, which appears to have involved killing a whole sh*t ton of people.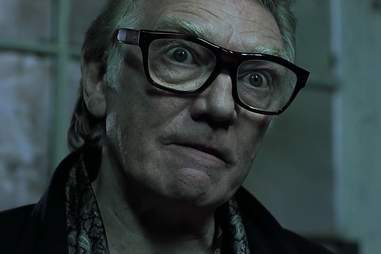 Columbia Pictures Corporation
7. Brick Top
Snatch
After spending a few minutes with Brick Top, you will know way, way, way too much about the dietary habits of pigs. You will also have a newfound respect for whatever corner of this town he came from, and make a mental note to never go there.
BBC
6. Del Boy
Only Fools and Horses
He could sell sand on the beach, and water to the fish. But he's not a salesman -- he's an entrepreneur (and he can very nearly pronounce that word, too). And for all his faults, Del Boy could tell you more about social mobility and Thatcher's London than almost anyone, and he'd charge you a very reasonable rate for it too, wink wink.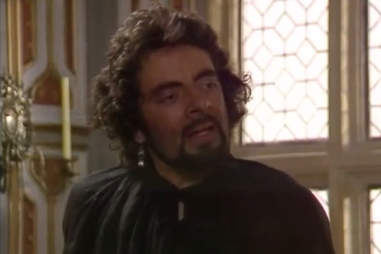 BBC
5. Edmund Blackadder (Elizabethan era)
Blackadder II
He is as cunning as a fox that's just been appointed Professor of Cunning at Oxford University, and a good thing too, because without those wiles, he would have been beheaded approximately 15 seconds into each episode.
Warner Bros./DreamWorks Pictures
4. Sweeney Todd
Sweeney Todd: The Demon Barber of Fleet Street
What Todd lost in repeat business from his haircutting gig (he took a little too much off the top), he made up in pie sales from his partner's shop. Some might call this entry a cheat, given that some people claim he actually existed... but those people work at The London Dungeon.
3. Austin Powers
Austin Powers
Incredibly, Powers is part parody of another Londoner on the list -- James Bond -- and yet has forged a totally unique identity of his own, thanks to a combination of subtle satire, remarkably deep characterization, and penis pump jokes.
2. James Bond
James Bond 
And the man himself. Charming, intelligent, violent, and apparently possessing a superhuman resistance to STDs, Bond calls London his home, and the planet's more exotically dangerous locations his office. As characters go, almost none have surpassed him... but as Londoners go, there is one...
1. Sherlock Holmes
Sherlock Holmes
Holmes has to be the greatest fictional Londoner because there is now a part of London that IS Sherlock Holmes. Baker St has its own Tube station (covered on the inside with depictions of the man), surrounding which are Sherlock Holmes hotels, museums, statues, and tourists making a pilgrimage to 221B. It can be argued that he was the world's first true superhero, with beyond-human perceptive powers, a sidekick, and a supervillain. His popularity is such that he's the most portrayed movie character of all time (with 70 actors playing him in 200+ films), and shows no sign of slowing down. Mr. Holmes, London salutes you.