After living in London for long enough, you'd be forgiven for thinking that you knew this town like the back of your hand, until you actually look and, wow has that freckle been there the whole time?? Demonstrating just how much this city actually does have that you probably don't know about, we got Kieran Meeke (esteemed author of Secret London) to unveil some of the best hidden goodies the capital has to offer...
There's a street light that still burns gas... from the sewers
Embankment
This "Webb Patent Sewer Ventilating Gas Lamp" is a still-working remnant of the ingenuity of the Victorian era. It was designed to burn off methane gas from the sewers, reducing the risk of explosion and masking gross smells for guests at the nearby Savoy Hotel. It also lit this dark corner once frequented by "ladies of the night". (That's how they used to say "prostitutes". Weird, huh?) It actually still burns methane from the sewers, but with a little extra non-fecally produced gas to keep it regular.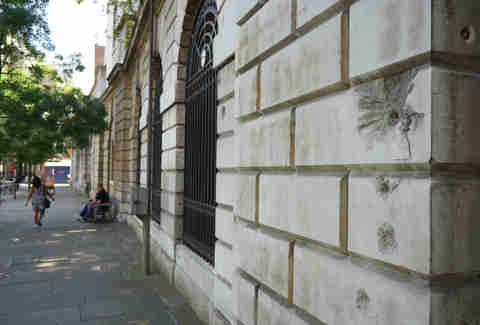 You can still see damage from when the Germans bombed us... with Zeppelins
Smithfield
Bomb damage is quite common around London -- but many people do not realize some of it dates to World War I. The night of May 30th, 1915 was the first Zeppelin raid on London but no searchlight, gun, or plane even saw the high-flying airship. LZ 38 dropped 120 bombs, killing seven, and destroying seven houses. The first bomb fell in the garden of the former Nevill Arms Pub in Stoke Newington.
This damage to the wall of St. Barts Hospital -- now more famous as the site of the death of Sherlock in the BBC's TV series -- happened on the night of September 8th, 1915. One benefit? The discovery over the gateway to St. Bartholomew the Great of a half-timbered house from the time of Elizabeth I; its plaster covering was dislodged by the bombing.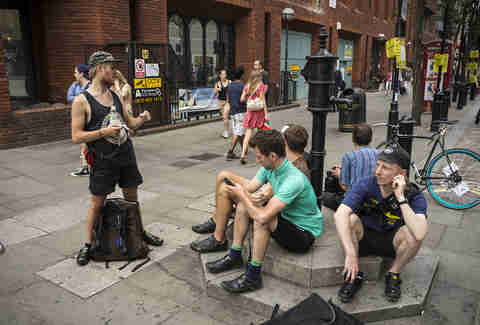 The water pump that killed thousands, and shaped the modern city, is still standing
Soho
1854. London is the largest city the planet has ever seen. And people are dying at a scarily fast rate from cholera -- 10% of Soho's population died in a single week from the disease, and more than 10,738 Londoners would go the same way before the year's end. People, understandably, began to ask if cities this size were a good idea, what with the fact that it was turning out to be reeeeally difficult to keep people alive in them. 
It was a doctor named John Snow who figured out that the disease was transmitted through the water -- and by shutting down the Broad St pump in Soho, he stopped the disease in its tracks. The pub opposite it is now named after him.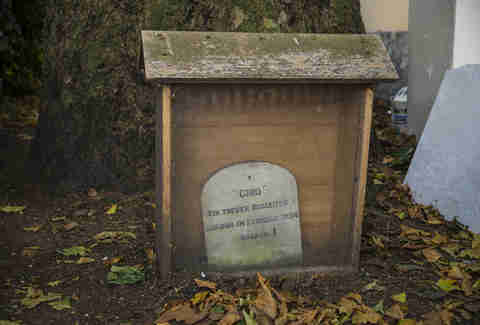 There's a Nazi dog buried near Green Park
Westminster
Okay, so this tiny gravestone sits in a small patch of garden near the top of the Duke of York steps down to The Mall. In it, there's a Nazi dog. He was accidentally electrocuted in 1934, and his owner was German ambassador Leopold von Hoesch, whose own funeral a couple of years later saw the German Embassy staff giving the Nazi salute as Grenadier Guards escorted his Swastika-draped coffin on its way to Germany aboard Royal Navy destroyer HMS Scout.
You can find another tiny pet cemetery, dating to the 1880s and early 1900s, hidden behind Victoria Lodge on Hyde Park's Northern side.
The grave of the first-ever clown
King's Cross
Hidden away on a side street near King's Cross is Grimaldi Park. And in Grimaldi Park is the grave of Joseph Grimaldi, hailed as the first modern clown. "I am grim all day -- but I make you laugh at night!" he punned. Classic stuff. Dickens himself edited the guy's memoirs, and all clowns were simply known as "Joeys" for generations after him. Hilarity aside, on the first Sunday in February, you'll find a congregation full of clowns enjoying an awkwardly jolly service to commemorate those clowns who had died in the previous year (now held in Holy Trinity, Dalston).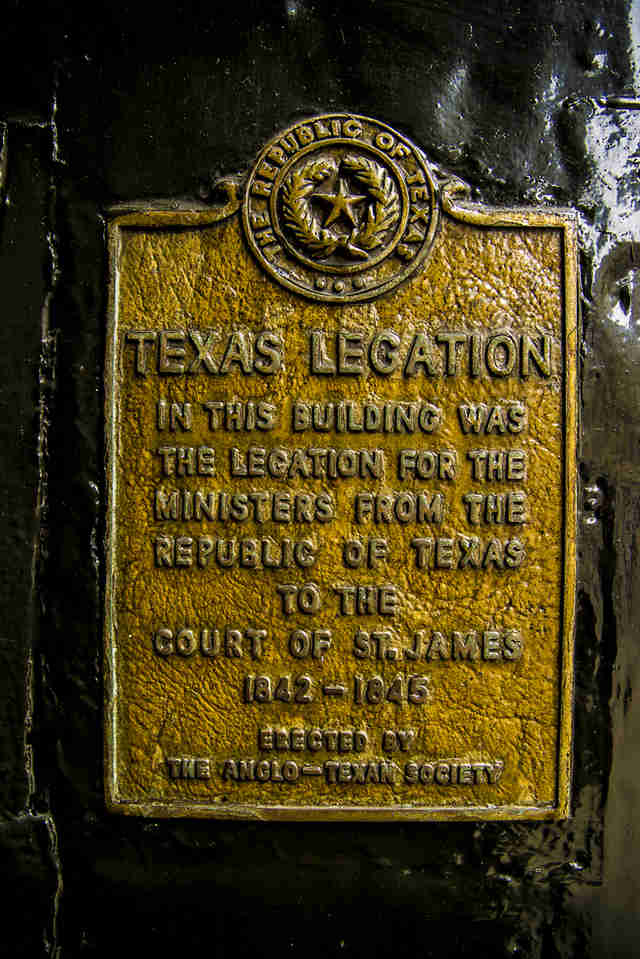 There used to be an actual Texas Embassy here
St. James's
After Texas won its independence from Mexico in 1836 (remember the Alamo!), the new fledgeling, gun-toting country sent diplomats straight to the Court of St James's. Their new embassy, in fact, was right across the street, in St. James's itself. They'd rented it from a wine merchant. Britain fully supported Texas' independence, and even offered to protect its borders from the cursed United States and Mexico. But history happened, and the US annexed it a decade later. This plaque (and a cantina) is all that remains.
The statue of a dog that caused riots in Trafalgar Square
Battersea
It all began when Professor William Bayliss took part in an experiment on a brown terrier dog at the University of London in the the early 1900s. Anti-vivisection campaigners who had infiltrated his lecture protested that the dog was not properly anesthetized -- which was totally illegal, even then. A memorial statue of the brown dog was then erected in Battersea in 1906... that was when the rioting started.
Repeatedly attacked by medical students (who objected to its anti-medical inscription), it became necessary to have a nightly police guard for the statue. The rioting reached a peak with an attack on the statue by 100 statue-hating students. Another group of 1,000 students was meanwhile in Trafalgar Square, their protest turning into a battle against a force of 400 police, many on horseback. Tired of the controversy -- and the expense -- Battersea council demolished the statue in 1910 under cover of night, and more than 3,000 people demonstrated in Trafalgar Square to protest that, too. This replacement was erected in Battersea Park in 1985. No one has rioted over it. Yet.
There's a mystery nose sticking out of the wall in Admiralty Arch
Westminster
Look carefully inside the iconic Admiralty Arch, just off Trafalgar Square, in the side taking traffic out of The Mall and you will see a shiny pink nose sticking to the wall. Some say it is a spare for the statue of Nelson atop his column in nearby Trafalgar Square. Yet more claim that it's Wellington's nose, rubbed by cavalry for luck as they pass through the Arch. And a few party poopers claim it's part of a late '90s installation by artist Rick Buckley, who was protesting the growing use of CCTV cameras in London. He actually put up 35 across London, and the rumor goes that anyone finding the "Seven Noses of Soho" would win great fortune. There's even a regular walking tour that goes hunting for them.
There's an ancient Roman bath in central London
Embankment
It takes a brave soul to plunge into this dark alley off Surrey St, but if you do, you'll find this ancient washroom. The bath, now maintained by the National Trust, is not much to see. It's hidden behind a piece of thick glass, where a switch turns on an inside light to illuminate it. Charles Dickens even mentions the "old Roman bath" in David Copperfield, back when it would have been only slightly ancient.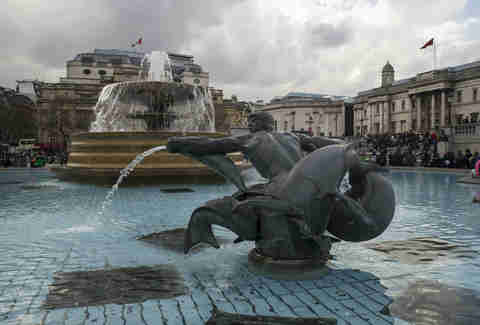 There are sharks in the Trafalgar Square fountains
Westminster
Despite being right in front of your eyes the whole time, you probably haven't seen this; if you look carefully around the dolphins in the Trafalgar Square fountains, you'll notice that a bunch of them are sharks. These fountains commemorate World War I naval heroes, Earls Jellicoe & Beatty, and were first built to reduce the size of rioting crowds in the square.
Sign up here for our daily London email and be the first to get all the food/drink/fun in the city.