Comics meet caffeine in Dalston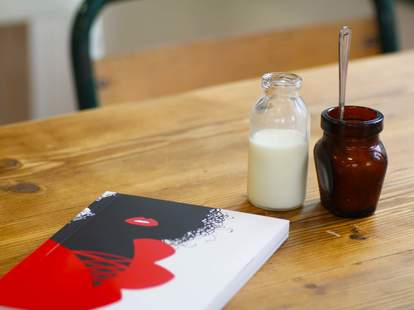 Because Dalston is the new Shoreditch is the new bottle of White Lightning and some fags, check out EMB: a comic book store/cafe now soft-open exactly opposite The Hunter S.
The initial batch of ink ranges wildly, from the accessible (plenty of Frank Miller, Alan Moore, etc.) to the hardcore (X'ed Out depicts an older Tintin clone going insane, while My Friend Dahmer is apparently penned by one of Jeffrey's school-friends... yup); there's also a "library section" filled out with old issues/books you're free to "read, crease, and coffee stain", and inevitably drop as you fumblingly turn off your braying mobile so angry nerds will quit glaring at you
Staining those books will be caffeine-vehicles ("pretty much anything anyone wants") from Brick Lane's Nude Roastery, while brownies/cookies will soon be joined by sarnies & toasted brioche. There'll even be cookouts on the patio, with a planned chilli-fest to kick things off, because cookouts are the new BBQ are the new packet of super noodles & an episode of TGIF.