The 12 Dirtiest-Sounding Street Names in London
Anyone who's ever traveled the Piccadilly line and not sniggered at the name "Cockfosters" is a mature, highbrow individual, and also a complete liar. Because it's hilarious. And London has so many suggestive street names, it seems that there's just no way it's coincidence. Judge for yourself:
Swallow Street
Piccadilly
"What's this street named after, daddy?" "A bird, son. Definitely, definitely just a bird."
Penistone Road
Streatham
"How do you pronounce your street name, Grandma?"
"It's pennis, dear, to rhyme with tennis."
"Are you sure it's not..."
"TENNIS, Archie, for Christ's sake, it's TENNIS."
Back Passage
The City
Top tip: take the lady on a surprise walk down Back Passage after a successful first date.
 
Spankers Hill Wood
Richmond
Spankers Hill Wood sounds like the kind of place where naughty little children get sent in a morally questionable '70s kids show.
Thrillist
Helmet Row
Clerkenwell
This name gives me flashbacks to a childhood changing room experience that I've paid a lot of money trying to suppress. Thanks, Clerkenwell Council, thanks a lot.
Beaver Close
Morden
1970: What a lovely name for a street!
1980: Ugh, kids these days can be so juvenile.
1990: Never heard that one before!
2000: Christ, what is WRONG with people?!
2010: Seriously... is this going to affect property price?
Clitterhouse Road
Barnet
Just so we're all aware, this name probably went through several stages, committees, and meetings before it was approved.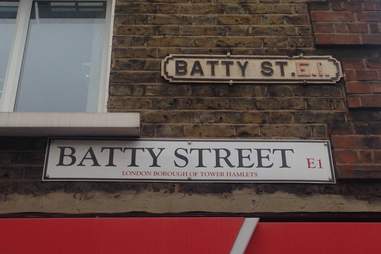 Thrillist
Batty Street
Aldgate
Depending on when you were brought up, this is either a Jamaican pejorative for a homosexual or the surname of 1998 World Cup penalty bottler, David. Either way, fairly offensive.
Hookers Road
Walthamstow
Well, I guess some people just really like front-row rugby union positions! Unless...
Bird in Bush Road
Peckham
A bird in the hand is worth two in the bush. And a bird in the bush sounds like my Saturday night. Amiright?!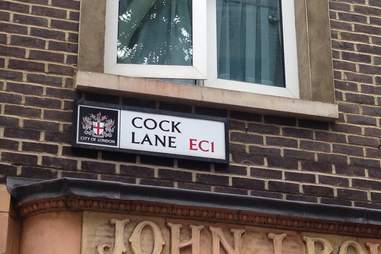 Thrillist
Cock Lane
The City
Whoever named this street knew exactly what they were doing.
 
Peckarmans Wood
Dulwich
Councilman A: Right, I want this next road to sound really manly.
Councilman B: How manly?
Councilman A: Like, really, really manly...
Councilman B: How about we name it after a nickname for a penis, the word "man," and a nickname for an erect penis, all in one?
Councilman A: I love it.  
Sign up here for our daily London email and be the first to get all the food/drink/fun in the capital.