Not just your average, everyday, ho-hum, ordinary, garden variety, run-of-the-mill cinema food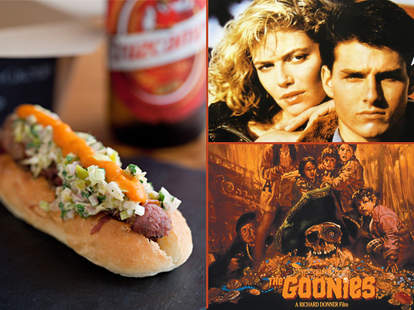 Dinner and a movie is pretty much the quintessential date, so prepare yourself for a romantic hurricane when Nomad's late-Summer popup cinema gives you both at the same time, while wandering around such picturesque outdoor venues as Fulham Palace, the Hyde Park Lido, and even Brompton Cemetery, whose Victorian masonry you'll really dig.
They're screening about a dozen stone-cold classics, such as Oscar baller The Artist (which is mostly silent, except for the myriad people offscreen talking about how great it is, and so brave!), plus Top Gun, The Graduate, Lebowski, and The Goonies
Taking on those last three, Soho's vaunted Salt Yard will be putting out such cinematic tapas as Ibérico burgers w/ manchego & guindilla, Ibérico hot dogs with romesco sauce, and salt cod croquettes, as well as snackier stuff like upclassed popcorn (smoked paprika, cinnamon & lemon) and fresh ice cream incl. sherry & raisin, smoked almond caramel, and caramelised pistachio, all of which will help get you romantically laid... comfortably down on the grass as an army of ushers and usherettes brings it straight to you!