When your mayor's last name is Johnson and he is blessed with such chiseled good looks, you know your city has some sexy stuff going on. Seriously, there is. And while dating might have its challenges, at least doing something a little naughty can be super easy...
Recommended Video
France's Fête des Lumières Is a Light Festival Unlike Anything You've Ever Seen
Get turned on by literature
Bad Apple (address and info)
Croyden
Get a very different kind of bedtime story at Dirty Sexy Words, a monthly erotica slam night where top authors, plus ahem, up-and-comers, let their words do the leg work while you sit back, relax, have a drink, and let your mind come up with all the pretty pictures.

Go to school to be a better lover
Sh! (address and info)
Hoxton
Down a back street off Hoxton Square, Sh! offers a very different experience in sex education. This women's boutique sells lingerie, sex toys, and offers classes to help you up your game, in a totally open, supportive, and welcoming environment. While men are only allowed in the shop with a woman chaperone, couples can take classes like the Bedroom Bondage Erotic Class. If you're ready to hang up your ego and try it, 18 lucky readers can win a free class by tweeting at @ShWomenstore with #SexyLondon, and tagging yours truly.
Dance all night (while wearing latex)
Club RUB (address and info)
Islington
This monthly club at The Garage is all about rubber. Nearly 20 years strong, Club RUB encourages its guests to get creative with different themes, and latex is always approved of. With DJs spinning club classics & house, a massive bar providing liquid courage, and plenty of eye candy, you can dance or people watch till 4am. If you really feel like diving deep, CR also offers classes in latex work, bondage, mistress training, and BDSM.

Start meditating... your way to an orgasm
OM Practice Club (address and info)
Various locations
While talking about sex might make some of you squirm, this takes things to another level. TurnOn Britain runs a series of workshops on Orgasmic Meditation, designed to help you connect and focus during a sexual moment, both with partners or when you're flying solo.
Watch a burlesque show
Beaufort Bar at The Savoy (address and info)
The Strand
Haven't you always dreamed of sitting in a top-class hotel bar, perfectly made drink in hand, while watching beautiful woman show off their curves and have it be one of the classiest entries in your diary? First Sundays of the month in the Art Deco Beaufort Bar, find a return to the golden days of The Savoy, with Miss Polly Rae in all her feathered and tasseled glory leading evenings filled with international performers showcasing magic, comedy, and burlesque.

Bare all at the Elixir Heath Club
The Elixir Heath Club (address and info)
Alexandra Palace
Embrace your naked self at this naturist massage centre filled with Scandinavian spas, hot tubs, and steam rooms. Relax in a super-chilled-out environment and get involved in some of its monthly events like a Naked Domino Competition and a Beer Tasting Evening.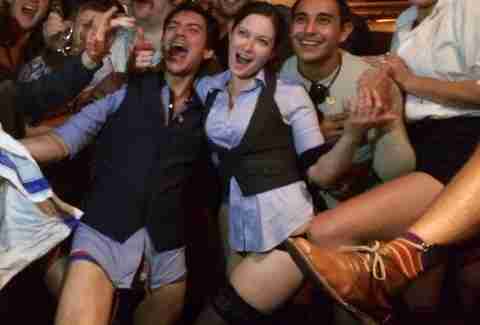 Get your trousers off for cocktails
NOLA (address and info)
Shoreditch
The temperature in New Orleans is hot and humid and trust us, you wear as little as possible to survive. On Trouserless Tuesdays over at NOLA, to help replicate a "true authentic experience" while still maintaining a certain level of professionalism, the staff run service all business up top, and party down below with a distinct lack of trousers, skirts, or other obscuring bits of clothing. It only happens occasionally, so you'll need to keep an eye on their social media to see when then next one is...

Take off your clothes to get fit
Naked Yoga London (address and info)
Bow
While most of us generally try to get in shape before taking off our clothes, Naked Yoga encourages you to try the reverse. By getting down to your birthday suit, you are able to connect deeper into the practice of yoga and achieve greater results. Not to mention, think of the reduction of laundry you'll have to do.
Embrace your inner voyeur
The Box (address and info)
Soho
Get past the strict door policy and enter into a world of anything goes. Crazy dance floor with gorgeous clientele? Check. OTT stage shows with everything from naked aerialists, drag queens inducing orgasms, Japanese rope bondage, and everything in between? Check. With a multitude of rooms, all moodily lit and appropriately seductive, you can find something to suit almost anyone's tastes.
Cross over to the dark side
Torture Garden (address and info)
Brixton
If you like your bondage, dancing, burlesque, underground art, and fashion all in one place, then TG is your playground. The world's largest fetish and arts club, it draws in a super-diverse crowd, all dressed to the nines -- which sometimes can mean a bit or with artfully placed sticks and jewels. Journey through the countless rooms, dance your ass off, or venture into some of the darker corners and see what trouble you can find.
Sign up here for our daily London email and be the first to get all the food/drink/fun in the city.