Pop-up pubs, all kinds of BBQ, and chessboxing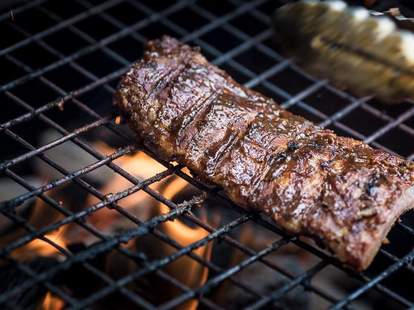 Event of the Week: This Saturday (which, by the way is going to be totally bloody SUNNY), Gizzi Erskine's holding a Barn Party in Dalston, with a massive BBQ putting out Korean, Catalan, Jamaican, Southern, and more from a dozen chefs. Check out the cocktail, craft beers, and live music here, too
Thursday, June 6th
Hit Waste Not Want Not and find yourself wanting pretty much all of the charity-aiding event's menu, from savory bread & butter pudding w/ pickled 'shrooms, to sour-milk scones w/ green onion butter. It's in a gallery, too -- get tix here
Friday, June 7th
The Disappearing Dining Club is un-disappearing today for their Townhouse Dinner, serving up a feast in an elegant Georgian mansion. Check out the menu here
Saturday, June 8th
So, the folks behind the Craft Beer Rising festival are opening a week-long pop-up pub today in the window of the High Street Ken Whole Foods, so you'll find solutions in the bottom of, and behind glass. Get tickets to their brewery events here
Definitely one-upping MonopolySlapFights, hit the Scala tonight for some chessboxing. Tickets to this sport of kings are right here
Sunday, June 9th
Because paying for a gym membership sucks, check out the Move pop-up gym from today. Nab a space here MasterChef winner Tim Anderson is popping up at Roti Chai tonight for a Japanese/Indian crossover dinner. Check out the crazy menu & get tix here
Monday, June 10th
We have four free tickets to Laugh Til it Hurts at The Comedy Store, all in the name of charity! Email here to nab 'em, and check out the event here.