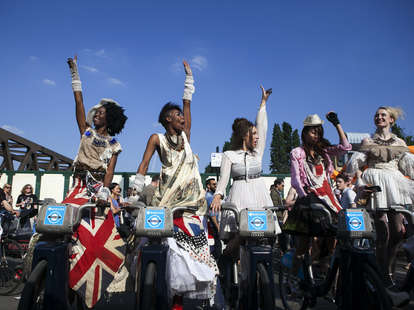 Keen to get down in London? In that case, allow us to present our complete and up-to-date London Bucket List, a thorough compilation of the things you must do before you shuffle off this mortal coil -- or, at the very least, before you can say you properly know this town.
Read on for a surefire catalog of what's worthwhile in London, so your plans to go out in The Smoke never go up in smoke.
Catch a movie underground (not an underground movie)
The Underground Film Club is a pop-up cinema located in a long-abandoned subterranean passage near Waterloo Station. Each winter, it screens a cool collection of classic films (e.g. Casablanca, The Big Lebowski). The atmospherics of these vaulted caverns are sort of spooky, but the crisp Victorian brickwork and red leather couches compliment each other well, plus there's a full bar. Alternatively, check out Electric Cinema for the gaudiest/coziest seats in town.
When you'd like a comfortable drink at home, but you also want to go out for the evening, look no further than The Little Yellow Door. This isn't some "public house" -- it's literally located inside an otherwise unremarkable (albeit fictional) block of flats. It's like going to a house party that never runs out of booze.
Whatever New York bagels you've had will not prepare you for a beigel from Beigel Bake. This 24-hour joint opened in 1973, and has been churning out savory fare in the traditional Jewish style ever since. FYI: Compared to its NY cousin, a beigel here is more delicate and flaky, and is best topped with tender salted beef and a healthy spread of mustard.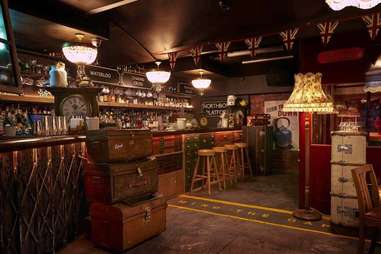 Keep calm & carry on drinking at Cahoots
This hidden watering hole was originally a WWII air raid shelter, but nowadays you can climb down here to bomb some stiff drinks instead. It's incredibly cozy inside, with a sleek midcentury feel -- and yes, there are secret drinks. For the list, find an envelope with "Do Not Open" written on it.
This big-city farm actually has its own café, where you can kick back and enjoy a glass of wine until the cows (quite literally) come home. If you're looking to get even more pastoral, there's also an edible garden, a pottery studio, and even beekeeping classes.
Mudlark along the banks of the Thames
London is old, and its history is rich. Fortunately, much of its storied past has been preserved in the mud of the placid Thames; enthusiasts call looking for these artifacts along the riverbanks "mudlarking." You might find ancient coins from Roman occupation, or ornate ivory tobacco pipes from the Elizabethan Era -- or maybe you'll just find a really shiny rock. Either way, worth it.
Drink a pint in a disused toilet
Bars like Attendant -- which was once a fancy Victorian toilet -- have repurposed public porcelain digs and transformed them into hip (and sometimes hidden) drinking establishments. Bermondsey Arts Club, Ladies & Gentlemen, and WC all play along this theme, but Attendant, which serves as a coffee shop during the day, is best-in-breed.
Become the envy of every other guest at every wedding you ever have to go to.
While many of London's public parks are excruciatingly well manicured, Hampstead Heath provides a woodsy escape from the shackles of urban life. Moreover, there are two ponds that are open to the public for swimming -- the catch, though, is that they're divided by gender. Weird, yes, but also so old-school that it's sort of quaint. Plus, the sex division means there's no need to avoid swimming au naturel in your designated natural body of water.
Get down at a warehouse rave
The Sidings Warehouse and the Great Suffolk Street Warehouse are hospitable to all manner of cavorting in rambling industrial spaces, and attending either is a reliable way to get invited to a unsanctioned afterparty.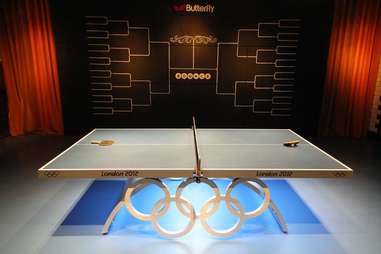 All of the tables at this bar are actual ping-pong tables, and while beer pong is discouraged, boozy table tennis is fun in its own right.
If you've got the coin, you can don a wetsuit and get face-to-face with some of these primordial toothy brutes. Bring your friends.
This cult restaurant is decorated like a bizarre occult church: blood-red graffiti spells out words like "sin," and images of vicious animals with human torsos abound. That said, the burgers here are so stacked that the décor doesn't seem out of place; each succulent bite of the Dead Hippie (two mustard-fried beef patties) feels like debauchery. Sip on a maple milkshake spiked with Jack Daniels, nibble on crunchy "bingo wings" coated in Louisiana hot sauce, and then pause to savor how wickedly good it all is.
Each Sunday, a glut of gruff Englishmen hawk a vibrant selection of floral wares by brusquely shouting price points -- and a bit of good-natured banter. Whether you want something pretty and fleeting for a vase (like those oh-so-trendy air plants), or you're after a raspberry bush you can grow in your flat, this colorful market is well worth the trip.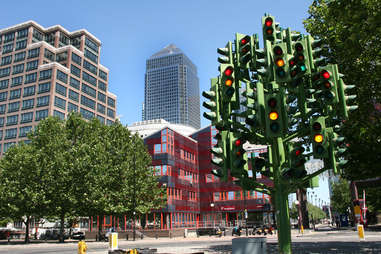 This piece of public art, constructed by French sculptor Pierre Vivant, is an arbor-ish arrangement of 75 computer-controlled lights. While its wild blinking wouldn't do much to direct traffic, it's a memorable "tree" to select for shaded reading.
Both of these food-focused bazaars are packed with stands offering fare from around the world, ranging from produce and cheese to wine and street food. Borough Market is the famous one, but the fried chicken sandwich and "artisanal" donuts at Broadway Market are out of this world, and worth the trek to East London.
Listen to the rapping of great spotted woodpeckers, and admire the dazzling hue of bluebell blossoms at this 40-acre woodland garden.
Everyone knows members-only clubs are where you rub elbows with London's upper crust, but getting into these hugely expensive locales is another story. Here's the trick for Soho House: Show up very late -- as in after midnight -- and chat up the paparazzi. Find out who they're waiting to take a picture of, then go to reception and insist you're part of his or her party. Act important (read: rude) enough, and they won't ask questions.
This clandestine foodie operation hosts a secret meal somewhere along the East London Line (which they dub the Ginger Line). To attend, you have to wait at a designated train station before you're led to a highly hush-hush eatery somewhere underground. The first & second rules of the Gingerline are the same as in Fight Club.
Drinking & drawing go together well, and you can sign up for an illustration class here to do just that -- or check out the other events (including structured Bumble dates).
If you want to satisfy some morbid curiosity, or if you like Hot Topic but hope to appear more sophisticated, this kooky museum will satisfy your desires. It also exhibits a selection of ghastly art, and displays live and exotic spiders that resemble jewels.
This quaint bookshop is located inside a comfortable barge boat along the canal. That's really all you need to know!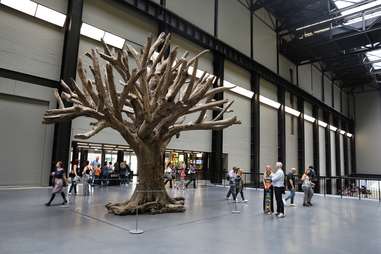 Works by Dalí, Magritte, and Ernst are just some of what is displayed from this unassailably cool 20th-century artistic movement, but the Tate Modern also hosts the best of contemporary art in a repurposed power station.
And stand on the exact meridian line.
This strip has some truly worthwhile foodstuffs, at the Well Street Café, Well Street Pizza, and the Grand Howl. If you're in the market for something secondhand, check out one of its thrift shops (Bohemia has the best deals). If the secondhand thing you're after is a bike, the très-chill folks at Cycle Pitstop will sort you out Rasta-style (and fix it for you whenever you need). The Kenton Arms is the best pub in the neighborhood, and you can play mini-golf at Plonk right by Victoria Park.
The undercroft of the Southbank Centre, which is colorfully coated in an electric scrawl of graffiti, has been the beating heart of London skateboarding for four decades. Whether you aim to laser flip the six stair yourself, or you have no idea what any of that means and just want to watch some sick skating from a safe distance, this is the place to do it.
Sign up here for our daily London email and be the first to get all the food/drink/fun in the capital.
John Marshall is a non-werewolf American living in London. His residency in the UK is part of a top-secret program to punish the British for producing Piers Morgan; this "Operation Sneer Campaign" has so far been a success.