Recommended Video
Would You Eat This 3-Pound Chicken Nugget?
Thursday, April 10th: Head to Brick Lane for Indian... burgers? Straight out of Street Feast, Baba G's Bhangra Burgers have found a new home at cocktail-centric Apples & Pears. Think Bhangra Balti Beef, Crazy Lamb Jalfrezzi, and Mighty Masala Fish. And they have a triple chili challenge, which may well kill you. Check here for all the deets Continue Reading
Friday, April 11th: If pizza is your vice, then brace yourself for blind Pizza Speed Tasting. We're talking about 15 different pizzas -- handmade and shop-bought, where you won't know what you're eating 'til the end -- with different bases, sauces, and toppings. Throw in some red wine for good measure and that's a party. Get the saucy details here


Friday, April 11th: After conquering The Player in Soho, Breddos are bringing their unique take on Amer-exican small plates back out east and taking over the kitchen at TripSpace. If the thought of eating Short Rib Cheesy Fries, Crunchy Nut Fried Chicken Tacos, and Pork Belly Croquettes, while shooting picklebacks on a terrace is your thing, then head here.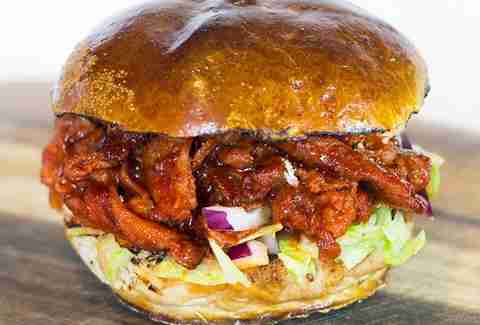 Saturday, April 12th: Urban Food Fest is back in Shoreditch with a cornucopia of food trucks and stalls for a Saturday night shindig. Rounding up every Saturday 'til June 21st, reward your mouth with jerk chicken burgers, deep-fried Oreos, pulled pork sliders, sushi, plus a full bar and live music. Get all the info, here.
Saturday, April 12th: The team that brought you Street Feast has teamed up with creative networkers Grandaad and fashion/music peeps LoveBullets for a 10 weekend-long festival all about music, food, and opinions. Think street food & proper restaurants, workshops & masterclasses, DJs, and new artists. Oh yeah, and they're open 'til 3am on Saturdays. Go here, and expand your mind.