London Freebie of the Week
This Saturday, the foresighted folks over at The Hangover Club have anticipated how your head might feel, and've planned accordingly by roping in the food-smiths of The Good Egg to put together breakfast burritos, steak & eggs, and de-/re-tox bevs incl. Marys and raw fruit juices -- and we have a pair of restorative tickets for a couple of lucky readers. All you gotta' do is Tweet your favorite hangover cures to @Grub_Club -- the rest of the info's here.
Thursday, February 6th: Head down to the Bethnal Green Working Men's Club tonight to (belatedly) celebrate the Chinese New Year w/ Wong's Happiness Diner. There'll be pan-fried dumplings, roasted duck pancakes, and whole steamed bass, followed by a guest-picked (via Twitter) screening of a Wong Kar-Wai flick. Get involved right here

Continue Reading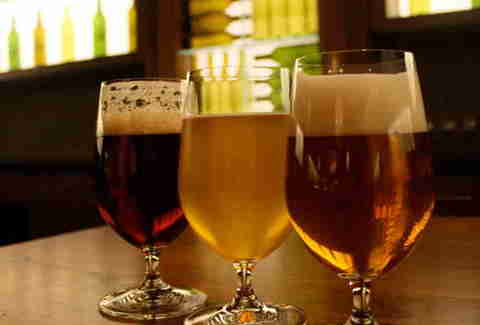 Thursday, February 6th: Austrian street-food slingers Speck Mobile, are settling down for a three-month residency at The Star of Kings in N1, and're kicking it all off w/ an hour of free treats and beer between 6-7pm, plus free Tyrolean rye toasties all night -- and that's not to mention the special combo deals for a fiver, and 2-for-1 cocktails. Practice your pronunciation of "prost" and get the deets here.
Friday, February 7th: Shellfish a-fish-ionados (!) Finger & Thumbs are back with a special edition of their Shellfish Shack. You'e in control this time: tailor make your five-course meal out of 10 dish options, and they'll be the insane early risers to go to the Billingsgate Market at 4am that morning to hand select the best ingredients for soft-shell crab, lobster burgers, scallops & chorizo, salt & pepper szechuan squid, mussels with leeks & cider or baked clams w/ walnuts. Pick your dream menu, baby


Friday, February 7th: Super Hands has arrived briefly in Clapton for a Friday night residency. The self-proclaimed "Danny DeVito of Clapton's nightlife" (because they're "small, charismatic, and dark"), they're promising mixed liquids of outstanding quality for the humble tune of £3-£7.50. Get all the details here
Saturday, February 8th: Stretch your legs and fill your mouth w/ Fox & Squirrel for their eating/walking tour of Brixton. Have seven courses (and a cocktail, naturally) while you learn the best side streets and the food that goes with them, everything from Ethiopian coffee to salted caramel. Get your learn on here