Free burritos, a beer fest, and some bacon Old Fashioneds
Thrillist
Thursday, June 19th: After a slew of residencies, The Ed Chef is bringing his burgers and snacks to The Star of Bethnal Green for three months, starting today. Score confit pork belly with Sriracha mayo, Korean fried chicken wings, and of course, cock scratchings. Grab yours, here. Continue Reading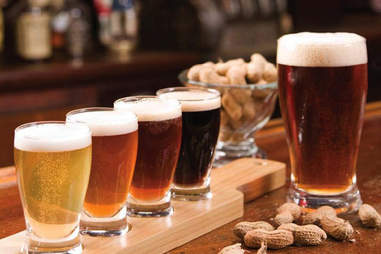 Thrillist
Thrillist
Sunday, June 22nd: Ribs. Craft beer. Hot dogs. DJs. Sunshine. Well, that last one is TBC, but the rest are what you'll find if you head over to CRATE Brewery on Sunday. They're playing host to both The Rib Man, and Popdogs, all to a DJ-spun soundtrack 'til 9pm. Pray for sun, and click here.
Dave Presley
Booking ahead...
Speed Rack is back on the 23rd, pitting an all-female lineup of bartenders against each other in a huge, booze-shaking battle, with all proceeds going to support breast cancer charity The Haven. Each ticket gets you more drinks than you may want, and a chance to witness history in the making. Save some boobies, here.
After several sell-out events, Andy Bates returns on the 28th with his First Aid Brunch at The Liquor Store. The menu is packed with blue cheese Bloody Marys, bacon cinnamon rolls, and jalapeño & cheese hash browns, and also has a serious thing for bacon, with it finding its way into most dishes and drinks, such as the extraordinary bacon-infused Old Fashioned. Grab yours before this too sells out, right here.